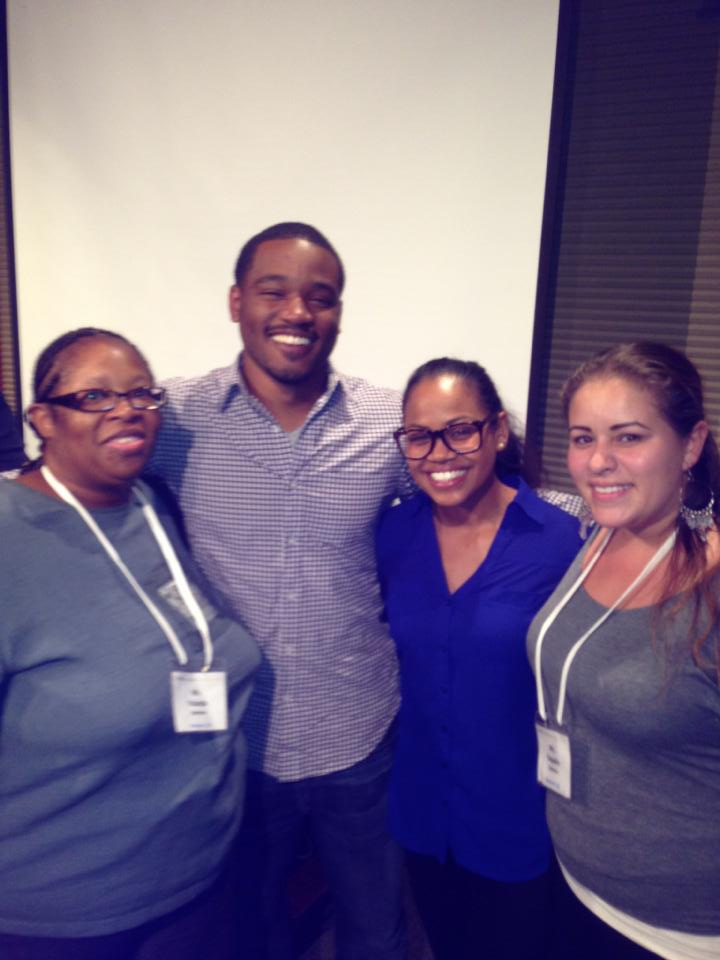 29 Aug

One City, Two Success Stories

By Yaquelin Valencia

My name is Yaquelin Valencia. I am 21-years-old, an undocumented Dreamer and a recent recipient of DACA (Deferred Action for Childhood Arrivals). I was born in Aquila, Michoacán, Mexico. My mother brought me to the U.S. at the age of two, and I was raised in Richmond, California. I grew up with a diverse group of friends, and we all faced the same struggles: living in low-income neighborhoods, and experiencing violence at school and in front of our very own homes. Still, I get all excited when I hear people say, "I'm from Richmond."

Growing up, I rarely heard success stories of young people who graduated high school and went off to college. I recently got to know one such success story, however – that of a young African American brother — while I was at a national training for PICO (People Improving through Community Organizing).

Ryan Coogler grew up in Richmond where he played football like many of my friends did. After high school, he attended St. Mary's College where he fell in love with chemistry and math. "If football doesn't work then I'll be a doctor," he said.

But Ryan took a different path.

Ryan didn't think about film or writing until one of his professors at St. Mary's college encouraged him to write. Ryan did, and his words were powerful. His professor asked him, "Have you ever thought about making a career out of this?" Ryan said no. But when he went back to his dorm, it was all he could think about. He eventually transferred to Sacramento State University, where he continued to play football and enrolled in some film classes. From there he transferred to UCLA, where he went from being an athlete to a different sort of team player – as director of the film, "Fruitvale Station."

Over time, PICO played a supportive role in Ryan's career. When Ryan was in Los Angeles, PICO founder John Baumann lent him a hand. And when Ryan decided to write the film, he came back to Richmond, but needed a quiet place to write. Once again, John lent him a hand so Ryan could focus on his writing.

A few days before Ryan was scheduled to be at the PICO training, we were given an opportunity to see his film, which was impactful. As we got on two charter buses and headed over to watch the movie, I was full of anxiety. I knew that I was going to experience pain in some sense.

The movie was completely different from how I'd seen Oscar Grant portrayed in the news broadcasts. In the film, I got to see Oscar as a loving human being who was trying to turn his life around. I got to see some of Oscar's struggles, and I could relate to some of them. Everyone makes mistakes and that's part of being human. Oscar was a human being. Unlike the news, the film showed that it wasn't just a homicide — it was one more child who was robbed from having a father.

During the movie I experienced a range of emotions: I felt anger, sadness, and deep pain. After the movie all I could think of was Oscar Grant saying, "You shot me… I have a daughter. Why'd you shoot me?" This played over and over again in my mind.

Ryan and I both grew up in Richmond and both played sports. But now, the connection is that his mother and I are both part of PICO. It's exciting to see that link and to know that like Ryan, I am working to make a positive impact on the community. In a different way, of course, but I know that we are both doing what we love to do.

I can be very outgoing, but there are times that I feel like I have no voice. Most of my friends are documented, so I've mostly had to face my struggle alone. Nevertheless, it was in Richmond where I was given the opportunity to raise my voice and be a part of creating change. I met Adam Kruggel who is the director of CCISCO, a multi faith, multi-racial organization linked to PICO, and I learned to confront my fear of speaking up. To this day I get nervous, but I've also had major accomplishments.

Today, I no longer live in Richmond but continue to work with a sister organization to CCISCO called CBC (Congregations Building Community) in Modesto, where I am a community organizer working on immigration. Being connected to the PICO network through both organizations has given me tools – I've learned about power, unmasking power, and my highest purpose. I've had opportunities to talk about race, and learn about different faith traditions. The tools I've collected I will use today and in the future, to transform lives through campaigns that address the issues causing pain in our community.

Through his film, Ryan voiced that Oscar Grant was a human being. I want to build power by empowering people to have a voice, so that like a team, we can create opportunities for all.