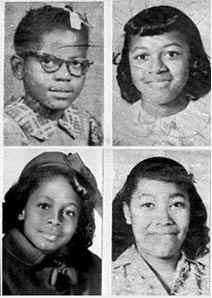 15 Sep

Remembering the Four Little Girls

Blog, Monet Boyd

It was Sunday morning, September 15, 1963 and the roaring sound of dynamite rang through Birmingham, Alabama, coming from the 16th Street Baptist Church. A fourteen year old boy named William Bell heard it from 3 miles away. William's father rushed into the car with his family and went to the church to see nothing but destruction and chaos. Four little girls were killed by this bomb: Denise McNair 11, Carol Robertson 14, Addie Mae Collins 14, and Cynthia Wesley 14. These four young girls were killed and two dozen others injured because of a bomb planted in the 16th Street Baptist church by a Ku Klux Klan member.

50 years later, William Bell, now the Mayor of Birmingham,  will take part in a ceremony to mark the 50th anniversary of the bombing. The anniversary points out the many wrongs done in Birmingham 50 years ago but it is also displaying the change that has come. In a recent  interview Bell told  TIME magazine, "The images are always about the dogs and hoses. And yes, that is who we were, but we've  come  out of that." Birmingham is shining in a new light. The city is trying to make its way culturally and economically.

Birmingham is not the only city recognizing the bombing and remembrance of these four girls. Communities all over the USA are holding events and looking at these four young girls as martyrs. Dr. Martin Luther King Jr. told us that injustice anywhere is injustice everywhere.

On this day fifty years ago, the four girls died who were not too far in age from me. It hurts my heart because Denise McNair will never be able to see our President Barack Obama. Carol Robertson will never see her cousin William Bell run the city they both once feared. Addie Mae Collins will never see the DC monument of the bold preacher that spoke at her church so many times. Cynthia Wesley will never see her people integrated with others striving, heads held high, with no fear and no shame. I vow to never forget these young martyrs.