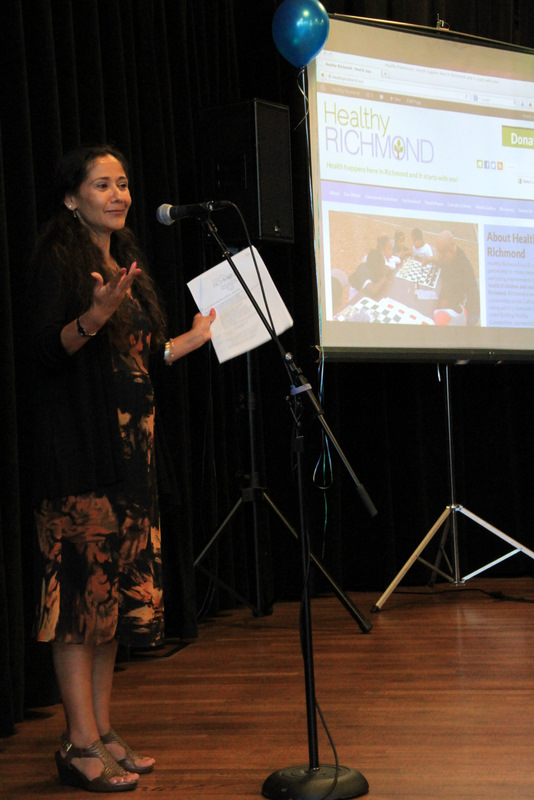 20 Sep

Healthy Richmond Initiative Launches Website

News Feature, Edgardo Cervano-Soto

There's a 21st Century saying that goes, "if you don't exist in social media…you don't exist!" That hasn't necessarily been a problem for the Healthy Richmond Initiative, which nevertheless stands to gain some good visibility after their launch this month of a new website, healthyrichmond.net.

The site is a one-stop shop for vast amounts of information about community health campaigns and policy initiatives occurring in Richmond. It will also serve as the official face, and for many an introduction, to the work of a group of community-based organizations known collectively as the Healthy Richmond Hub.

Hosted at the East Bay Center for Performing Arts, the website launch brought together Hub partners such as Richmond Main Street, RYSE Center, Richmond Community Foundation and Brookside Health Center, among other groups. Partners were able to explore the HealthyRichmond.net site for the first time, where readers can access information about the Healthy Richmond Hub's origin, its model structure, various campaigns it is involved in, and links to the member organization's websites and Facebook pages.

Sponsored by The California Endowment, a private health foundation, the Healthy Richmond Hub is one of 14 such collaborations across California. The other locations, which include East Oakland, Salinas and Coachella, among others, are all part of The California Endowment's Building Healthy Communities initiative, a ten-year, $1 billion plan to make communities healthier by improving neighborhood safety, access to health care, healthy foods, and more.

Since 2009, the Healthy Richmond Initiative has made efforts to improve the health of children and youth in Richmond, and the variety of initiatives being supported by the Healthy Richmond Hub speak to its broad view of community health. Current projects include: working to implement restorative justice practices in schools, to decrease suspension and expulsion rates; developing an accessible food system so that all Richmond residents will have a grocery store nearby; and developing a Boys and Men of Color group to support this demographic facing its own challenges and barriers.

The Healthy Richmond Hub is now in its fourth year, and seeking to build momentum. With their new site, the group can look with anticipation toward increasing interaction with Richmond residents.

If you'd like to get involved with the Healthy Richmond Hub, visit healthyrichmond.net or contact Richmond Hub Manager, Roxanne Carrillo Garza, via email: rcgarza@lisc.org.