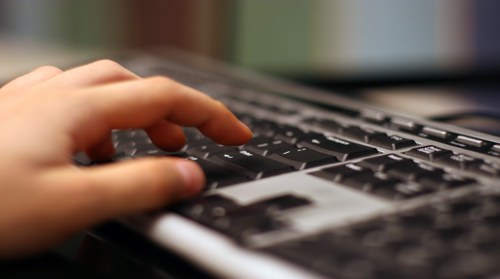 24 Sep

Learning to Cheat, Forgetting to Read – Youth Voices on Classroom Technology

Commentary, Yrui Guan and Jimmie Fails • New America Media

Ed. Note: Amid all the efforts to reform education, perhaps none promise as large of an impact as the growing use of technology in the classroom. From iPads in every student's hand to computer adapted assessments and the rise of on-line courses, advocates argue that technology can better engage students while providing teachers with valuable new tools. But NAM interns Yuri Guan and Jimmie Fails say the influx of new technology in the classroom also has its downside, one that could radically alter the way students think about learning.

It's All About Getting the Right Answer
by Yuri Guan

Technology in the classroom is supposed to revolutionize education. But when learning is measured in grades and test scores, it can also make students believe that getting the right answer is more important than understanding why.

That's what happened recently at Lowell High School, ranked eighth in California and among the top performing public high schools in the country.

In August, Lowell was one of 42 Bay Area high schools that were cited for cheating on the state's annual standardized test. Some students at the schools used their mobile devices to snap and send pictures of the tests via social media. As a punishment, it and the other schools could lose their API score for two years, which would make them ineligible for state funds and performance awards.

Students Score Digital Disparity in Calif. Schools

In August, NAM interviewed attendees at the Comcast Youth Tech Summit & Expo in Sacramento about their views on technology and education. The informal survey of 40 youth ranging in age from 10-22 years-old found that more than half ranked performance of their school computers at 'C' or below, while 80 percent supported greater investments in technology. Below are more of the findings.


• Percent of youth who said they have computer access at home – 95%

• Percent of youth who said they have computer access at school – 92%

• Percent of youth who gave their school computers a "C" grade or below – 55%

• Percent of youth who said they'd be ready for more wired classrooms – 85% 

• Percent of youth who said new technology would make teachers more effective – 67%

• Percent of youth who said schools should invest in new or better technology – 80%


As a recent graduate of Lowell I know the stakes are high there. I remember how after almost every test I took there would be text messages on my phone from students hoping to get a hint of what to expect. "So what was on the test?" they read. Often students would wait outside class with the same question.

And the problem isn't just at Lowell. In a 2008 survey conducted by the National Center for Education Statistics of 24,000 high school students in grades nine to 12, 95 percent of respondents admitted to cheating at least once.

Teachers, meanwhile, are going to ever-greater lengths to try to prevent cheating. Some of my teachers made multiple versions of tests, rearranged seating during tests and spent hours on-line afterward on sites like Turnitin.com to look for signs of plagiarism. Students caught cheating had their tests thrown out and faced other disciplinary measures. The English Department actually keeps a "Book of Shame," where plagiarized work is kept for teachers to see.

But why cheat? For students at Lowell grades are everything. Add to that the feeling — one most Lowell students experience sooner or later — that to the left and right there's someone smarter than you, and the temptation to look for a way to get ahead becomes even stronger. And with all the new gadgets out there, those ways could be right at your fingertips.

I No Longer Read
by Jimmie Fails

It's a beautiful, late summer day in San Francisco. I walk into the main public library located near city hall and what do I see? There's an older disabled man trying his luck at using the computer to find books, while a young working-class mom struggles with three children in tow.

In this big beautiful library with over 7 million books inside of it I manage to see about three people my age, only two of whom were actually there to read or find books to read. The other guy was on a computer in a corner watching porn and looking back every few seconds to make sure no one saw.

So how much reading do young people do on their own time nowadays?

When I was younger, I enjoyed reading and would do so for hours each day. I read the Harry Potter trilogy at 9 years old and more than a dozen Animorphs books. But at 18 I can say that I am no longer as enthusiastic about picking up a new book to read. These days the only reading I do is via Facebook status updates, or the occasional Twitter-length message.

So what happened?

I blame technology. For young people, video sites like YouTube, Vimeo, and the newer phenomenon, Worldstarhiphop.com are driving the ascent of visual media. It's like there's no patience for reading anymore. And even if teens are reading books you will more likely see them reading from their iPads or electronic tablets than with an actual physical book.

It's gotten to the point where if I was to walk up to a high school student and ask if he's read J.D. Salinger's Catcher in the Rye, chances are he may have not even have heard of the book. But I can bet you he knows the latest viral video on YouTube, or the Facebook status of Kim Kardashian.