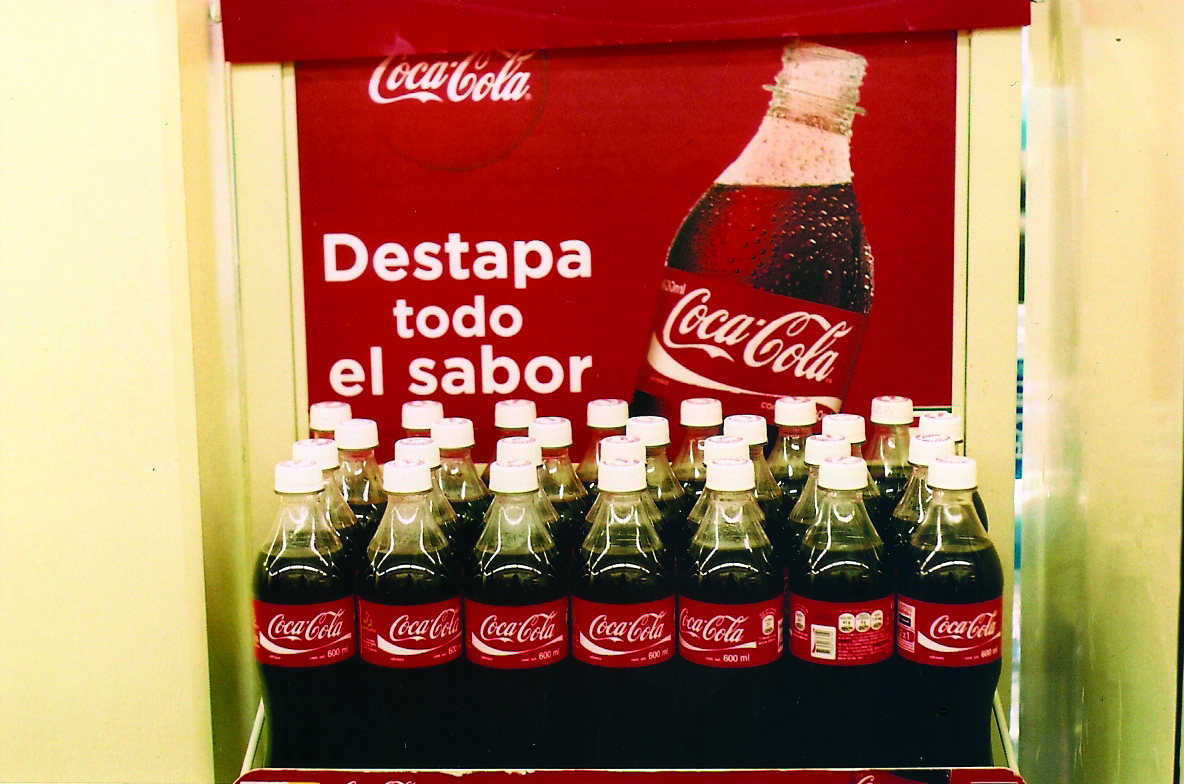 05 Oct

As Obesity Grows, Mexico Eyes Richmond-Style Soda Tax

News Report • Edgardo Cervano-Soto

MEXICO CITY – A proposed citywide "soda tax" failed to win enough votes in Richmond, Calif. in 2012, but that hasn't stopped other U.S. cities, and even foreign nations, from taking notice of the concept. Last month, elected officials in Mexico announced their intent to become the first nation in the Americas to impose a tax on sugar-sweetened beverages – and they are looking to Richmond for help.

Former Richmond councilmember and architect of Richmond's soda tax, Dr. Jeff Ritterman, traveled to Mexico City in late September to discuss the health impacts of soda overconsumption and share lessons learned from the campaign. His visit was hosted by El Poder del Consumidor (Consumer Power), a watchdog group in Mexico.

That a soda tax could actually happen in Mexico is both logical and astonishing, for the simple fact that no other country consumes more soda per capita than Mexico where Coca-Cola is king and where, more recently, obesity has become a national epidemic.

"The principal objective of the soda tax is to reduce the consumption of soda by Mexicans because of the risks of health, and second to reduce the rate of diabetes," said Isaías Cortés Berumen, president of Mexico's health commission, who met with Dr. Ritterman.

According to a 2013 United Nations report, 32.8 percent of people in Mexico, a country of 112 million, are now obese, a rate higher than that of any other nation with a population exceeding 100 million. On average, Mexicans consume 163 liters of soda per person, per year, making Mexico the number one consumer of soda in the world, per capita.

Adding a layer of political intrigue is the cozy relationship that has existed between the Mexican government and soda industry. Coca Cola in particular has operated plants in Mexico since the 1920's and has been the most popular soda brand there for years. Vicente Fox, before he was Mexico's president (2000-2006), was the president of Coca Cola Mexico.

Due in no small part to Mexico's shockingly high obesity and diabetes rates – 10.8 percent of Mexicans suffer from diabetes, tops among the 34 countries monitored by the Organization for Economic Cooperation and Development (OECD) — Richmond's soda tax campaign garnered the attention of Mexican public heath advocates. In early September, President Enrique Peña Nieto announced his plans to include a one-peso per liter (or roughly 8-cents per liter) tax on sugar-sweetened drinks as part of a larger fiscal reform package. The Mexican legislature is scheduled to vote on whether to approve or reject the soda tax on October 20. It has until then to determine the final figure for the tax.

Although Peña-Nieto's tax is being sold as an economic reform, health advocates have been quick to suggest that the revenue generated from such a tax should be directed toward solving some of Mexico's fundamental health challenges.

One such health advocacy group, Alianza Por La Salud Alimentaria (Nutritional Health Alliance) is pushing for the soda tax revenue (estimated at 2 billion pesos) to be used to improve Mexican's access to drinking water – it has been suggested that lack of access to clean water is one reason why many Mexicans drink soda — and education around the health repercussions of soda consumption.

Alejandro Calvillo, executive director of El Poder del Consumidor, says the soda tax is a good start, but won't mean much if not paired with an expansion of Mexico's filtered water system. "The deterioration of hydration has its base in water," says Calvillo. "Water has been substituted by soda. The tax has to decrease soda consumption but also facilitate drinking water."

Not surprisingly, the emergent discourse around health and soda in Mexico has set off an advertising war. Anti-soda billboards, commercials and signage detailing the sugar content of drinks — 12 tablespoons of sugar in each soda bottle — stand side by side with Coca Cola advertisements promoting their product as a family unifier. And Sidral Mundret, the maker of a popular apple soda beverage in Mexico, has published ads promoting their product as natural, even healthy.

Soda overconsumption is not solely responsible for the climbing rates of obesity and related diseases in Mexico or elsewhere, yet health experts have identified sugar-sweetened drinks as a leading cause. Kelly Brownell, an obesity specialist at Duke University, recently told Reuters that "the strongest scientific link between any category of food and obesity is with sugared beverages."

Other factors cited as contributing to Mexico's skyrocketing obesity rate include increased availability of processed foods in stores and at American restaurant chains, Mexican food that is traditionally high in fats and calories, and an increasingly sedentary, urban population.

During a press briefing with Mexican media, Dr. Ritterman discussed the science of how sugar affects the body, and gave his response to the criticism that a soda tax would hurt poor people the most, an argument Ritterman is more than familiar with from his time campaigning for Measure N in Richmond, a city with a large population of low-income Latinos and African Americans.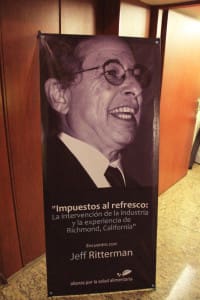 "For a poor person the tax is regressive, but diabetes is even more regressive," said Ritterman, who reminded those present that poor people, in Richmond and in Mexico, are far more likely to be obese and suffer from diabetes, heart disease, or other illnesses related to unhealthy, sugar-heavy diets.
"The tax is only one aspect of reducing childhood obesity," added Ritterman. "At the same time, let's be talking about how we increase drinking water and get hydration stations in all our schools."
Outside, on the streets of Mexico City, the soda industry's presence is visible everywhere. At one food stand in Mercado Coyoacán, all the banners, stools, aprons, chef's hats, and even napkin holders, bear the red and white Coca-Cola logo. One food stand manager, Cynthia, said she disagrees with the soda tax plan, on the grounds that what people put in their body is a matter of personal responsibility.
"The Mexican government is only trying to make money wherever they can, and it's precisely because we are the main consumers of soda," she said. "(Eating healthy) is a matter of education, a matter of the home, and that's where it should be directed."
Cynthia said she doesn't think the soda tax, if approved, will affect her business, since her stand already sells the coke at 10 pesos, which is well below the norm of 13 or even 18 pesos. Her increase in price would still be below the norm. Proponents of Mexico's soda tax have agreed, saying that the one peso per liter tax is not enough to curb consumers from buying soda products.