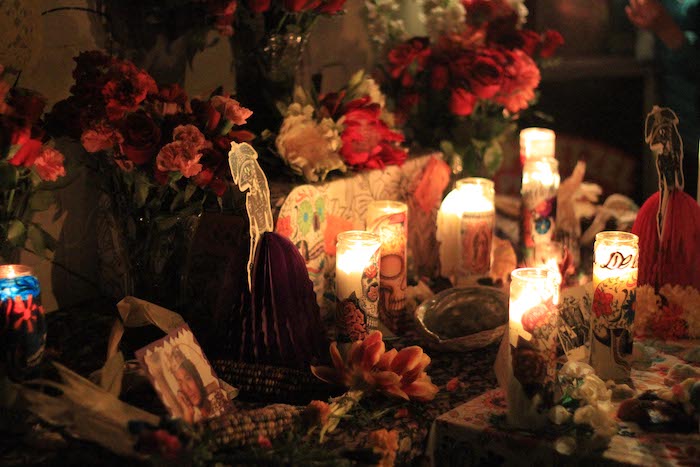 31 Oct

On Dia de los Muertos, Memorializing a Neighborhood

Commentary, Edgardo Cervano-Soto

It was in 1987 when my mom, dad and two older sisters moved out of their apartment unit on South Van Ness and 22nd Street in San Francisco's Mission District. The rent had become too expensive to afford, despite my dad holding down two full-time jobs as a dishwasher and a busboy, getting only a few hours of sleep a day. While he worked, my mom raised my sisters and cared for other family members' children. For my parents, it wasn't exactly the American Dream they had imagined.

And so, they followed the path traveled by many Latino immigrants before them who had settled in the Mission District — long a haven for refugees, exiles and newcomers – by searching for another place to call home. Taking a risk, they signed off on a loan and purchased a home just across the bay in San Pablo, where my youngest sister and I were born and raised. Yet throughout my childhood, the Mission remained a destination for our family. My tias and tios still lived there and we visited them frequently. For me, the Mission felt like home, despite the fact that it had never been mine.

22nd and Mission is where my mom sorted through boxes of plastic gold Holy Crosses and ceramic angels for our First Communion recuerdos. At Ritmo Latino, a neighborhood record store, my sisters introduced me to banda music, during our searches through racks of CD's. At the corner of 24th and York is my favorite panaderia, La Panaderia Mexicana. To this day I stand motionless before its plexiglass storefront, staring at the conchas, elotes, and the Salvadoran quesadillas. Then there is the neighborhood art: the moving La Lechuguera mural (now the La Llorona mural) by Juana Alicia, the amazing Maestrapeace mural on the Women's Building, and the kinetic colors of Balmy Alley. I made sense of my identity through these images. But they are all fading now.

Those long familiar with the Mission had seen the gentrification coming. Family-owned, legacy businesses like the panaderias were replaced by hip (and expensive) clothing boutiques and upscale sandwich delis. It disturbed me to see the old eclectic Latino cafes morph into cyber-cafes with uncomfortably minimalist furniture and bone white walls. There were Latino shop owners who recognized that their culture was becoming kitsch, and that if they wanted to make it with the new crowd of young white professionals and techies, well, they were better off installing reproduced Frida prints, dressing their shop in papel picado and selling the experience of kitsch Mexican and Latino culture for all its trendy worth.

Today, evictions in the Mission are cutting into the community's main artery. Rene Yañez and Yolanda Lopez, two of the neighborhood's Chicano Art pioneers, are being evicted from their home of 35 years as a result of the Ellis Act, a provision in California rental law that allows owners to evict tenants in order to sell a property. The apartment occupied by Yañez and Lopez was under rent control — they were paying $450 a month — which allowed them to continue to afford living in the neighborhood.

Yañez and Lopez are, as performance artist Guillermo Gomez-Pena once said, "puro Chicano royalty." Lopez's, now in her seventies, is a trailblazing Chicana artist. Through her prints, collages, and drawings Lopez has honored the lives of Latina immigrant women, and denounced U.S colonialism, racism, and xenophobia. Yañez, now 71 and with bone cancer, is a stalwart in the Chicano Art scene. He co-founded the acting troupe Culture Clash, introduced a contemporary aesthetic to Dia de los Muertos artwork in the Bay Area, and has been a mentor to many emerging Latino artists. It seems a cruel irony that the Dia de los Muertos tradition Yañez brought to San Francisco is now a ghost of its former self – an appropriated and commercialized byproduct of the greed that is changing the city. Yañez' legacy and the traditional intent of Dia de los Muertos – it is not Halloween, but an actual observance of loss — is being erased as large crowds of partygoers costume themselves as calaveras and drink beer.

In the same way the colors of the murals in the Mission District are fading, the culture of a community is at risk. On a recent visit, I picked up a flyer from the Mission Cultural Center for Latino Arts. I winced at their Dia de Los Muertos art exhibition theme: "La Llorona: Weeping the Life and Death of the Mission District." I winced because the truth hurt: there is loss in the community, and I don't know to reconcile that fact.