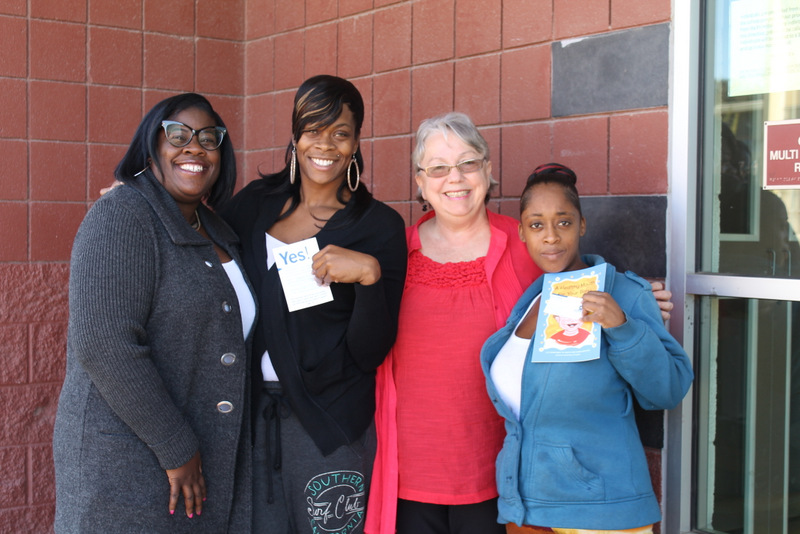 23 Nov

Soon-to-Be Parents Get What They Need at Resource Fair

News Feature, Chanelle Ignant

The gymnasium at Lavonya DeJean Middle School gave new meaning to the phrase "multi-purpose" last Saturday, when it was transformed into a baby shower venue for scores of expecting parents and their family members.

The second annual Family Resource Fair, sponsored by 4 Richmond and West County Baby Committee, was held to raise awareness of city programs and resources for pre-natal and post-natal care. About sixty soon-to-be parents and relatives took advantage of the resources and were treated to breakfast and lunch, as well as a raffle, free baby clothes, and other necessities.

Joan Carpenter, district coordinator for city supervisor John Gioia, said the event is a crucial one for many Richmond families.

"We have such a high rate of African-American and Latino infant mortality in West Contra Costa County," said Carpenter, who started the event last year as a way to meet the challenges faced by local parents.

"A lot of the mothers don't have resources like clothing or things they need for infants. We wanted to make sure they have all the resources they need to keep their baby healthy," she said.

As well as distributing much needed material help, the fair puts a focus on parents establishing healthy habits before, during and after pregnancy.

Alexina Rojas of West Contra Costa First Five led participants through stretching exercises in between presentations, demonstrating simple routines that parents can do at home.

"Kids learn what they see", said Dr. Desmond Carson, during his presentation on weight management. "If they see you exercising, they will too."

Staff from Oakland-based Lifelong Medical Care provided free glucose screenings.

Presentations offered practical parenting tips, information about the Affordable Care Act, information on how to access to continued education, and lessons on money management.

First time mom Samantha Baumgardner was invited by her mother. The 24-year-old aspiring medical technician was encouraged by the stories of moms who had children early, but started successful careers later in life.

"I was surprised to hear that they were able to make a career after having a kid at a young age," said Baumgardner.

Peter Memariam came hoping to receive information, and he left impressed by the upscale feel of the event, and grateful for the resources provided. The 27-year-old is expecting his first son, with partner Rachel Valle.

Richmond Mayor Gayle McLaughlin was among a number of public officials and community leaders who attended the fair.

Even those who weren't expecting children said they learned something new that they could share with friends and family.

"I didn't know that so many resources were out there," said Kim Jones. She found out about the event through First 5, and brought her four-month-old granddaughter.

Stephanie Sequeira had her first child at 17. Now 25, and a mother of three, Sequeira learned about the resource fair and decided to invite some of her friends who are soon to be mothers.

"I didn't have all the resources they're talking about today," said Sequeira.