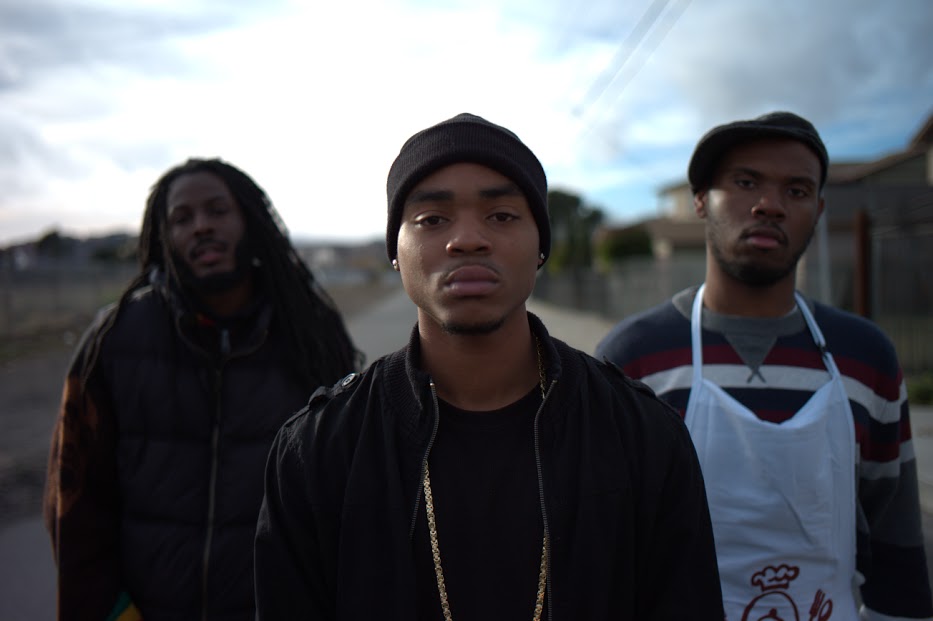 11 Feb

Raw Talent's Second Verse

By  Edgardo Cervano-Soto

Growing up in North Richmond, Donte Clark, like many residents, relied on corner stores for groceries. The small "mom and pop" shops were a lifeline for many. "A lot of us grew up on convenience stores — the food they brought, the social life," says Clark. "The stores represent the heart of the community, where you get your information and hear people's stories."

It is a corner store just like the one described by Clark that is the setting of Clark's newest play, "Po' Boys Kitchen," being produced and performed by local spoken word and acting troupe, RAW Talent. The play provides a commentary on modern-day Richmond through the perspectives of characters that pass through the convenience store, one of the last Black-owned businesses in Richmond.

Key characters such as the owner of Po' Boys Kitchen, OG Hodge, recurring visitors like Hobo Jo, as well as Sabrina and Taylor, two youth employed at the store, anchor the play.  As we've come to expect from Clark's work, "Po Boys Kitchen" packs a sublime political punch that Clark knows will resonate with Richmond residents.

"For Black folks in Richmond particularly, it's about the [loss of] Black businesses," says Clark. "The play does cherish the memories of 'back then' but it also makes the statement [that] we have the right to ownership, now."

"Po' Boys Kitchen" is Clark's follow up to his previous work, "Te's Harmony." Last year, RAW Talent performed the adaptation of Romeo and Juliet to sold-out audiences at the El Cerrito Performing Arts Center. The success of "Te's Harmony" signaled a new path for RAW Talent – the group began as a schools-based spoken word group — toward more stage productions.

The premiere of "Po' Boys Kitchen" also comes at a critical time for RAW Talent as an organization. Under the direction of co-founders Molly Raynor and Donte Clark, the group has evolved from its beginnings as an afterschool program administered through the Making Waves Education Program, to become an independent art company supported by the non-profit RYSE Center, which now acts as its fiscal sponsor.

The transition has allowed RAW Talent to refocus its efforts, resulting in the elimination of photography, dance, visual art and jewelry design classes. The scaling back has allowed the group to put their energies into their core mediums – spoken word and theatrical productions.

The move isn't without its challenges: RAW Talent is now responsible for its own fundraising and staff management – new things for a group that had previously only been responsible for creative programming. Yet, says Molly Raynor, the transition has only served to strengthen the artistry of the RAW Talent members.

"We have been able to concentrate on what we do best. Spoken word is the one thing I haven't seen in Richmond. So combining theater and spoken word allows the core group to take their abilities to the next level," she says. "We used to be about slams and that was mainly for competitions. Building towards a play is more of a communal effort."

The financial challenges for a young company are daunting, but RAW Talent is counting on the support of the Richmond community, and the drive of RAW Talent's core members. "The change is forcing RAW Talent to really fight for the art we believe in. We have to be the head and muscle. It's challenged me to step up," says Clark, who is now the group's artistic director.

DeAndre Evans is one the artists who has blossomed under the guidance of Clark and Raynor. After playing secondary roles in "Pen to the Page" and "Te's Harmony," Evans took the lead role of OG Hodge in "Po' Boys Kitchen." Clark personally asked Evans to play the role.

"Playing OG Hodge has made me break out of my shell," says Evans. "I don't know many Black storeowners, so I had to create him. At this point I'm experimenting with his lines and exploring his dry sense of humor."

The idea of having thriving Black-owned businesses in Richmond is worth discussing, says Clark. "Not many people know Richmond was a home to jazz," he says. "It's where James Brown performed. We had businesses on MacDonald and Cutting. But all of that was taken away."

Clark says the play will touch on Black migration from the South to Richmond during World War II, the effects of disinvestment and white flight on Black businesses, and today's disaffected youth. "'Po' Boys Kitchen' is a monument of memories, reminding people of our potential."

"Po' Boys Kitchen" premieres Friday March 7, 2014 for a two night run at the De Anza High School Theater. Tickets can be purchased online at poboyskitchen.eventbrite.com or in person at the Making Waves Education Program main office at 200 24th St. Richmond, CA 94804. RAW Talent is also accepting contributions in support of the programming. Contact RAW Talent Director Molly Raynor at rawtalent07@gmail.com for more information.