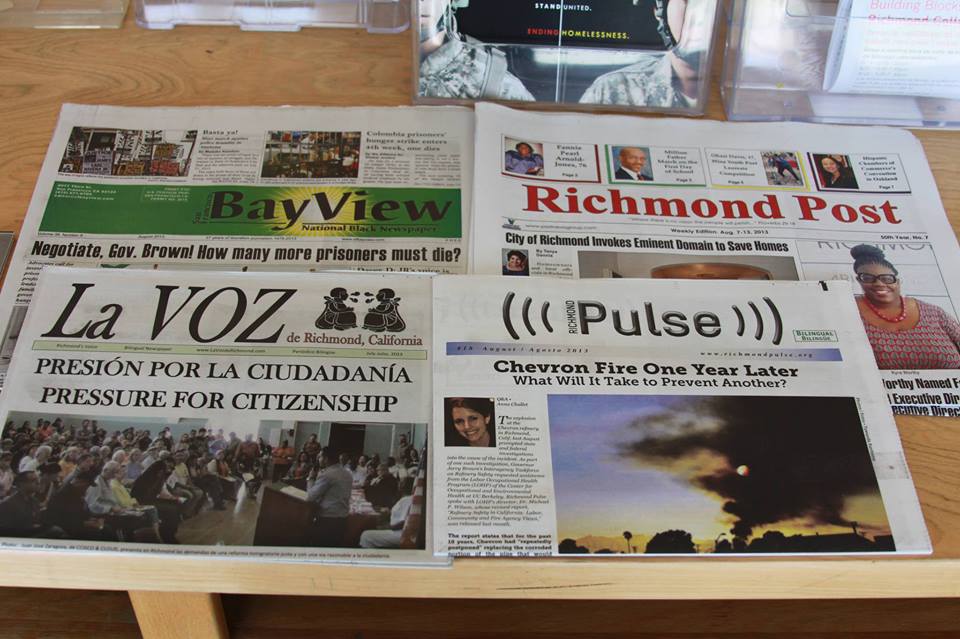 12 Feb

Chevron Joins News Publisher Wars in Richmond

News Report, Sukey Lewis and Asha DuMonthier | New America Media

RICHMOND, Calif. — There's a good old-fashioned muckraker's war going on in Richmond, Calif., and Chevron's "community-driven" news site Richmond Standard is the latest fighter to step into the ring.

This sprawling city east of San Francisco is home to Chevron's oil refinery, which has made it a battleground between the company's business interests and environmental activists who are calling for checks on air quality and safety.

Now, 

as part of the company's latest effort to rehabilitate its image in the city, Chevron is launching its own community news site.

Chevron spokesperson Melissa Ritchie said that Chevron wanted to start the site because, "We want to make sure there's a way to have a conversation with Richmond."

But many community members complain that Chevron is already communicating too much with Richmond – and that the communication only goes one way.

Chevron is doing a lot of talking, but not much listening, says resident Najari Smith, a spokesman for Black Mobilization Organization Education Richmond (BMOER) and contributing writer for San Francisco Bay View. "While everyone can have a voice, you can pay for a lot of voice," said Smith, pointing to the many billboards advertising Chevron across the city, the newsletters it sends out, and the publications distributed by For Richmond, a non-profit funded by the oil company.

Chevron's news site is the latest addition to a group of new media outlets in a city that for decades had no newspaper.

Newspaper wars heat up

A few years ago, you would have been hard-pressed to find a publication dedicated to covering Richmond. Today, you can take your pick of both publications and political perspectives. With the 2014 election season about to kick off, residents are sure to see a lively debate unfold in the papers, news sites, blogs, and e-forums that have recently cropped up here.

"It's as if there's a number of people who want to address the news desert—the vacuum that's been left since the demise of the Independent in 1978," said lifelong Richmond resident, historian and NPR correspondent Richard Gonzales.

When Richmond Confidential was established by UC Berkeley's School of Journalism in 2008, the only daily newspapers available were the West County Times and the Oakland Post. These papers cover Richmond along with other cities and towns in Alameda and Contra Costa counties.

Then in 2011, the Richmond Pulse came along. The monthly bilingual newspaper was launched as part of New America Media's project YouthWire, which generates and supports youth-led community media across the state. "The Pulse was originally supposed to be online only, but I saw a need for print news," said editor Malcolm Marshall. Funded by The California Endowment, the Pulse was the first bilingual paper to spring up in response to Richmond's rapidly changing demographics. Nearly one-third of Richmond's residents now speak Spanish at home.

La Voz, launched in July of last year, was next to show up on the scene. "The Latino community needs good materials, reports, analysis and perspectives that reflect their issues and their concerns," said editor Juan Reardon. Reardon is a progressive activist in Richmond, and the bilingual newspaper is largely seen as supportive of the Richmond Progressive Alliance.

Though not based in Richmond, another interesting development in the local news scene was the arrival of the San Francisco Bay View, a left-leaning black newspaper that started delivering in Richmond in May. "We always wanted to go back to Richmond," said the Bay View's publisher, Willie Ratcliff. The paper has received funding from local non-profits, and Ratcliff said he now has an obligation to start reporting and distributing in Richmond again.

Then in January, Chevron launched the Richmond Standard.

Mike Aldax, a former reporter for the San Francisco Examiner is acting as editor of the site. Though he is not a Chevron employee, he is a senior account executive at Singer Associates, the firm that handles Chevron's public relations. When asked if he considers himself more of an editor or an advocate for Chevron, Aldax said, "My role is in a sense both." Aldax sees his job as reporting the news accurately, and, "Heck, if the news is popular enough, people would read the Chevron Speaks section."

The site covers local news and events, and Aldax said he hopes to build the Richmond Standard in the model of neighborhood blogs like Bernalwood in San Francisco's Bernal Heights neighborhood.

Corporation or community – How can you be both?

Pulse editor Malcolm Marshall had a visceral response to Chevron's claim that the Richmond Standard was "community-driven." "The corporation is the community?" asked Marshall. "How can you be both of those?"

Andres Soto of the Richmond Progressive Alliance puts it more bluntly. "Richmond Standard is a pseudo online newspaper to try to counteract info that's coming out in La Voz, the Pulse and the Bay View. It's part of their mass propaganda campaign to try to influence the democratic process in Richmond."

Aldax said that critics of the site are missing the point. "The fact is that it's a good thing," said Aldax. "You can be skeptical and it's still a good thing."

Richmond resident Felix Hunziker said he welcomes more news options.

"It's obviously an outlet for Chevron by Chevron, but as long as that's clear—and I think it is—I don't see a problem with it."

Hunziker said he sees a need for more balance in the papers currently circulating. Unlike Smith, who sees Chevron as the loudest voice in the room, Hunziker said he feels bombarded by progressive messaging. "Most of the yelling is being done on the far left. I think it's important that people in the center start standing up."

But Hunziker said he is skeptical the Chevron-funded site can become a platform for community engagement. "I'm just not seeing it as a place where you'll have active community dialogue," he said.

Marshall said Chevron isn't aiming its messages at the progressives, who probably can't be swayed, but at those in the center who see Chevron doing positive things in the community and take these actions at face value. "Those are the folks who Chevron is trying to speak to. Not the folks who are going to look too deep," Marshall said.

"It all seems like a very big ruse, a very big PR ploy, so they don't have to do what's right," said Richmond resident Linda Schneider.

Aldax, meanwhile, said he understands that people are skeptical, and maintains that the launch of the site has nothing to do with the upcoming election. "The onus is on myself to really prove to the community that we're a reliable news source."

But Smith believes Chevron should be focused on making the refinery safe rather than dominating community dialogue in the run-up to an election.

"You don't need to tell me everything that's happening in Richmond," Smith said. "Tell me what's happening with you."

A previous version of this article was published with a byline error that has since been corrected.