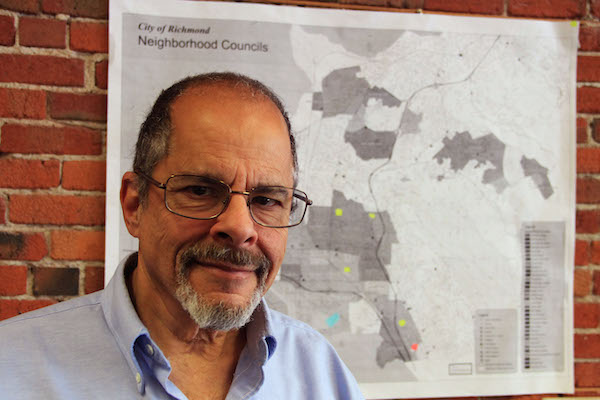 18 Feb

Q&A: Mayoral Candidate Parker Wants City to Stay the Course

Interview +Photos, Edgardo Cervano-Soto

Editor's Note: Richmond mayoral candidate Mike Parker, 73, is currently a lead organizer of the Richmond Progressive Alliance and an instructor in the Electrical/Instrumentation department at Los Medanos College in Pittsburg, Calif. He previously spent 37 years as an autoworker in Detroit, and holds degrees from the University of Chicago and University of California, Berkeley.

 Parker spoke to Richmond Pulse reporter Edgardo Cervano-Soto about why he decided to enter the race, where he sees the major challenges for youth in Richmond, and the influence of corporations on local politics.

 This is the first in a series of Pulse interviews with Richmond mayoral candidates.

Richmond Pulse: Why did you decide to run for mayor?

Mike Parker: It was a decision that a number of us made. We felt it was very important to have a candidate in the mayor's race [that] would frame the issues so as to extend the progressive policies that have been carried out in Richmond during the last ten years. Nobody wants a return to politics as usual. Ten years ago, people may recall Richmond was considered a very dangerous place, a toxic dump for the Bay Area, a place where the air was really badly polluted. Over that period of time, Richmond has become a much safer place, the quality of life has greatly improved… and people have some hope. That has to be continued.

RP: What qualities do you think are necessary for a successful mayor?

MP: I think there isn't a single set of qualities that a mayor needs. The idea is that everybody has special skills. Everyone should focus on the skills that they have and work with people who have other skills that are needed. My particular skills are working with people and organizing them to work collectively on projects, and that's exactly how I intend to function. It's not a question of the mayor doing everything. I believe in movements. I believe that most of the change that takes place in a city isn't because there is one great leader but because there is a movement of people and leaders in the city working together.

RP: In the coming years, where do you expect to see more opportunity for young people living in Richmond?

MP: The biggest problem for young people is the question of [whether or not they'll have a] decent future. Nobody now in high school can assume they [will] get a good job [once they graduate]. The education system in Richmond is failing people, generally. I teach in a community college. One of the big problems is that the people who come out of the school system are not prepared, even for the kinds of technical jobs that are available at the refinery or in manufacturing. Laboring jobs are basically disappearing in this society, at least the good paying laboring jobs.  We are getting a rapid shift where only the people who have a good education and who have opportunities for training, will actually get good jobs. Richmond has taken some steps in this area with Richmond BUILD and other programs, but we need to do a lot more to make it possible [for high school students to] decide, "Hey, I really want to get into this field, and here is how I can do it."

I do think Richmond is pioneering in a lot of these areas. Richmond is in a very good position in terms of transportation, and in terms of serving the market. The problem for us is to make sure current residents aren't just forced out of this process, but have the opportunity to get these good jobs.

RP: Is Richmond doing enough on job training?

MP: No, no. Richmond is not doing enough. Part of it is that Richmond can't do it by itself. Without a stimulus program at the national level, which increases the demand for jobs so that companies have to provide training, there will never be enough jobs so that everyone who wants a good job can get one. What we can do at the local level is work to improve our training program so Richmond residents can qualify for the available jobs. And we are going to have some opportunities. We have what was called the Lawrence Berkeley National Labs, now called the Richmond Bay Campus, coming to Richmond. It will set up a process where there will be all kinds of subsidiary industries and businesses set up, [and] they will be looking for skilled people to work in those. We got Chevron under pressure to now hire locally, but again, if people don't qualify for those jobs, if you can't do basic math, if you can't do basic writing, if you do not have the ability to qualify for the training programs — then you are off the tracks entirely.

RP: Richmond's 2012 election was unprecedented for the city in terms of spending by corporate lobby groups, such as the American Beverage Association and Chevron.  Do you think we'll see that level of spending again this year?

MP: Sure, it will happen again. We believe Chevron has already spent more money than it ever has to win this election. Chevron wants to retake the city council. They want to sit down and negotiate with people they have already bought and paid for. That will be the issue in this election — whether people want their representatives to basically be Chevron representatives, or representatives whose allegiance is to the residents of the city. Nobody should underestimate how hard it is to run against several millions of dollars. Several millions of dollars, [considering] the size of Richmond, is pretty obscene when it comes to politics. Richmond is a poster child for how corporations get their way — they pick their targets and put in the money, and they usually win.

RP: Examples?

MP: Take the [Chevron] billboards, for instance. Yes, it's very nice that Chevron is promoting what's good about Richmond but the three issues they've been promoting in those billboards have all been issues that the candidates they've supported have been resistant to. It's not their candidates in these upcoming races that have supported protection of the shoreline; it's not their candidates who have given support to the Rosie the River actions; Clean air in Richmond isn't the result of Chevron's generosity — there was, over the last ten years, tremendous pressure, suits, and pressure from the city to force Chevron to reduce its flaring. So yes, there are lots of good things happening in Richmond but they are not because of Chevron. Chevron has been one of the barriers that we have had to overcome to get these things.

Similarly, coming up in the future Chevron is promoting itself as wanting to modernize the refinery and make it less polluting. We are not opposed to modernizing it, [but] the question in modernization is: will it make the refinery safer? Will it significantly reduce pollution and greenhouse gases here in Richmond, [and] not just by buying pollution credits somewhere else? Will it provide decent jobs for Richmond residents or will they go ahead and do as they've done in the past: recruit workers from other areas because it's cheaper and because they are not in Richmond unions and not tied to the Richmond community.

That's the issue. Richmond is one of the exceptions. They (big corporations like Chevron) haven't always won in Richmond — we have beaten them before and we will continue to beat them in this election, but we will do it by volunteer work. But that is [going to take] a lot of people and a lot of organization.

RP: How can young people get involved in the upcoming election?

MP: Youth should be part of the going door-to-door. Youth should be part of holding meetings. When I started in politics many, many years ago, I was a student activist. We had to take charge of our future by being active and we could not simply let these old people, basically settled in their ways, maintain the status quo. We had to move them.

One of my concerns is that there is a lot of hopelessness among young people, and people don't see the opportunities and possibilities of change. So they've turned to individual solutions rather than organizing to change the society they live in.

This is going to be a volunteer operation. Historically, this is the kind of thing that youth tend to lead. They have the energy; they have the enthusiasm. It's their future that is really at stake and that is what we are talking about. It's their future. I mean, what kind of training they get, what kind of air they breathe, whether they live in a society which is democratic or run by corporations that have the most money to pay for the elected officials… those are all their futures.