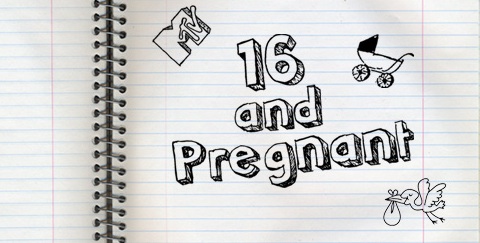 03 Mar

Are Attitudes About Teen Pregnancy Changing?

Commentary, Valerie Klinker

A recent study conducted by Melissa Kearney at University of Maryland suggests that the MTV reality show, 16 and Pregnant, has led to fewer teen births. The research contends that the show produced more Internet searches and tweets by teens regarding birth control and abortion, and ultimately led to a 5.7 percent reduction in teen births during the 18 months following the television program's launch.

I've been a regular viewer of the show – it follows the lives of teen moms from the moment they find out they're pregnant throughout their early days of parenthood — since it began airing in 2009.

I took an interest because I was a teen mom, and I'm now 23 with two handsome little boys — so I can definitely relate to the young women in the TV series.  I had to learn how to put my child before everything and everyone; how to care for my baby, with their dad rooting me on and in my corner. It was so difficult seeing all my friends and people in my age bracket going out, having fun, even going to college, while I sat back working at a dead end job, struggling just to graduate high school. Although the early years were challenging, I would not give it up for anything. I know some folks look down on me for my decision, but I also know I am a great mother.

Having children can be an opportunity to expose them to things that you didn't have yourself. For example, going to a better school, and taking them to places like museums and zoos, can be educational and enlightening.  As a mom, it's a lot of fun just being present, watching how their faces light up and how their personalities develop over time.

I've noticed in the past that girls in my neighborhood and at school thought it was cute to have a kid – they liked the thought of dressing the baby up like a doll. They fell in love with the idea, without looking at the responsibilities that come into play when the baby is born, like diaper changing, education, or even just having to be there, 24-7. But more recently, since the show has been airing, it does seem girls are more likely to take the necessary precautions to not get pregnant. It reminds me of when I was in high school and they gave us a fake baby that cries, poops and pees, to show how hard it really is. We actually got graded on how well we cared for the "baby," with the partner we got assigned to.

I remember how hard it was for me, when I actually did become pregnant, even though I went to parenting and Lamaze classes before the birth.  I went to a high school for pregnant young women, which taught me a lot because there were women working at my school who already had children, other girls like me that were still pregnant, and even girls that had just had their child. There was also a daycare at the school, where you could go in and breast feed or volunteer to help other students, if you were all caught up with your work. Plus they had classes on childbirth and how to raise a baby and bond with your child.

For girls that don't have the opportunity to go to a school like the one I went to, the show 16 and Pregnant conveys some of these things pretty well.  It also shows that there are not always happy endings, which I think is important.

Once I got the hang of parenting, it became like second nature, which is surprising to me because I don't have parents myself – well, not good parents. But if my parents taught me anything it's that I know what I don't want my children to go through.  I've learned that to be a good parent you need to want better for your child, better than what you had and better than what you experienced.  You need to invest your whole life to preserving the innocence of your child.  You need to be there, always, especially in the beginning.  You need to show them a better life.  But most of all, you need to show how important school is and teach them to have a positive attitude, so they can become who and what they want to be as an adult.