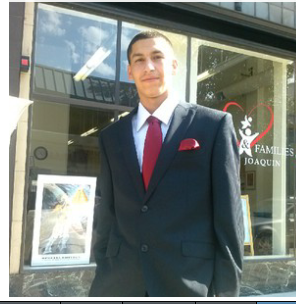 11 Mar

Q&A: After Trauma, Learning How to Heal

Ed. Note: With emotional trauma afflicting an estimated 75 percent of children in the U.S. juvenile justice system, the Sierra Health Foundation recently launched the Positive Youth Justice Initiative (PYJI), a grant initiative that aims to encourage a "trauma-informed" approach to working with youth in custody. The initiative will direct grant dollars towards establishing key youth development practices, primarily in probation departments, in Alameda, San Diego, San Joaquin, and Solano counties.

Chief among those PYJI practices is trauma-informed care.  Probation departments will be adopting this skill set in order for their staff to better serve young individuals who have histories of childhood abuse or other types of violent or trauma-inducing experience. Probation officers will be learning and also teaching other criminal justice staff about the impact of trauma on a survivor's life, so that they can identify symptoms of trauma among their youth, and can avoid re-triggering trauma among survivors. Where adopted, the trauma-informed approach fosters a learning environment where clients become empowered consumers of care that advocate for the type of care that works for them and learn how to understand and heal themselves.

While trauma-informed care is gaining popularity among human service organizations, the PYJI initiative is the second in the country to use the method to specifically target "crossover youth" – foster youth who commit crimes and cross over to the juvenile justice system. Crossover youth are highly likely to be experiencing trauma and in need of services as they not only come with histories of childhood abuse and neglect, but they also have been placed in two institutions that are known to have a detrimental effect on youthful minds.

Richmond Pulse's Sean Shavers spoke with Jesse Esparza, an 18-year-old youth mentor, who spent time in juvenile hall after the foster care system removed him from his parents' home, about how a PYJI-affiliated organization, Fathers and Families of San Joaquin, helped him transform his life. 

Richmond Pulse: I understand that you used to be involved in gangs and now you're helping gang-involved youth at Fathers and Families of San Joaquin. What inspired you then and what inspires you now?

Jesse Esparza: I never thought I was going to see 18. I'm fortunate to live this long. I've lost so many loved ones.  This is why I do this work: to prevent losing the rest of my loved ones that grew up with me. I never forget where I came from.

RP: What's the most important thing that Fathers and Families did for you?

JE: I think it was the acknowledgment they were giving me — teachings, healing my trauma from the past. I think the healing part was the thing that brought me in.

RP: How do you define trauma?

JE: Trauma is like pain that we hold inside from our past. Feeling guilty about your past and blaming yourself and bringing yourself down because of things you've done. I was never taught how to release pain, other than [with] violence. I [thought that] holding pain inside was the norm; nobody really talked about what went on.

RP: What were you like before you came to Fathers & Families?
JE: I was blind. My brain was fogged. My grandma would tell me I was going too fast: "You need to stop before it's too late."  But I wouldn't listen. Nobody could reach me. Nobody could touch me.

RP: I understand your grandmother raised you. Tell us a little bit about that.

JE: My dad was incarcerated when I was two years old.  He was sentenced to 25-to-life. I lived with my mom for a little bit, but, you know, stepfather comes into play and you might not get along with stepfather. So I ended up moving [in] with my grandmother at a young age.

RP: What caused you to get involved with gangs?

JE: We were a low-income family.  I didn't really have no clothes, school supplies… I didn't have nothing. So I felt like I had to take a role; I had to do what I had to do to get money.

In seventh grade I got jumped by a group of Southeast Asian kids and after that, I kind of got into gang activity. I felt like I had to be in a bigger group, we had to be dominant, we had to run everything.

RP: So you consider yourself a "crossover youth?" How do crossover youth differ from other youth?

JE: Other youth have parents, [or] at least someone in their family that cares about them. If a crossover youth gets locked up, there's going to be no one there to support them, no one there to go to court for them. They're dealing with trauma because they're growing up without parents, so they're probably in and out of different foster homes, they have to meet new parents, [and] they have to love new people. You can't love your family [and] you can't feel loved, so you feel neglected.  So you go with the streets because the streets comfort you.

RP: Father's and Families uses healing circles to help youth get past those emotional wounds. Can you describe a healing circle?

JE: Sometimes it's intergenerational healings, with our youth and our elders together. It's good because the elders have wisdom, and they share their past and the mistakes they've made, to help us not to go down those paths. It's also good when we just do it (healing circles) with our youth, because we can confide in each other, relate to each other.

You let all the negative out — it's like a good energy, you let all the positive in. We have a little altar in the middle, where there's some incense and sage burning, so we're blessing the room. It's really great.

RP: Last thoughts?

JE: I think we're really going to make a change.