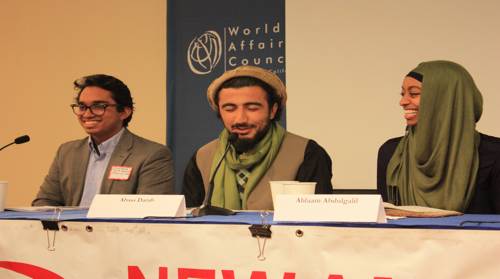 10 Apr

Growing Up Muslim

New America Media, News Report, Peter Schurmann,

SAN FRANCISCO – There are a quarter million Muslims living in the Bay Area, and nearly half of them are under the age of 35. Many describe an intense personal and spiritual struggle as they look to reconcile their faith with the mainstream of American society.

These young Muslims are the face of American Islam in the 21st century, and yet their stories are rarely heard.

"I prayed five times a day, fasted on occasion and went on Hajj [pilgrimage]," said Omar Raza, who is 16 and a student at Averroes High School in Fremont, the Bay Area's first Islamic high school. The son of Pakistani immigrants, Raza did these things "because my parents told me to. I never questioned them."

It was in ninth grade, he says, that he first began looking for answers. "I went through this stage … I was trying to find my purpose."

Raza delved into Islamic history and theology, which deepened his relationship to the daily rites he had observed since childhood. In that process he also came to see himself in a clearer light. "I realized my identity was in my heart," he said.

Raza joined a panel of speakers who shared their experiences growing up Muslim at a forum in San Francisco on March 26 sponsored by several Bay Area community foundations and the One Nation Bay Area Project. Organized by New America Media, the event put a spotlight on the voices of young Muslim Americans in the Bay Area.


Above: Dawood Yasin, coordinator of student life activities and Zaytuna College and Farid Senzai, co-author of The Bay Area Muslim Study: Establishing Identity and Community. 

For many on the panel, anti-Muslim sentiment is a near daily experience.
Hatem Bazian is the co-author of a landmark study looking at the Bay Area Muslim community and commissioned by One Nation Bay Area with support from the San Francisco Foundation, the Silicon Valley Community Foundation, the Marin Community Foundation, and Asian Americans/Pacific Islanders in Philanthropy.  Citing the survey of more than 1,100 Bay Area Muslims, Bazian told the audience that 60 percent of respondents had reported experiencing Islamaphobia at some point. "Many now see it as part of being Muslim," he said.
Other findings reveal a highly engaged civic community with nearly two-thirds of respondents saying they had done volunteer work in the past year. That compares to just 20 percent for the general population.
There is also a high degree of ethnic and social diversity among Bay Area Muslims. Just under a third are of South Asian origin, followed by 23 percent Arab and 17 percent Afghan. Other groups include African Americans, Asians and Iranians. In terms of socio-economic status, South Asians represented the highest wage earners on average, while Afghans tended to see higher rates of poverty.
"The income gap is clear," said Farid Senzai, who co-authored the study and described it as the "first glimpse of a community we have little data about."
But as NAM Executive Director Sandy Close remarked, youth voices were largely absent. Wednesday's forum was an effort to help fill that void, she explained, and to "explore a landscape that felt completely invisible."
"I don't like to be too religious," said Ameer Hassan, a Yemeni American born and raised in Oakland, Calif. Dressed in a black bomber jacket and matching fedora, Hassan spoke about his experiences working in his parents' liquor store and missing out on school sports in the process. Yemenis "were the first people to answer the call from Mecca … yet here we are selling liquor in Oakland. It pays the bills," he shrugged.
Like Raza, 21-year-old Afghan American Abass Darab said as a child he observed Islamic religious rites, but added, "There was no substance or meaning behind it." After high school, the Virginia native relocated to Berkeley, Calif. where he enrolled in Zaytuna College, the country's first Muslim liberal arts school.
As Darab sees it, there are two major issues confronting young Muslim Americans: marriage and gender relations. Pointing to recent statistics that show divorce rates as high as 50 percent among Muslim families, he faults the rigid separation of the sexes as being partly to blame.
"We really don't know each other," he said, adding he'd like to see more co-ed institutions where Muslim men and women can meet while still "grounded in Islamic principles."
 

Above: Veronica Hernandez of San Mateo (Right) said when she converted to Islam there were few people around to help her learn "how to be a Muslim."
Other issues that came up in the day's discussion included questions around gay rights and Islamic extremism.
Ahlaam Abdulgalil, part Yemeni and part Somali, recalled her experience joining the girls high school basketball team in her hometown of Bridgeport, Connecticut. The perception then was that most of the players were lesbian, and so her parents quickly pulled her from the team.
"I believe in love, always and all ways," stressed Abdulgalil, adding however that in Islam "being gay is forbidden."
Local journalist and public radio host Hana Baba said she sees extremism in gender rules. Baba, a native of Sudan, related an experience she had with her daughters, who came home quoting the teacher at a religious school they attended, who said "mothers love sons more than daughters," and that "Muslims should never spend the night in a Jew or Christian's home." Baba promptly pulled her children out of the school.
For Dawood Yasin, coordinator of student life at Zaytuna College, these issues typify the challenge and opportunity that Muslim youth here face. Yasin, an African American convert, spent 10 years living and studying in the Middle East, including in the Syrian capital of Damascus.
"Separating culture from religion is of the utmost importance" for this generation, he said, explaining that in many Islamic societies practices that fall under the banner of religion are in fact rooted more in culture and are not found in scripture. "Being in the U.S. creates an incredible opportunity for these things not to happen here," he noted.
Yasin also points to the growing institutionalization of Islam in the country, a theme picked up by Senzai, who said that the number of mosques in the Bay Area has grown from just three in 1985 to 84 today. "There are even organic mosques," he said.
But despite the flourishing of these places of worship and the emergence of community groups like One Nation, Senzai said there is still "no broad vision" for the community as a whole, and that women in particular are proving to be the "site of confrontation" over what it means to be Muslim in America.
One of those women is Veronica Hernandez. A Bay Area native of Irish, Italian and Mexican heritage, Hernandez' brother initially drew her to the religion. "I remember watching him pray," she said. "I knew and felt there was great meaning in life … I'm still searching for that."
But Hernandez, whose Filipino husband is also a convert, said when she became Muslim there was no one around to help answer the one driving question she and others in the community face: "Ok, how do I be a Muslim?"
The One Nation Bay Area Project — a collaboration between the Marin Community Foundation, The San Francisco Foundation, the Silicon Valley Community Foundation, and Asian Americans/Pacific Islanders in Philanthropy — works to strengthen relationships between Muslim and non-Muslim communities. Visit their website to learn more about the project.