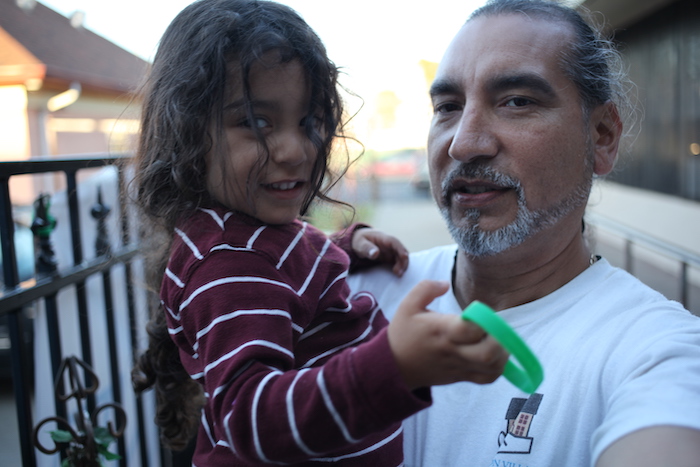 27 May

Locals Reach for Health Care, While Advocates Try to Catch the Uninsured

News Report + Photos, Marco Villalobos

Beneath a mural depicting salvation outside St. Mark's Church, Ruben Pedroza stood trying to figure out his family's health insurance. Inside the church hall, a meeting was underway to educate residents as to what health coverage they might qualify for due to the Affordable Care Act.

Although nearly 3.5 million California residents have enrolled in either Covered California (the state's marketplace) or Medi-Cal since last fall, over 5.8 million Californians remain without coverage. Mr. Pedroza counts his five sons among the uninsured.

In fact, Pedroza says, he's been the only member of his family with health coverage for years, a situation he is now trying to remedy.

At the heart of the meeting at the church, hosted by Healthy Richmond's Access to Quality Healthcare Action Team, was a push to inform locals of what health coverage options are available to them and how to access health care, with or without insurance.

"Moving forward, we must acknowledge that there are thousands of individuals in Contra Costa County that will remain uninsured. This event is the first in a series of community-driven efforts that we will organize to elevate the importance of ensuring that everyone has access to comprehensive health care and a quality medical home," said Alvaro Fuentes, the executive director of the Community Clinic Consortium of Contra Costa and Solano Counties.

In the church hall, panelists discussed details around coverage options and care, specifically for Latinos, who comprise one of the state's largest workforces. One of the keys to improved and wider coverage, said Dr. Xavier Morales, the executive director of the Latino Coalition for a Healthy California, is the Health for All Act. Also known as State Sen. Ricardo Lara's SB 1005, the bill proposes to expand health coverage to all Californians, regardless of immigration status.

"I feel like whether you are documented or undocumented it should work for everybody," said Pedroza.

But the act, as pivotal as it could be in ensuring that all residents have access to quality and affordable care, would do little to address the current statewide backlog of 900,000 coverage applicants.

"We're here tonight because we've been having problems with the Covered California plan," said Pedroza, as his four-year-old son wriggles loose from his arms. "We registered with them a couple of months back and they accepted me and my wife with Kaiser. We tried to enroll our kids with Kaiser and they sent us a letter saying that the kids weren't qualified, that they would have to qualify through Medi-Cal."

That letter was the beginning of a struggle that still leaves the Pedrozas between plans in search of a resolution that will provide coverage for their sons.

"We went ahead and applied for Medi-Cal, and Medi-Cal sent us a letter saying that we didn't qualify for Medi-Cal, that we should enroll in the Covered California plan," said Pedroza. "So they're just throwing us back and forth and that's the reason why we're here. We're trying to get answers and find out which way to go with this."

As he sat down with a group of attendees, he motioned for a headset. His wife, recently granted residency in the state, wanted to listen in on panelists via the live translation taking place.

Regardless of the status of one's application, assured Dr. William Walker, director and health officer of Contra Costa Health Services, "If you signed up and need care, you can be covered retroactively."

Given his difficulty in securing coverage, Pedroza doubts the reliability of more universal access to coverage. "They're trying to get everybody into the health plan but it's not working, you know? [My] kids are stuck in the middle," he says. He headed off in search of some reassurance that this time he was getting closer to health care for his sons.