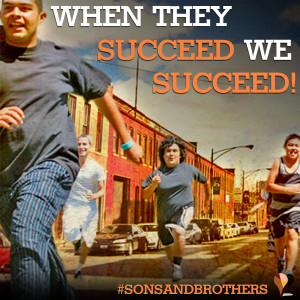 06 Jun

Starting a National Conversation About Boys and Men of Color

by Edgardo Cervano-Soto

Last February, President Obama announced "My Brother's Keeper," an initiative to foster collaboration between private businesses, non-profits and local governments to support young men of color. It was in the wake of Trayvon Martin's death two years earlier, that the President had ordered his staff to develop an initiative that would address the major issues impacting black and brown young men in the U.S., including education disparities, high incarceration rates, and unemployment. It was a monumental moment for President Obama, who for much of his two terms has avoided making race a centerpiece of his political agenda.

The My Brother's Keeper initiative was the topic of a live online forum that took place on June 6, moderated by Dr. Robert Ross, CEO of The California Endowment, a private health foundation that hosted the online discussion. Dr. Ross was joined on the forum by Heather Foster, Public Engagement Advisor to the President, and by popular entertainers India Arie, Wilmer Valderrama, and Romeo Santos.

The one-hour conversation covered a variety of topics and presented current data that paints a picture of the challenges facing young men of color. For example, one-third of African American men will be imprisoned in their lifetime; Latino young men are four times more likely to suffer from post traumatic stress disorder than white young men; and approximately one-third of young men from Southeast Asian refugee communities will not finish high school.

My Brother's Keeper is placing a special focus on education and school environments. Forum participants discussed research showing that if a child can't read well by the 3rd grade, he will likely fall behind and drop out. Furthermore, suspension doubles the chances of dropout and triples the chance of entering the criminal justice system.

A good portion of the forum was dedicated to the question of mentorship: How can mentorship impact and guide young men? How can mentorship be of service to combat each of the disparities and challenges impacting young men of color?

As for the forum participants, Wilmer Valderrama and India Arie are celebrities who have shown a passion for activism in the past through their participation in political organizations. Valderrama is very active in the VotoLatino group, and has been an advocate for immigration reform. He spoke about the need for communities of color to build capital to gain recognition from political parties. The singer India Arie spoke on how to influence consciousness through her music. Romeo Santos talked about how family values can be the basis to providing support to young men.

Though each celebrity spoke on the necessity to support young men of color through representation in media and personal values, the conversation lacked specifics. The stars rarely touched on the specific issues of suspension rates, high unemployment, etc.
The conversation never seemed to truly identify specific issues faced by young men of color – even though the initiative itself is race specific.

In one question, Dr. Ross asked how the entertainment and music industry could encourage a shift to positive representations of young men of color rather than reinforce negative stereotypes. This was a complex response that showed how entertainment and media respond first and foremost to money. Valderrama used the example of studios choosing to stick to old ideas — for example in films and TV shows — until a non-stereotypical Latino or Black film shows it can make money.

For me, this led to the conclusion that our consumer power, and not our activism, can sway the media industry. Only having money and the privilege to spend it will force media corporations in entertainment to wake up and create more "real" programming for black and brown people.

Overall, I found the conversation with celebrities to be a curious way to garner attention for Obama's "My Brother's Keeper" initiative. In my opinion, I wish the discussion had done a better job of hitting on the specific issues facing young men of color — suspension rates, incarceration rates, unemployment and the current "stop and frisk" and "stand your own ground" policies — that are overwhelmingly threatening black and brown bodies.