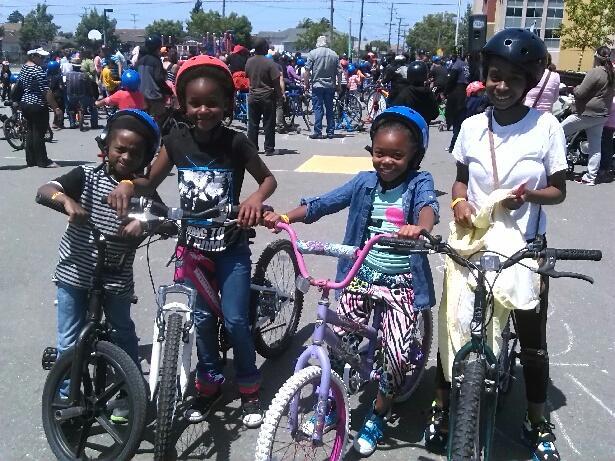 18 Jun

Bike Fiesta is a Family Party

by Sean Shavers

Dressed in a hoodie and Nike sneakers, 15-year-old TreShawn Jackson, stood next to his bike and proudly described why he was out at last month's 4th annual Major Taylor Family Bike Fiesta. "I thought it'd be cool to ride around the neighborhood," he said. "It's what I do, and enjoy doing."

Jackson was one of hundreds of Richmond citizens to stop by the bike fiesta at Lincoln Elementary School and many, like him, went home with more than memories.

"My chain was loose, and I needed a new tire and they fixed it," Jackson said, as a wide grin broke across his face.

The fiesta, hosted by Building Blocks for Kids Collaborative (BBK), is held each year in honor of Marshall "Major" Taylor, who became the first African American world champion cyclists in 1899.

"We really raise him high in Richmond," Mayor Gayle McLaughlin said of Taylor at the event. "All of our African American community can take pride and ownership in remembrance of this wonderful person."

Beyond honoring Taylor, the real mission of the Bike Fiesta is to promote the health and wellness of Richmond residents by providing opportunities for families to engage in fun, physical activity and celebrate cycling. During the day, fiesta goers could take bike riding classes, get their bikes repaired, get a new helmet, participate in an exercise class, have lunch and a smoothie—all for free.

"We wanted to give families a safe space, and also promote bike riding and healthy living, which is crucial for our Richmond residents," Dulce Galicia, a staff member at BBK, said.

It seemed to me like it was also a perfect opportunity for everyone to get up off the couch, give Instagram a break and spend the day as a family.

The event was organized for all Richmond residents, with collaboration from many community groups, including the City of Richmond, Contra Costa Department of Health Services and Rich City Rides. It was specifically important for event to be held in the Iron Triangle, said Galicia, an area known for its poverty. "I believe our families deserve this," she said.

Throughout the day, I saw people of all colors enjoying each other's company. Children played outside freely, without fear and even the parents got involved dancing in a Zumba class.
One group that caught my eye was the Kemp family. Latisha Kemp came to the Fiesta with four of her nieces and nephews, each of them outfitted in bicycle pads and helmets. "My nephews go to Lincoln, so we saw the flyer and just decided to show up," Kemp said. She admits that she doesn't ride her bike often and because of street chaos, she says her nephews don't get to ride outside much either. "But, coming to this was great," she said. "I could ride my bike and play with them. We also got free helmets and pads so that was great for the kids."
"Things like this should happen all the time," she added. "We need it."