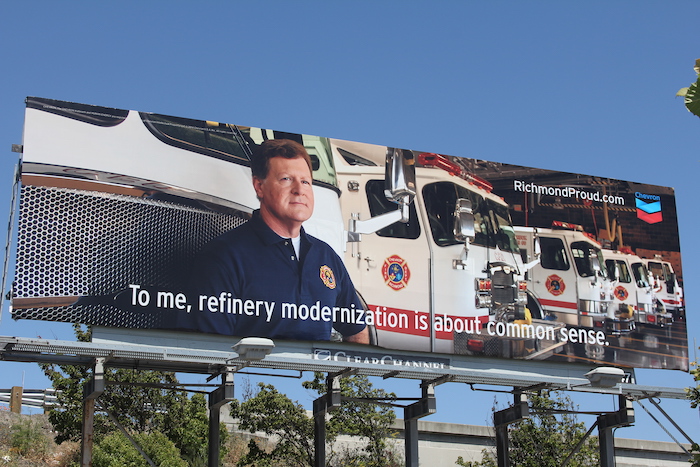 20 Jun

As Chevron and Richmond Try to Chart a New Path, Doubts Remain

By Tania Pulido

The Chevron refinery explosion that sent black clouds over Richmond in 2012 also touched off a local, and regional movement, calling for transparency and community safety considerations from the oil giant. Two years later, Chevron has launched a "Modernization Project" proposing new development at its Richmond refinery.

It's a big project, and there's a lot at stake for Chevron, which lost community trust with the last explosion. Despite an unprecedented number of local initiatives of late, questions for the company remain.

Last month, I attended the City of Richmond's Community Benefits Workshop to learn more about the planned modernization project and hear community input. As a Richmond resident, with family living in San Pablo, it's integral to me and my family's safety that Chevron take all possible steps to prevent another explosion from happening—and that the refinery lower its pollution emissions.

The workshop was open to the public, and hosted as part of a series of workshops to gather input for future Chevron funded health and community initiatives.

A big component of the refinery's proposed development is the installation of a new hydrogen plant, which Chevron says will improve sulfur removal.

"We are replacing the existing 1960s hydrogen plant with modern technology that is inherently safer, cleaner and 20 percent more energy efficient," said Melissa Ritchie, Chevron's Richmond spokeswoman. The benefits of the upgrade, she said, are good for everyone in Richmond. "Having a safer plant that is more energy efficient and decreases emissions benefits this community."

But, members from community activist groups Asian Pacific Environmental Network (APEN) and Communities for a Better Environment (CBE) claim there are many concerns with the refinery project. "The Environmental Impact Report shows that the proposed project will increase greenhouse gas emissions as well as toxic air pollution," said Megan Zapanta, Community Organizer with APEN, "which will have both health and climate impacts."

During the workshop, attendees also had a chance to discuss and weigh in on the proposed development. Andres Soto, an organizer at CBE, wants Chevron to replace the old pipes at the refinery, and make a long-term commitment to reducing overall greenhouse gas emissions. Richmond resident, Bill Pinkham, who attended the workshop, agreed with Soto, saying pipe replacement and reduction of greenhouse emissions were "the two missing links in the modernization project."

Other residents said they'd like to see community health initiatives incorporated in schools, more health education and an oversight committee for toxic emissions that would be governed by community members.

Debates over the process, developments and initiatives went on throughout the day in break out groups that focused on four areas: education, local hiring and procurement, workforce development and training, and health and safety. The health and safety group was especially dynamic, with input collected ranging from community changes to refinery developments.

Members from Richmond Trees, a volunteer based organization that promotes growing green infrastructure in Richmond, came to the workshop seeking a partnership with Chevron. Kaei Smith, a volunteer with Richmond Trees, said the City of Richmond currently has a 10 percent tree canopy (the layer of leaves, branches and stems of trees that cover the ground) and the group recommends a tree canopy of 40 percent for a healthy city.

Richmond resident Melvin Willis, of Alliance of Californians for Community Empowerment attended the workshop to make sure the modernization project benefits Richmond, and helps the city improve and move forward. Willis calls the modernization project a "clouded opportunity, and a complicated issue."

The Environmental Impact Report for the new development at the refinery has been released and awaits approval from the City Council later this summer. One condition of approval is for Chevron to support Richmond's 2030 General Plan, and all health policies and ordinances contained in it. Another requirement is for community input for the community benefits initiative.

This workshop was a small step in determining how the city and Chevron will move forward. But, it's still debatable whether it is in residents' best interest to have a powerful and influential oil company involved with the city's health policies.

A previous version of this article incorrectly said that the 2005 Modernization Project lacked a Community Benefits Agreement.