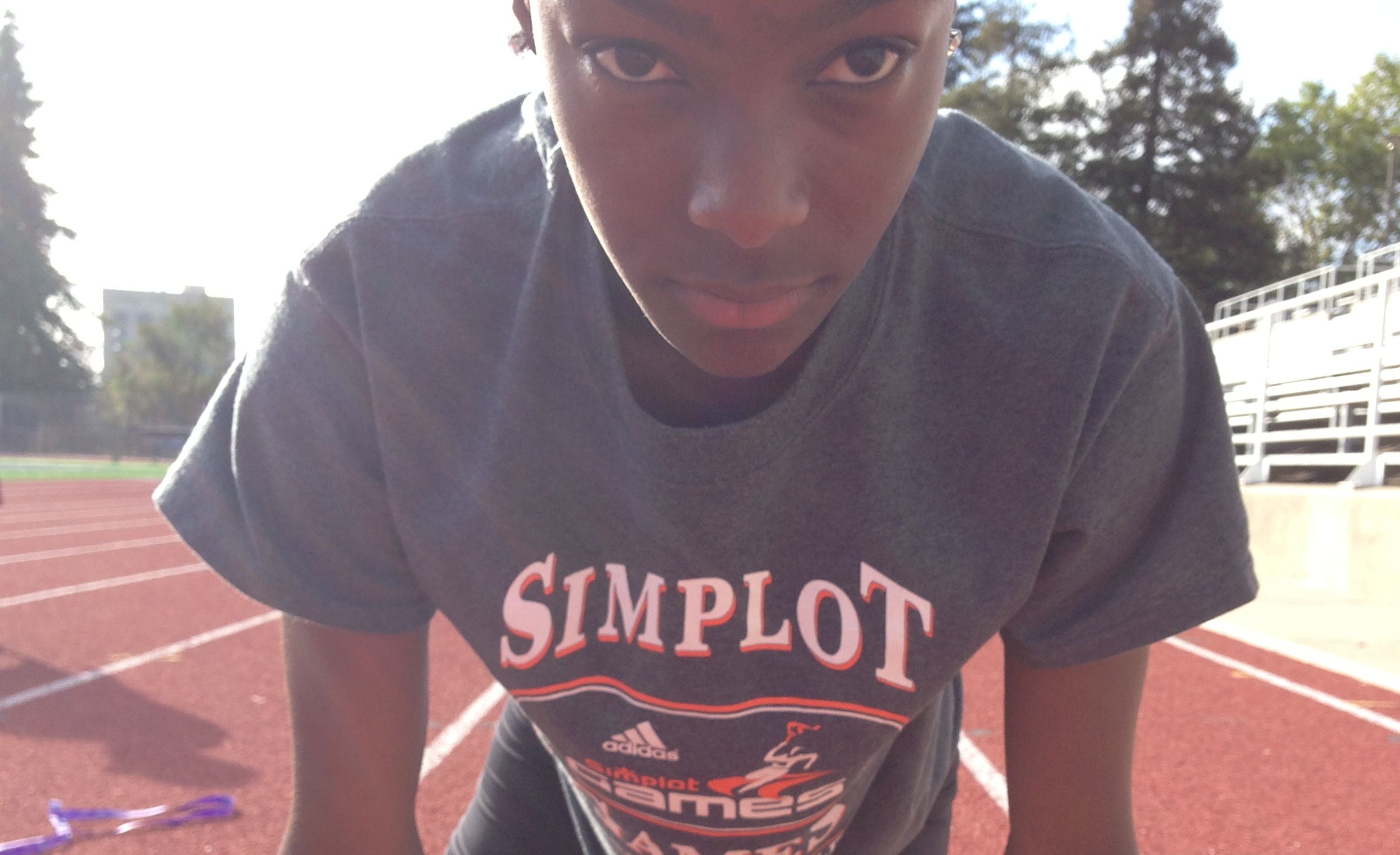 03 Jul

El Cerrito High School Track Star Hurdles Her Way Through Life

by Sukey Lewis | Leer en Español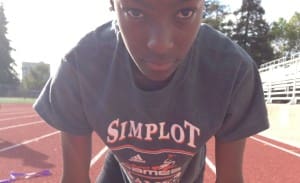 Kaylah Robinson jumps up and down rolling her head from side to side. Her deep brown eyes focus on the horizon—past the yards of track and two hurdles in front of her. Kaylah's arms hang taut at her sides, fingers splayed apart. Every muscle in her long legs seems to vibrate.
"Mark."
She drops to her hands and knees, pressing her blue and red running shoes into the starting blocks.
"Set."
She shifts into racing position. Head down, butt slightly raised, hands in the red dirt.
"Crack."
The slap of two wooden bricks sets her in motion: potential energy converting to kinetic.
Kaylah slips over the first hurdle like water over a stone. Her stride barely changes. But, a moment later, "Bam!" Her toe hits the second hurdle. She stumbles and slows, wheeling around with an impatient smile.
At 14, Kaylah is already used to perfection.
The local track star says it started in pre-school. She took part in a relay race, but fell halfway to the handoff point. She figured the race was over after the tumble, but kept running anyway. She smoked the competition.
David Robinson, Kaylah's father, biggest fan, and onetime coach, says track has taught Kaylah a lot about life. "You can't control what goes on around you in life, and the important thing is to focus on what you can control," he says. "She can't control what person in lane one does; she can only control what she does in her lane."
At eight, Kaylah started competing and training with the Richmond Half Steppers. She ran away with her first gold medal that same year at the sub-bantam (eight and under) track championship for Northern California.
"It felt really, really good," she says.
Today's practice, at Laney College in Oakland, is a bit more relaxed than usual; the big race was last week. Kaylah participated in the California Interscholastic Federation (CIF) State Track and Field Championship, and did well, but missed the opportunity to compete in the state final by an eighth of a second. After four weeks of eliminations, only the top nine contestants move on to the final; Kaylah was number 10.
Though she wishes she'd made the final, she says she didn't leave completely disappointed. "It felt really good to be competing with the best of the best."
And that isn't a hollow prize. It is rare for someone so young to qualify for the State meet. In Kaylah's events—the 100-meter dash and the 100-meter hurdles—only two and three other female freshman in the entire state (respectively) qualified to compete.
Kaylah knows she's talented, but she isn't smug. Between training and watching what she eats, track takes a lot of work. Sometimes, especially after a difficult day, she wishes she could just hang out and be a regular teenager, but she says she has to respect her gift.
Her father says she had a tough year when she about 11-years-old. "She knew at that point she couldn't just walk out of bed in the morning and beat people anymore." That difficulty, he said, helped her develop a strong work ethic. "I really saw her mature through that."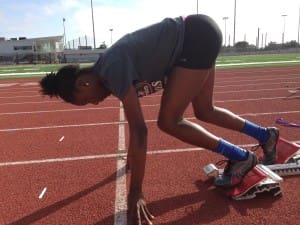 "I'm really good," Kaylah acknowledges. "Not a lot of people get the talent. So I don't throw it away." Then she smiles. "And if I keep up with it, I could go to college for free."
Despite her youth, education is clearly important to Kaylah. As a freshman at El Cerrito High, she says she applies the same competitive drive to her schoolwork as she does to track.
"For the first time I have a 4.0," she says proudly. "I've always had good grades, and I push myself even if I have to do extra credit."
Kaylah clearly has innate athletic ability. Tall and lean—her body is all long lines, and neat hinges. Though she's tried other sports, from basketball to volleyball, Kaylah keeps coming back to running because she knows it's where she can excel. "Why be just an average player on the team?" she asks.
While sprinting came naturally to Kaylah hurdling is new and difficult.
"We have a love-hate relationship," she says of the hurdles. She begins by saying her biggest challenge has been learning how to hurdle, but then revises it. "Actually, my biggest challenge is learning how to be patient with my hurdling."
This is still her first year with the sport, and Kaylah has to remind herself that it takes time, a lot of time to get it down; even Olympians aren't perfect, she says. So, for now, she'll take the falls and try to learn patience.
And, there are other skills that are important for track.
"It's not just running." Kaylah says, shaking her head. "People think we just run around in circles." A runner has to have technique, strength and a deep knowledge of her own anatomy, she explains. Not to mention mental toughness.
At the North Coast Section Berkeley Meet of Champions in May, Kaylah showed up to compete, but her body wasn't cooperating.
"I had a horrible stomachache," she says. "I told myself, at the end of the day the other girls don't care that you have a stomachache. Nobody in the stands cares if your stomach hurts. The track, the timer—nobody cares if your stomach is hurting."
It came down to willpower.
"I told myself it doesn't hurt." Kaylah placed second in the 100-meter hurdles and third in the 100-meter dash that day.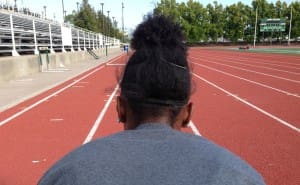 Kaylah's dream is to be the first person to win both the 100-meter hurdles and the 100-meter dash at the CIF State Track and Field Championship.
Her next big race is the Golden West Invitational at the end of June. Aside from training and racing, Kaylah says she wants to let loose and have some fun with her family over summer "break."
"I'm so jammed up during the school year," she says. "Summer is time to spend with my family."Por Sukey Lewis
Kaylah Robinson salta rodando su cabeza de lado a lado. Sus profundos ojos cafés se centran en el horizonte más allá de las yardas de la pista y dos vallas en frente de ella. Los brazos de Kaylah cuelgan firmemente a sus costados, con los dedos extendidos. Todos los músculos de sus piernas largas parecen vibrar.
"En sus marcas".
Ella se deja caer sobre sus manos y rodillas, presionando sus zapatos de correr azules y rojos en el taco de salida.
"Listos".
Ella se pone en la posición de carreras. La cabeza hacia abajo, ligeramente elevada, las manos en la tierra roja.
"Crack".
La bofetada de dos ladrillos de madera la pone en movimiento: la energía potencial convertida a cinética.
Kaylah se desliza sobre el primer obstáculo como agua sobre una piedra. Su zancada apenas cambia. Pero, un momento después, "!Bam!" Su dedo del pie golpea la segunda valla. Tropieza y va más despacio, devolviéndose con una sonrisa impaciente.
A los 14, Kaylah ya esta acostumbrada a la perfección.
La estrella del atletismo local, dice que comenzó en la escuela preescolar. Ella participó en una carrera de relevos, pero cayó a mitad del camino del punto de transferencia. Pensó que la carrera había terminado después de la caída, pero siguió corriendo de todos modos. Dejó atrás a la competencia.
David Robinson, el padre de Kaylah, y su mayor fan, y una vez entrenador, dice que la pista le ha enseñado a Kaylah mucho sobre la vida. "No puedes controlar lo que ocurre a tu alrededor en la vida, y lo importante es centrarte en lo que puedes controlar", dice. "Ella no puede controlar lo que la persona en un carril hace; ella sólo puede controlar lo que hace ella en su carril".
A los ocho, Kaylah empezó a competir y entrenar con los Richmond Half Steppers. Ella recibió su primera medalla de oro ese mismo año en el sub-bantam (ocho años o menos) campeonato de pista para el norte de California.
"Se sintió muy, muy bien", dice ella.
La sesión de hoy, en Laney College en Oakland, es un poco más relajado de lo habitual; la gran carrera fue la semana pasada. Kaylah participó en el Campeonato de Pista y Campo del Estado de la Federación Interescolar de California (CIF), y le fue bien, pero perdió la oportunidad de competir en la final del estado por un octavo de segundo. Después de cuatro semanas de eliminaciones, sólo los mejores nueve concursantes pasan a la final; Kaylah era la número 10.
Aunque ella desea que hubiera llegado a el final, ella dice que no se fue completamente decepcionada. "Me sentí realmente bien estar compitiendo con lo mejor de lo mejor".
Y eso no es un premio hueco. Es raro que alguien tan joven clasifique al encuentro estatal. En los eventos de Kaylah – la carrera de 100 metros y los 100 metros con vallas sólo dos y otras tres mujeres estudiantes de primer año en todo el estado (respectivamente) clasificaron para competir.
Kaylah sabe que tiene talento, pero ella no es presumida. Entre el entrenamiento y la observación de lo que come, la pista lleva mucho trabajo. A veces, especialmente después de un día difícil, ella desea que pudiera pasar el tiempo y ser un adolescente normal, pero ella dice que tiene que respetar su regalo.
Su padre dice que tuvo un año difícil cuando ella tenía 11 años. "Ella sabía en ese momento que ella ya no podía salir de la cama por la mañana y ganarle a la gente". Esa dificultad, dijo, le ayudó a desarrollar una fuerte ética de trabajo. "Realmente la vi madurar a través de eso".
"Soy muy buena", reconoce Kaylah. "No mucha gente consigue el talento. Así que no lo tiro a la basura". Entonces ella sonríe. "Y si sigo con esto, podría ir a la universidad de forma gratuita".
A pesar de su juventud, la educación es claramente importante para Kaylah. Como estudiante de primer año en la secundaria El Cerrito, ella dice que aplica el mismo impulso competitivo para su trabajo escolar como lo hace con la pista.
"Por primera vez tengo un 4,0", dice con orgullo. "Siempre he tenido buenas notas, y me esfuerzo incluso si tengo que hacer crédito adicional".
Kaylah claramente tiene la capacidad atlética innata. Alta y delgada – su cuerpo es todo líneas largas, y articulaciones. A pesar de que ha intentado otros deportes, baloncesto a voleibol, Kaylah sigue volviendo a correr porque ella sabe que es donde ella puede sobresalir. "¿Por qué ser sólo un jugador regular en el equipo?" Ella pregunta.
Mientras hacer un sprint fue algo natural para Kaylah, saltar las vallas es nuevo y difícil.
"Tenemos una relación de amor-odio", dice de las vallas. Ella comienza diciendo que su mayor reto ha sido aprender cómo saltar la valla, pero luego lo revisa. "En realidad, mi mayor reto es aprender a ser paciente con mi forma de saltar las vallas".
Este sigue siendo su primer año con el deporte, y Kaylah tiene que recordarse a sí misma que se necesita tiempo, mucho tiempo para aprenderlo; incluso los olímpicos no son perfectos, dice ella. Así que, por ahora, ella tomará las caídas y tratará de aprender a tener paciencia.
Y, hay otras habilidades que son importantes para la pista.
"No es sólo correr". Kaylah dice, sacudiendo la cabeza. "La gente piensa que sólo corremos en círculos". Un corredor tiene que tener técnica, fuerza y un profundo conocimiento de su propia anatomía, explica. Por no hablar de la fortaleza mental.
En el Encuentro de Campeones de la Sección Berkeley de la Costa Norte en mayo, Kaylah llegó para competir, pero su cuerpo no estaba cooperando.
"Yo tenía un dolor de estómago horrible", dice ella. "Me dije a mí misma, al final del día a las otras chicas no les importa que tienes un dolor de estómago. A nadie en las gradas le importa si te duele el estómago. La pista, el temporizador-a nadie le importa si tu estómago te está doliendo".
Se redujo a la fuerza de voluntad.
"Me dije a mí misma que no me dolía". Kaylah se colocó en segundo lugar en los 100 metros con vallas y tercera en la carrera de 100 metros ese día.
El sueño de Kaylah es ser la primera persona en ganar tanto los 100 metros con vallas y la carrera de 100 metros en el Campeonato Estatal de Atletismo de CIF.
Su siguiente gran carrera es el Oeste Dorado por Invitación a finales de junio. Aparte del entrenamiento y las carreras, Kaylah dice que quiere relajarse y pasar un buen rato con su familia durante el "descanso" de verano.
"Estoy tan ocupada durante el año escolar", dice ella. "El verano es tiempo para estar con mi familia".