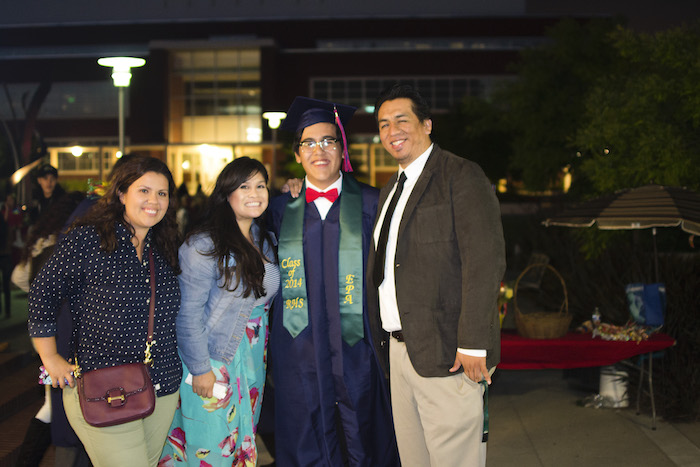 10 Jul

With DACA, I Can See My Future More Clearly

By Manuel Martinez

I've called Richmond home since as far back as I can remember, but it was just two years ago that I finally felt like this place accepted me—and it was thanks to a little blue card, my social security number.

From the moment I got my "documents," my outlook on life changed, and so did my future.

I was born in Mexico, in Irapuato, a city a few hours north of Mexico City in the state of Guanajuato, but it has never been home to me. Before I was two-years-old, my family moved from Irapuato to Richmond.

Throughout my life, I've felt disadvantaged because I wasn't born here. The fear of deportation set in after watching an Immigration and Customs Enforcement (ICE) raid on television — and that fear, I've come to realize, kept me from dreaming that life could be whatever I wanted it to be.

I didn't excel in school, nor did I feel motivated to try. Growing up, I became accustomed to the idea that working construction jobs with my father was my future. I just figured higher education was not in the cards. My mother, the most educated in the family, had finished the equivalent of high school in Mexico. After she graduated, she joined the military. My dad did as his father had done and dropped out of school at 16 to also join the military.

During my own high school days in Richmond, the "career days" and field trips to universities unsettled me. Why should I think about applying to a four-year college, or waste time building a resume or cover letter when no one would hire an "illegal alien?"

That word, "alien," hurt. It was the ultimate contrast between me and everyone else. A word usually reserved for green, science fiction beings from another planet. The only difference I could see between my friends and me was that my parents had me in Mexico. I was labeled an "alien" because of something over which I had no control.

And so, my disinterest in school continued until my junior year of high school.

The day that changed my life trajectory started like most school days. But then my mom mentioned that I'd be leaving school early to go to the Mexican Consulate in San Francisco to request my Mexican passport. She explained that President Barack Obama had signed an executive order called Deferred Action for Childhood Arrivals (DACA) that made people like me eligible for a social security card and a work permit. It took a few months, and a lot of work on my parent's part—as well as an immigration lawyer in Berkeley—but before long I had a greenish-blue piece of paper with nine digits on it in my hand, and I felt like I finally belonged.

Instantly, I was motivated to turn my grades around. I was eager to finally have a proud answer to the question, "What are your plans after high school?"

By my senior year, I was blown away by the amount of support that was available. I borrowed hundreds of dollars worth of study guides for college related tests. Twice I took the SAT test—for free. Four California State Universities waived my application fees. Life was a lot brighter.

Along the way, many teachers and services helped me, but one of the best support systems was the College and Career Center at Richmond High School. Staff members at the Richmond High career center are genuinely concerned for students' future. They were always there to answer any questions I had.

Another huge pillar of support for me was my English teacher Ms. Navarro. She watched me grow from a lazy, immature sophomore to a motivated, responsible young person. She was able to answer many of the questions I had and she understood what it was like to feel suffocated by the pressure of being the first in the family to pursue a higher education.

When I finally received my letters of acceptance to college, I cried. My mother cried also, telling me as she wiped away her tears that this was proof her sacrifices were worth it; that the days she and my father had taken off of work to march and rally for immigration reform had culminated with this moment.

I stood there holding my acceptance letter, relieved that after so many years of indifference I was able to salvage my academic career.

Next month, I'll start classes at San Francisco State University with plans to major in Computer Science. But, my story and struggle is far from finished. While I'm grateful for DACA, the access I'm granted under it doesn't make me eligible for many types of financial aid. So getting a degree will mean taking on more debt than I like to think about. My hope is that in four years, at my graduation, I'll say it was all worth it.

At the end of the day, all I want to be able to make my family and all of those who helped me proud. And with the support I've received to this point, I doubt there is anything that's going to stop me now.