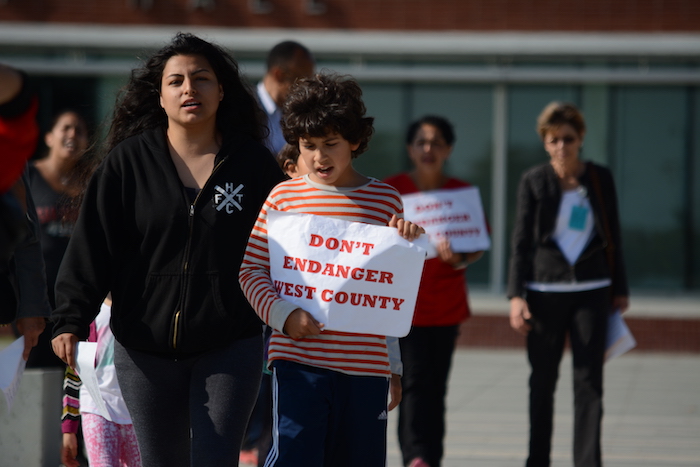 17 Jul

Nurses Take Up the Fight to Save Doctors Medical Center

News Report, RP Editors | Photos, David Meza

The fight to save Doctors Medical Center from closing continued this week with a rally organized by nurses and other staff at the hospital.

The "Save Doctors Medical Center" rally was held Monday at Richmond Civic Center Plaza. About two-dozen people came out for the rally and many attended the city council meeting later that night to impress upon councilmembers the need to keep the hospital open. Organizers said they wanted the rally to be a space for community voices to be heard and demand that the hospital stay open at its full service capacity.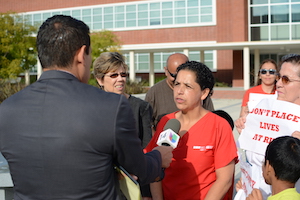 "Our representatives are responsible to keep medical services in this West County community," Maria Sahagun, a registered nurse and one of the rally's organizers said. "Closing the hospital where trauma happens the most is an unprecedented move and a blatant attack on the poor." She added that the closure of DMC would mean 250,000 people would lose services.
Sahagun said that her work in the emergency room at DMC means she experiences the importance of the hospital up close.
"If we lose Doctors Medical Center, we lose an excellent STEMI (ST-segment elevation myocardial infarction, or type of heart attack) cardiac center," Sahagun said. "This past weekend, in one day, we had 4 codes. That is people coming in with active CPR and two heart attacks." She said these types of emergencies happen regularly.
Nurses weren't alone in their fight for DMC's fate. Richmond resident Serrana Pilar also attended the rally with her son James. Pilar said she is also very concerned about losing the hospital.
"Not having an emergency facility, a trauma facility, a cardiac facility for the people in this community who don't have Kaiser, who don't have a helicopter to get to Martinez, it's really scary," she said. "There won't be any place for most of the people in this community to get treated in life threatening situations."
The West Contra Costa Healthcare District Board is still debating the best course of action for DMC, and the community.
That day, the board met to discuss two possible ways to continue care at DMC: a smaller hospital with fewer beds and an emergency department or a stand alone emergency room without beds. Both options are a significant decrease from DMC's current facilities and would mean a significant impact on the community it serves and the people it employs.
[flagallery gid=22]