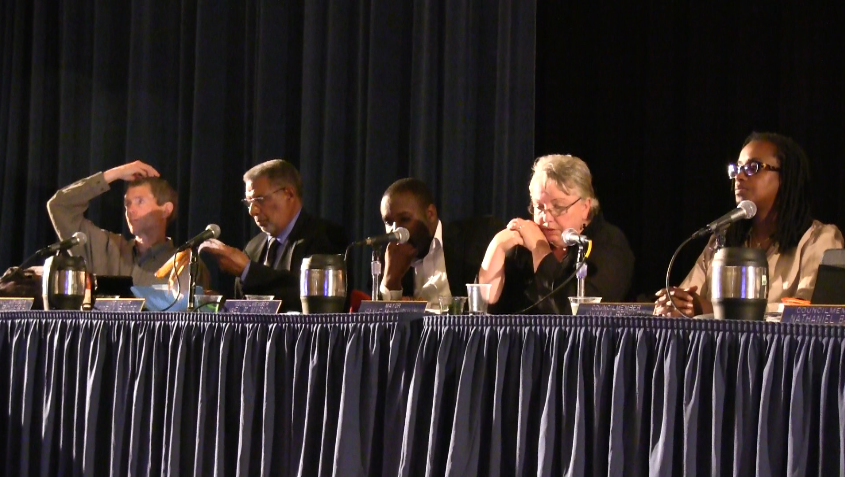 25 Jul

Should Hate Speech at Council Meetings Be Banned?

News Report, Nancy Deville

Richmond's plan to implement guidelines to curb hate speech during council meetings is gaining support from residents tired of the constant negative interruptions, but others worry the move will limit their First Amendment rights.

The council recently voted for the city attorney and police chief to explore rules and procedures the council could adopt to handle disruptions during meetings. A major proposal, sponsored by Vice Mayor Jovanka Beckles, includes banning residents who use hate speech for up to six months.

"There should be no reason for hate speech or derogatory statements about people's personalities, personal lives, race or gender," said Councilman Jael Myrick. "This just happens way too much in this chamber. I think we have an obligation to do what we can do to figure out how we can limit that."

Richmond city council meetings are notoriously filled with constant quarrelling, audience ejections and unscheduled recesses. Homophobic rants from the public are common. Beckles, the city's first openly gay council member, is often the target of such comments.

Last July Mayor Gayle McLaughlin ordered police officers to clear the council chambers after a group of disorderly protestors broke out singing "I Shall Not be Moved," followed by a man shouting obscenities through a bullhorn. The council reconvened after the recess, but the public was forced to watch the meeting from a television out in the lobby. Following that incident, there was an increased police presence at each meeting with officers distributing printed rules of conduct to those in attendance. It was a move that many residents described as police intimidation.

"This is not about me," Beckles said, explaining her proposal. "I'm an elected official and I'm expected to take sharp criticism but when the attacks become hateful and poisonous, they intimidate other people from participating. It's not about shutting down the process, the aim is to enable everyone to be able to participate."

Some residents are wary of the proposal.

"I still believe the people, all the people, have a right to participate in the process of governing our community," said Don Gosney, a resident.

City Attorney Bruce Goodmiller warned that banning residents for hate speech could violate the Bill of Rights.

"People have a First Amendment right to engage in what is commonly referred to as hate speech," he said at a recent council meeting. "The First Amendment and the Brown Act all say that citizens have an absolute right to get up and criticize their elected officials."

Others support limitations such as those Beckles is proposing, and applauded the council member for starting the discussion.

"Some new rules need to be put in place for everyone's sake," said Richmond resident Amalia Darling. "This must be stopped and I have confidence boundaries can be established that do not violate the First Amendment."

City staff are expected to present possible options to the council within a few weeks.