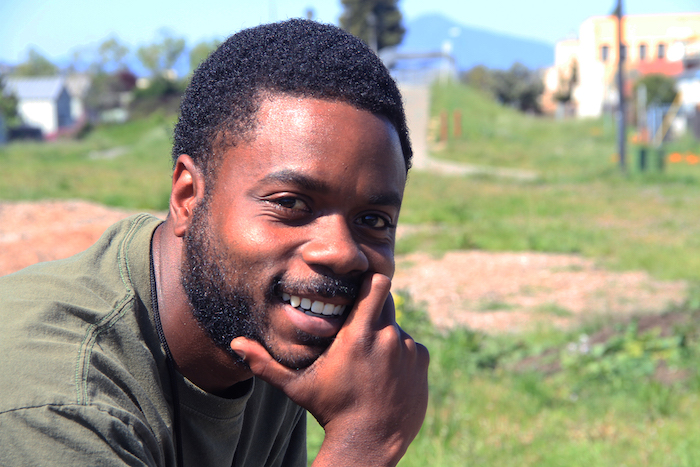 15 Aug

Former Prisoner Finds Solitude, Joy Working at Community Garden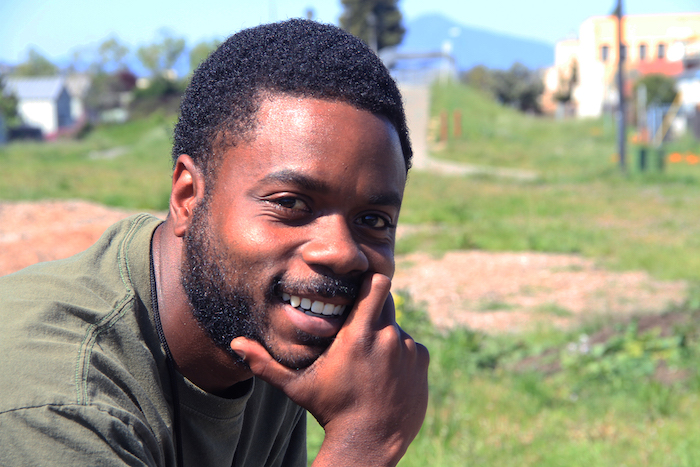 Profile, Edgardo Cervano-Soto
Brandon Clark, 25, loves being outdoors and meeting people, which makes his job managing the Edible Forest Garden on the Richmond Greenway an ideal fit.
"This is the perfect location to have [a community garden] because of all the traffic that comes in and out of this place," says Clark. "When you put [together] gardening, the outdoors, and communicating with other people – well, that's a plus for me."
Clark can appreciate these things more than most because it wasn't too long ago that he was cut off from both nature and his community, entirely.
Clark spent his childhood years living with his father – his parents had divorced — and two brothers. His grandmother also lived nearby. The family home was located near the corner of 12th Street and Ohio, but it also sat at the intersection of deep-seated and sometimes violent neighborhood rivalries.
Clark was not immune to the drama, and by the time he entered middle school, he was already running with the wrong crowd. "I used to bully people, take their things, get into fights and miss school. It was out of control," he recalls.
When Clark was 12, his father decided to relocate the family to Bellflower, near Los Angeles. A large suburb, Bellflower was an opportunity for Clark to hit the reset button. "My father took me out of Richmond for a reason," says Clark. "He saw the potential in me."
The move paid off. In Bellflower, Clark finished middle school and went on to high school, where he joined ROTC and played some football.
Yet, he would not remain in the Los Angeles area. Clark eventually decided to strike out on his own, and he returned to the Bay Area. He hooked up with JobCorps, a work skills program in San Francisco, where he began to master gardening and carpentry, things he used to do back home in the yards of his extended family members. Clark was making progress, but it all came to an abrupt halt in 2009, when he was sentenced to prison at the age of 20 for committing a robbery.
Prison was a two-year journey that shook Clark to his core. After spending a year in jail in San Ramon, he was transferred to San Quentin State Prison for 6 months, which Clark describes as the worst place he's ever been. The sanitary conditions, isolation and inmate hierarchies challenged Clark to adjust quickly.
"At San Quentin they had us locked in a cell 23 hours a day. We had 30 minutes to eat. If you didn't finish, you brought your food back to your cell," he says.
His final six months were spent at Pelican Bay, another state prison with a notorious reputation. But Clark describes his personal experience there as being far better. He was grateful to hold various jobs at the prison, including in the administration office, even though, he says, he received no compensation for the work. During his time there he was also able to earn a GED, enroll in anger management classes and even take a business class.
At 5:55 a.m. on October 23rd, 2010, Clark was released and given $200 to fund his re-entry to free society. His mother, who was then living in Antioch, picked him up. Clark remembers craving a cheeseburger, and getting motion sickness during the long windy car ride back down the coast to the Bay Area.
In the weeks following his release, Clark found it hard to shake certain routines he'd learned in prison. He woke up at 6:30 each morning, worked out, had breakfast and returned to his bedroom. At 10 a.m., he would "begin" his day, as was the case in prison. In his bedroom, Clark always folded his clothes, tucked away his belongings into neat spaces, and kept his room in impeccable order.
"My youngest brother told me, 'Bro, you're out of there. Relax!' But in my mind I was still [in prison]," says Clark.
There was one new routine that Clark soon became accustomed to in his new life on the outside – filling out job applications. Clark was released on parole in Antioch, and like all parolees he had requirements to meet: he was given three months to find a job, and failure would constitute a violation of his parole, potentially returning him to prison. He applied to jobs everyday, grimacing every time he had to check the felony conviction box on applications. He noticed when potential employers would scan his application only to pause at the checked box. With no interest from employers and facing the very real prospect of going back to prison, the routine became stressful.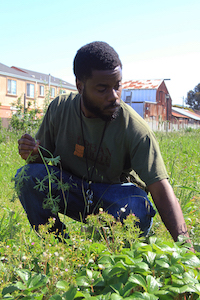 Clark's big break came when a cousin gave him a tip about a job opportunity at a local Richmond non-profit organization, Urban Tilth, that was looking to fill an apprentice position at one of their gardening sites. Already being familiar with Richmond and having picked up gardening and carpentry skills from JobsCorp, Clark knew he could do the job if given a chance. He immediately went to Richmond and applied for the job, and in a matter of weeks he was interviewed, hired and began his training. His first project was working on the flower boxes and planting trees at the Edible Forest Garden.
He narrowly avoided the parole violation, and was officially released from parole on November 23rd, 2012.  "That's a chapter of my life that is closed now," says Clark. "I'm never returning back."
Clark now has a different course – he plans to return to school and earn an Associate's Degree with a focus on business. He currently lives in Richmond with his grandmother, for whom he also does garden work. Under his watchful eye, the Edible Forest Garden has grown into an oasis, appreciated by unsuspecting by visitors, an interactive space where one can hear and share stories.
During our interview at the garden, a young man from the neighborhood approaches Clark, asking him for suggestions on trees and plants for his yard. The conversation moves across the street, and ends with the two shaking hands. Clark returns to the Edible Forest Garden, walks up to me smiling and says, "He used to be in the military. [Now] he's going to volunteer and help out around the Edible Forest. That's what I like best here. You can be here, and engage."