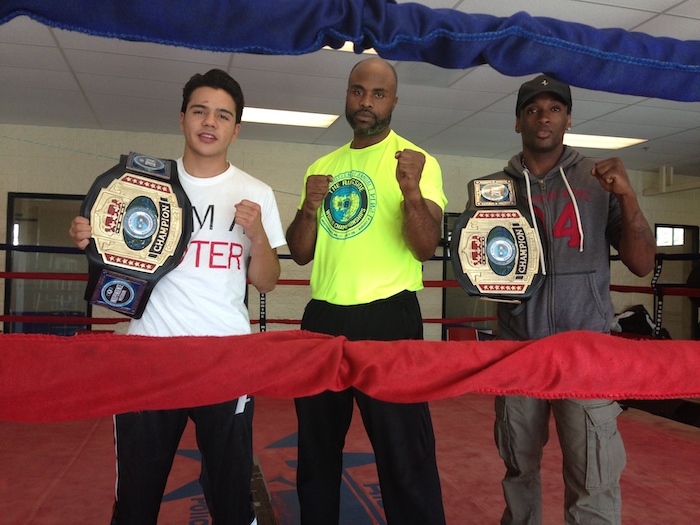 16 Aug

Local Boxing Coach Training Champions in Richmond

News Report + Photos, Sukey Lewis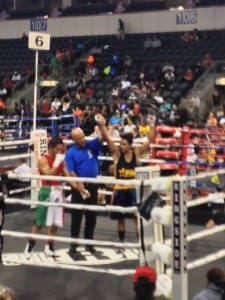 "You better go Richmond on him!"
Coach John Island spoke forcefully into his fighter's ear as they huddled in the red corner of the boxing ring. Jonny Perez was in the middle of his third and final fight at the 2014 Ringside World Championship in Kansas City, Missouri. He was up against a tough opponent from Puerto Rico, fighting for his family, his community and the title.
It was also his birthday. By the time it was all said and done, Perez was 21-years-old — and a welterweight world champion.
"What he said in that corner, what he put in my head, is really what made me win," Perez later said.
Coach Island has known Perez since he was an angry 15-year-old kid, getting into schoolyard fights at Richmond High, stealing and getting arrested. But Perez turned his life around, and now works as a community organizer with the Freedom Fighters, inspiring other young people to advocate for their rights and participate in their own rescue.
Island himself is no stranger to adversity. He struggled throughout his childhood in Richmond—living in a foster home for a time, and never having enough money. He began boxing at the age of 10, and credits the sport for saving him.
"I became a fighter in life," Island said.
He would need that tenacious spirit for more than just boxing. After going professional, Island's career came to a grinding halt after only four fights. The opponent this time wasn't another fighter, but a cancer diagnosis: Hodgkin's lymphoma, which affected his neck and shoulder.
Island spent two years undergoing radiation, surgery and treatment.
"It breaks you down," he said. "I still feel the side effects."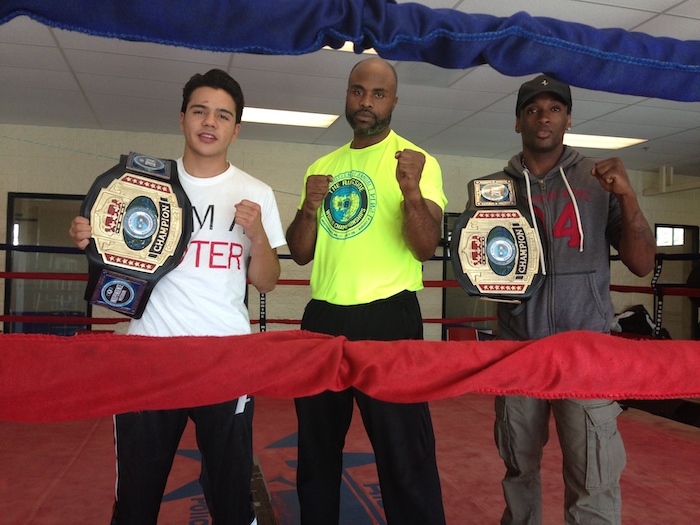 An unintended result of his own stalled boxing career was that Island began to teach others. He had never thought about teaching before, describing himself in those days as "selfish" with his knowledge. Cancer, it seems, brought the important things in his life sharply into focus. He needed to find a way to keep doing what he loved, and pass on the important lessons life had taught him.
"I found a way to use what I know to change lives," he said.
Now 41, Island runs the Richmond Police Activities League boxing program for at-risk youth. For the past seven years, Island has been mentoring the city's youth, helping them stay fit, and teaching them how to throw a punch.
The program has been very successful. Leon Brown, Island's nephew and one of his protégés, is ranked number three in the world. And Perez wasn't the only RPAL boxer to come away with a belt in Kansas City earlier this month.
DeVonnie Ray Davidson, 20, won the lightweight division, ultimately triumphing over a tough third-round fighter.
"Dude was trying to knock my head off," Davidson said laughing. "I just keep my hands up and stay calm and work off the jab."
He credits Perez for helping him prepare for the fight. Sparring together at the RPAL gym downtown, Davidson said he's learned how to deal with pressure and keep his cool.
Tall and soft-spoken, Davidson described the physical ordeal fighters go through—especially those trying to "make weight." After winning his second fight, the boxer had to go for a run to ensure he would qualify as a lightweight—between 115 and 123 pounds.
Davidson has been training with Island for more than three years, and said he would never have gotten this far without Island's coaching and mentoring.
"Vonnie came to me, not actually sure where he fit in," Island said. "I taught him from the bottom up — he didn't know anything about boxing. From there it changed his life, so much."
Island's team also included Officer Savannah Stewart of the Richmond Police Department and Sam Mendoza, though the fighters were knocked out in the first and second rounds, respectively.
"I took those ones because they are some of the hardest working [fighters] that I have here. And I really felt like they deserved (it)… To be able to compete locally is one thing but to be able to compete with athlete(s) from all over the world, that says something."
Island can see the positive impact the boxing program has on his students' lives. "Everybody is a graduate of high-school, everybody's going to college, or they're working. It's always positive — no drugs, no alcohol."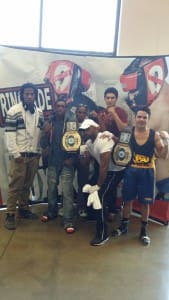 Bringing home two championship belts to Richmond, Island feels his boxing program is part of the change his city needs. He said he sees kids without hope, without anything to do, and without strong role models to show them a positive path.
As Perez tells the story of his coach motivating him with the words, "go Richmond on them," Island interrupts to explain.
"I'm trying to tell him to be himself. He had it in him all along. I'm saying, remember the tough days from Richmond High when he was up to no good," Island said. "You thought you was out there fighting and doing something. Now use it for a reason — that's why I remind you where you come from: Richmond. Never forget."
"Never forget," Perez echoed.
Richmond Police Activities League is holding a boxing event at 2200 MacDonald Ave. on Saturday, August 16, to raise money for the team. Their goal is to raise enough funds to participate in the National Police Activities League Championships in Oxnard, in late September.
To get more information on coach Island's boxing program or to donate to the team, contact him by email at islandjohnisland@aol.com.