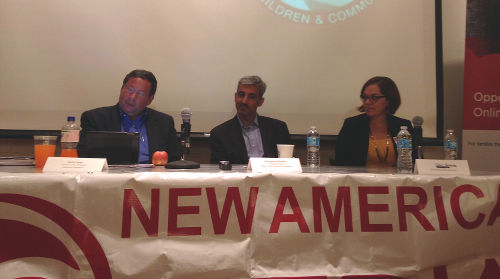 12 Sep

Comcast Executive VP Touts Broadband Program for Low-Income Families

Event, Peter Schurmann | New America Media

When Libier Gonzalez first arrived to the United States from Mexico three years ago, her family could not afford Internet access at home. A mother of three, she says not having Internet impacted everything from her ability to find work to her children's education.

Then, about a year ago, she attended a workshop for low-income parents, where she learned about a Comcast program called Internet Essentials that allows families like hers to gain broadband access at dramatically reduced rates.

"I found work through the Internet," said Gonzalez, adding that her own kids were better able to keep up with their schoolwork.

Gonzalez, who now works as an associate director with the non-profit Parent Institute for Quality Education, shared her story at a briefing in San Jose for ethnic media Tuesday. She spoke alongside Comcast Executive Vice President David Cohen and Muhammed Chaudhry, president and CEO of the Silicon Valley Education Foundation (SVEF).

"Access to the Internet has a potentially transformative impact for the entire home," not just students, stressed Cohen at the briefing, hosted by New America Media and part of a Youth Tech Summit organized by Comcast and SVEF. Pointing to hiring practices, he noted that more than "80 percent of Fortune 500 companies now only accept job applications online."

That means anyone without access to broadband Internet, about 30 percent of U.S. families, is at a serious disadvantage when it comes to things like finding employment, health care, government services and education.

A Pew study from 2013 showed nearly a quarter of low-income adults in the country were not online, and that African Americans and Latinos had lower rates of connectivity than whites.

Launched four years ago, Internet Essentials has helped 350,000 families so far, or 1.4 million low-income Americans, gain broadband access, explained Cohen, pointing out the number is roughly equivalent to three times the population of the Northern California city of Oakland. "It has had a substantial impact," he said.

Internet Essentials offers eligible families low-cost broadband service for $9.95 a month. That compares to an average cost of about $90 a month for comparable services. Families also can purchase an Internet-ready computer for less than $150 and access digital literacy training sessions and materials. This year families who have an outstanding Comcast bill of more than one year and who meet eligibility requirements can also apply.

The program is available to families with children in grades pre-K to high school who qualify for free or reduced meals at their local school district, or 170 percent or below of the federal poverty level. It has also been extended to schools where more than 70 percent of students are low-income.

As Cohen explained, the initiative is aimed in large measure at improving educational outcomes for low-income students. "In the 21st Century, technology is essential … to taking advantage of the opportunities available to young people," he said. "It's an advantage that every family in America should enjoy, regardless of zip code."

He also pointed out that in surveys conducted by Comcast, 97 percent of respondents said they need Internet so their kids can do their homework.

Chaudhury also touched on the digital disparities separating low-income families from more affluent communities around the Bay Area. "I see two Silicon Valleys," he told the audience, pointing to the "great schools and communities" that line the route along Highway 280 versus those along 101, where "you see the real challenges."

One of those challenges will come with the new computer-based assessments being rolled out this school year across California as part of the Common Core education standards. Chadhury noted that without access to the right tools, low-income students would be at a "distinct disadvantage" when it comes time to sit for the exams.

Pointing to the impact of Internet Essentials in bridging what he called the "racial achievement gap" in education, he described the program as a "game changer," stressing that it is the direction that "Silicon Valley and the country need to go."

To find out more about Comcast's Internet Essential program, visit their website, or call 1-855-INTERNET. Services are available in 12 languages.