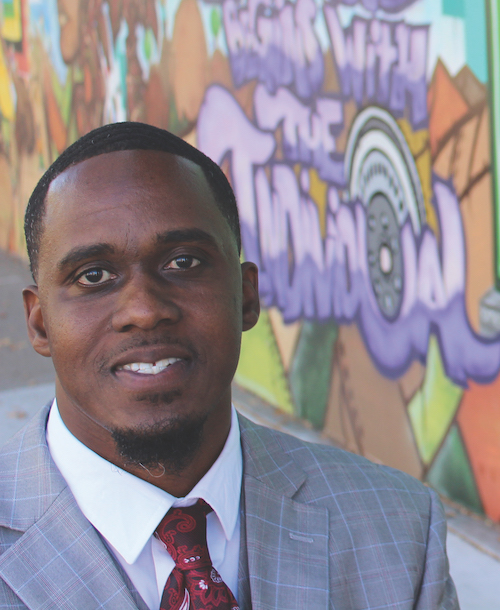 22 Sep

Richmond City Council Candidate: Dameion King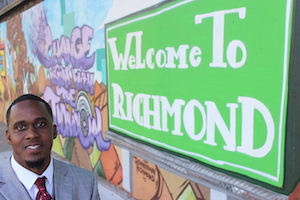 Profile, Nancy Deville
City Council candidate Dameion King may be a newcomer to the Richmond political scene, but he says he's no stranger to the needs of the city.
"I've had bullets whiz by my head," the lifelong Iron Triangle resident said. "I've woken up in the morning with gun holes in the wall. I know what it's like to come from nothing…I also understand the power of innovation and progress."
King says he's been involved in the community for years, but believes a seat on the city council will provide a larger platform for creating effective policies to improve the city he loves.
"It's time for Richmond to have the kind of council that educates, equips and empowers the community," he said recently.
King's experience includes serving on the Richmond Housing Authority's Advisory Committee and as the chair of the Marin Clean Energy's Community Leadership Advisory Group. Currently he works as a re-entry career coach for Rubicon Programs and helps those coming out of prison readjust to society. He also serves as an urban strategy consultant for several Bay Area nonprofits.
He attended West Contra Costa schools and studied health and human services at Contra Costa College and is president of an organization that promotes social welfare within urban communities, The Redemption Center.
Despite these qualifications, King sites one reason above all else he should be elected.
"I believe my love for this community is the ultimate qualifier," he said.
At 37, King also believes his age sets his apart from the mostly middle-aged contenders. Councilmember Jael Myrick, who's seeking reelection for a two-year seat, is currently the youngest member.
"I want to create a civic engagement committee that targets youth," he said. "A lot of young people have no faith in our political system because they have no one that they can relate to."
A father of three, King is running on a promise of maintaining adequate and affordable housing, engaging youth in the civic process, sustaining a well diverse business community and increasing dialogue between law enforcement and the community.
"We have to make sure we create programs so our residents will have the skills needed for the new businesses that will relocate here," he said. "There's no point in bringing businesses here when the existing residents don't have the skill set to perform the jobs."
Another top priority is improving the council's reputation and ensuring meetings don't stretch past midnight with city business sill left on the table.
"The way our current council is made up, it appears that more people are concerned about their popularity and their personal pride," he said.
King's life story is one of second chances, especially after an arrest and drug related conviction that dates back to 2001. He was arrested twice on domestic violence charges, once in 2005 and again in 2010, but was never charged in either case.
"I never had a hearing, never went to court," King admits.
But despite his past, King says he doesn't live his life "feeling unqualified" and admits his life is much better as a result. He's sought refuge in his faith and in recent years became a licensed minister. He now mentors young boys- offering tutoring or a listening ear to make sure they don't make the same mistakes. His comeback is an example for the Rubicon clients he now advises.
"I've taken ownership for the poor decisions I made as a young person," he said.
"I'm somebody who has fought my way back from incarceration and homelessness.
With determination, opportunity and a support system, a person like me can completely turn their life around. I don't want people to judge me by the boy I was, but the man I've become."
In his bid for one of the highly contested council seats, King is taking a nontraditional approach: solely funding his campaign. This approach is especially significant in a city where Chevron, is pouring in about $1.6 million to council and mayoral races.
"It's not because people haven't been knocking at my door or attempting to manipulate my position," he said of his decision to self-fund his race. But, he added he's not "anti Chevron."
"I think they have the potential to be an incredible community partner," he said of the oil giant. "But I believe its time for the corporation to rethink its social investment policies and support organizations that promote sustainability."
As the only Iron Triangle resident seeking a council seat, King says he understands firsthand the challenges in one of Richmond's toughest neighborhoods and thinks it's time his community has representation on the council.
"I want to advocate for our programs in our community to stay funded to address some of the barriers that create crime," he said. "I want to ensure some of the blight in the Iron Triangle is addressed."