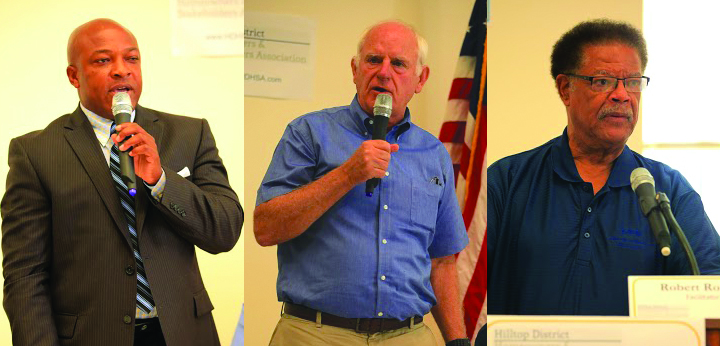 02 Oct

Trio of Mayoral Candidates Offers Voters Distinct Choice

News Report, Malcolm Marshall | Photos, Safrina F. Fei

Nat Bates, Tom Butt or Uche Uwahemu. Those are the choices Richmond voters will face on November 4 when they cast ballots for new leadership in the city.

After eight years Mayor Gayle McLaughlin is termed out of office and seeking a seat on the council instead. Now, it's time for residents to choose a new mayor and before them are three distinct choices: A newcomer and two long-serving councilmembers with very different voting records and visions for the city.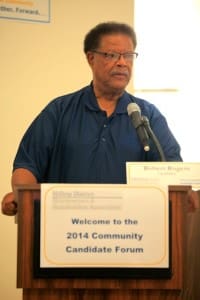 Nat Bates has been on the council for 34 years and has been mayor twice before, when the position was an appointment by the other councilmembers and not an at-large election as it is today. He is the longest serving councilmember in the history of the City of Richmond.
Bates believes his experience, knowledge of local government and long term involvement with the city clearly distinguishes him from the other two candidates.
"I've been in this political arena for 40 years. I know the needs of the city far better than most and I know how to get things done," Bates said in a phone interview.
Jackie Thompson a Richmond resident for nearly 25 years, agrees. Thompson is a Housing Authority Commissioner and familiar face at city council meeting. She said she's excited to cast her vote for Nat Bates. She called him a "to the point person" and believes he knows what he's doing. "He's wise, he has a lot of wisdom and he's transparent," Thompson said.
Thompson said she supports Bates because he looks out for the community, fights for jobs and is accessible. While many criticize Bates for taking money from Chevron, Thompson doesn't hold that against him.
"I have good friends that work for Chevron. Chevron has helped many of us in many ways. They are the biggest employer in the city," she said. "They have kept many programs in Richmond going."
Whoever becomes mayor in November, Thompson would like it to be someone that can make his own decisions and stand for what he believes in. She wants a mayor who will fight for education, fight for economic and job development and fight for resources for this city. "I would like them to move this city in a direction where we focus on Richmond and not on outside cities or other countries or issues outside of Richmond," Thompson said.
Dan Moriarty who has lived in Richmond for 15 years also knows who he's voting for in the election. "I'm voting progressive," he said. He says he worked on Mayor Gayle McLaughlin's campaign and thinks she has done a lot of good for the city.
"She brought the Berkeley lab here and that's a very big deal, a major coup," he said.
Moriarty believes McLaughlin has the city headed in the right direction and he wants to see that continue.
For all these reasons and more, Moriarty says he'll vote for Tom Butt. "I do support Tom. I think he's a reasonable guy and will bring a lot of knowledge and leadership to the city," he said. "I think he'll be a good mayor."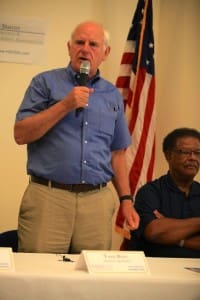 Butt, another longtime Richmond politician, has served on the city council for 19 years and served as Vice Mayor twice.
"My priorities should I be elected Mayor, is to continue the amazing progress that we've made in Richmond over the last few years, " Butt said recently at a candidates forum at Hilltop Mall. Butt cited plummeting crime and homicide rates in Richmond, along with progress in the city's infrastructure and condition of city streets as improvement over the last few years.
"In the last four years 4,300 Richmond residents have become employed that were not employed in 2010," he said. "We're making great progress, we have a great team in our city staff and our city leadership," said Butt. "I simply want to continue that and take it to levels never seen before in Richmond."
One thing Moriarty would like to see the new mayor do is to negotiate with someone with deep pockets, like Chevron, to stop the closure of Doctors Medical Center. "It's a huge loss to this community," Moriarty said of the pending closure of the hospital. "How that's going to slip through our fingers is beyond me," he added.
Rickie Lynn Harris has lived in Richmond for 46 years. She's seen many a mayor come and go. "Some good, some bad, some okay," she said in a phone interview. "But, thank God for Uche Uwahemu." Harris agrees that there has been progress in Richmond over the last few year but says she wants to see more. " I really do think it's time for some fresh ideas. Its just time for a new approach," she said.
Harris first met Uwahemu when he spoke to her class at Contra Costa College earlier this year. She said she was impressed by him and went home to research him online and liked what she found about his vision for the city. At the recent mayoral debates she attended, she said she's been further inspired by his vision for change.
"You can see he really wants to be in this position, not just have title but to really impact our community," she said.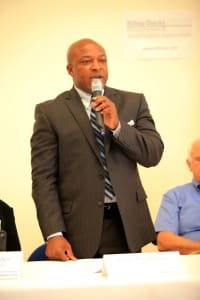 Uwahemu said deciding to run for mayor was a tough decision. "It's a tough job," he said at the Hilltop candidate forum. "You need somebody that has the energy that really wants to get this job done."
While Uwahemu also cited the progress made in Richmond, he said many are still struggling.
"This community is not doing so well," said Uwahemu. "When I look at Tom and Nat, nothing against them, I like them personally, they have been the head of the class. Both of them have been in office over 60 years combined. We can't keep recycling the same leadership and expect something to come out of it. Its the same old music we're playing here."
"We're doing some good work but Tom can't take credit for the work that this mayor did" Uwahemu said, referencing outgoing mayor McLauglin.
"The work came from an outsider, she wasn't part of the inside game when she came here. Tom can't take the credit. Neither can Nat. They've been here all these years, why didn't they do it?"
Uwahemu says Richmond needs a leader that can partner with the community and the business community—where he comes from.
" I believe we have the potential to make things better and I intend to make it happen," he said.
Harris remembers both Bates and Butt being on the city council when she was in high school. She said she's ready for a youth movement in Richmond politics and thinks Uwahemu could help lead it. "They have been on city council since I was a little girl," she said. "Having a younger candidate, it targets the youth. It makes them get encouraged and participate."
But Bates says Uwahemu's stance is predictable for a newcomer. He says Uwahemu doesn't have the experience and hasn't been in the community as long as I have where people begin to know you on a personal basis and they trust you. "He's well intended," says Bates, "But just he lacks those qualities from my observations to be the mayor of city with the problems that we are facing today."
"People don't understand how difficult it is to get things accomplished in this city," said Bates. "It has to be a team work approach no matter who the mayor happens to be".