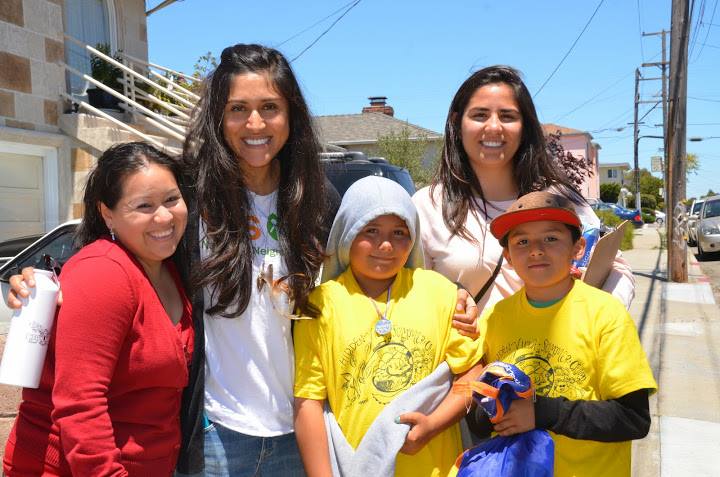 05 Oct

The Power of Being Outside

By Zaira Sierra

For over four years, I've worked with Richmond families. I've volunteered with Contra Costa Interfaith Supporting Community Organization assisting undocumented youth with their Deferred Action for Childhood Arrivals (DACA) applications and Building Blocks for Kids where I was part of the Community Engagement and Advocacy Team. Recently, I joined the Youth Enrichment Strategies, Nature to Neighborhoods family.

In the short time I have been at Y.E.S. as a summer camp assistant, I've seen the love, support and guidance Y.E.S. provides for this community. I feel families connect to Y.E.S. because they find it shares the same values they do.

Parents want their children to grow up safe, educated and successful. I know this because of the conversations I've had with parents whose children attended camp through Y.E.S. They know that summer camp contributes to the growth and development of their children.

Of all the parents I met, one stands out: Rocio Villa.

Villa's son, Saul attended camp through Y.E.S. last summer. Before he came, Villa said Saul, 11, didn't want to go. He was hesitant about attending the two week long camp and was nervous about being away from his family for so long.

Right before we were about to leave for camp, Saul came to the Y.E.S. office and said he wanted to go. Faced with the choice of going to camp or being homebound for the summer, he worked up the nerve to be away from his family.
This summer Saul ended up attending two weeks of camp at Hidden Villa in Los Altos. The camp is at an organic farm. It's a place where kids go to have a farm experience with animals and an organic garden.
When Saul returned to Richmond, tears ran down his face as he hugged his Mom. He said he enjoyed the experience but he was homesick towards the end. He told her how much he missed her and his father.
A week later, Villa called to ask if Saul could return to camp. I was surprised—sure that Saul had experienced enough camp for the summer. Villa said Saul was bored back at home. She said he told her, 'Mom, by this time at camp we had already hiked and played a lot of games.'
The many camp activities filled his day and now instead of missing home, he missed camp. Villa said Saul missed the fun activities, the structure and the schedule.
Saul's parents want the best for him and realize how essential it is for him to attend summer camp. At first, all they expected was for him to enjoy himself. Now, they notice how much camp has contributed to building his character. He shares with them what he learned about the outdoors, the natural environment, and they notice his growing independence. He is more independent and puts more effort into doing well at school. He's also no longer scared of being alone.
Opportunities for youth can be costly and difficult to find. The gift Y.E.S. provides youth is something hard to measure. Skills learned at camp help young people with all aspects of life.
Like Saul, kids are able to develop their communication skills, become independent and grow their appreciation of the outdoors. All of these skills might be taught at school, or by family, but camp has a way of enhancing them.
I have listened and seen how one week of sleep-away camp transforms youth. Stories like Saul's are proof that Y.E.S. is contributing to the development, education and success of our Richmond youth.
After having such a great experience the first week, and getting used to the busy scheduled, Saul ended up attending another week long camp at Loma Mar where he enjoyed zip lining, archery, climbing wall and swimming.
He said he's looking forward to next year's camp too.