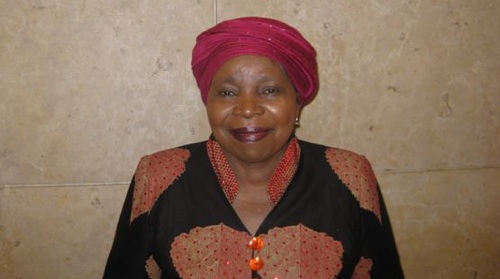 12 Oct

Q&A: Ebola and Africa's Untold Stories

Ed. Note: As chair of the African Union Commission, Dr. Nkosazana Dlamini Zuma directs the staff and the work of the African Union (AU), the alliance of nations on the continent. In that role, Dr. Zuma – a physician – manages AU initiatives on education, the environment, economic development and health. She is currently overseeing the deployment of AU volunteers to help halt the spread of the deadly Ebola virus in the West African nations of Liberia, Sierra Leone and Guinea. In an exclusive interview with New America Media in Los Angeles, she talked about the fight to contain Ebola, media coverage of Africa and the continent's progress on the United Nations' global Millennium Development Goals. 

Please comment on the U.S. government's response to Ebola. As you know, the U.S. is using military personnel to set up medical facilities in affected countries. 

It would be great if the U.S. and other developed countries did more to help improve the health facilities in those countries. They need treatment centers … they need laboratory-testing facilities, they need protective clothing and they need more transportation [capacity] and personnel.

However, we need help beyond Ebola because we know now that a lot more people might die from illnesses that would not normally be fatal because there is so much focus on Ebola. Very few people in those countries are being treated for malaria or for injuries. We also need to strengthen the health systems in these countries so if there is another outbreak, there will be people ready to respond appropriately and quickly. We saw this kind of response when Nigeria addressed and contained its Ebola cases. Nigeria has strong institutions that mounted a strong public health response.

What about the role of the United Nations and the World Health Organization in this crisis and the future of health care in Africa? 

The U.N. is now responding. It's late but better than never… Everyone needs to up their game – particularly the World Health Organization and the U.N. because they have the global responsibility for outbreaks such as this. We also should not forget those who are on the ground who have been doing this work from Day One – the local health workers, the [African] governments, Médecins Sans Frontières (Doctors Without Borders) and the Red Cross. We would like to express our appreciation to all of them … and to all the countries outside of Africa that have helped.

I think the world should look at the overall health situation in African nations. We are saying there should be universal health care for everyone in our countries. But some donor organizations think this is not very important for development and we think that is wrong… We think universal health care is very important. Of course, it won't happen overnight but it has to be established as we grow and develop.

Ebola has shown that you are going to get more than health effects from the outbreak; you're also going to get social effects. Even more important, there are going to be economic effects if efforts to stop the outbreak fail – ships not docking to take material in and take material out, mines and factories closing or working at low levels and farmland not being worked … Health and education are the most important investments for economic growth; but this eludes some donors and some [government] ministers of finance.

The African Union Commission (AUC) had planned to host a forum for African immigrant media in the U.S. and African-American media to discuss the coverage of development issues at the recent U.S.-Africa Leaders Summit in Washington D.C. It was cancelled but the AUC has indicated that it still hopes to host such a meeting. Why is such a gathering needed? 

I think it's very important because we have seen that the coverage produced by media outside of Africa tends to be one-story line for a complex continent. Currently the storyline is Ebola and nothing else. In the past, the storyline was violent conflicts. It's important for the media to tell the many stories that are there in Africa so that people can get a clearer indication of what is going on.

However, it is not likely we will get more balanced coverage from other people if we do not do it ourselves. That's why we think it's very important to encourage the journalists and communicators in the [African] diaspora to communicate what is going on in Africa. We're not trying to hide anything or minimize anything but we want to tell all our stories because we have very good stories to tell. We know there are stories about difficulties but we also want other kinds of stories told.

Can you talk about your work on energy and global warming? 

There's a lot of activity around energy because we realize it's needed if we are to industrialize to process our mineral wealth. However, we have decided that even though we have enough fossil fuels to generate energy, we want to take advantage new green technology and get a proper mix that will be both fossil fuels and renewable energy.

Africa is the continent that will suffer the most disproportionate impact of global warming because the continent is the smallest polluter. We must mitigate and adapt … With our huge tropical forests, Africa is the second lung of the world … and the Amazon is other major lung. We have to preserve these forests for ourselves and for the world. The developed countries have to come to the table. Hopefully, in Paris next year, there will be a binding international agreement on emissions.

The U.N. in 2000 created global Millennium Development Goals (MDGs) on health, education, environmental sustainability and gender equality – objectives countries will be graded on in 2015. What will be the grades on the report cards of African nations? 

Africa may not meet all the MDG goals … but Africa has made the greatest effort and has had the greatest improvement. In education, for example, a lot of the goals have nearly been reached. There are a lot more girls going to school. We have a campaign to keep the girls in school as long as possible because if we can keep them in school, they don't get married early and they don't get pregnant early.

As for the empowerment and participation of women, I think we are making real progress. There are a lot of women in [African] parliaments. The level in Rwanda has reached 64%, which is the world's highest. Others, such as Seychelles and South Africa, have levels hovering in the 40s and 50s. Parliament is a high-profile institution and these women are role models for other young women. We are also beginning to see chief justices that are women and governors that are women.

What are the goals for the remainder of your term as head of the African Union Commission?

One of them is to help young people get the skills – especially in the areas of STEM [science, technology, engineering and math] – to create a skills revolution on the continent.

The other area is infrastructure. We would like to work toward an Africa that is one economic market and one aviation market because that will increase the number of internal flights within the continent so that we can be better connected and integrated. We also want to see the beginnings of real connections between our capitals and our commercial centers through rail, especially high-speed rail. We're working toward eventually achieving a continental free-trade area. Even though this may not be achieved during my term, I can help plant the seeds of economic integration and see them grow when I'm gone.