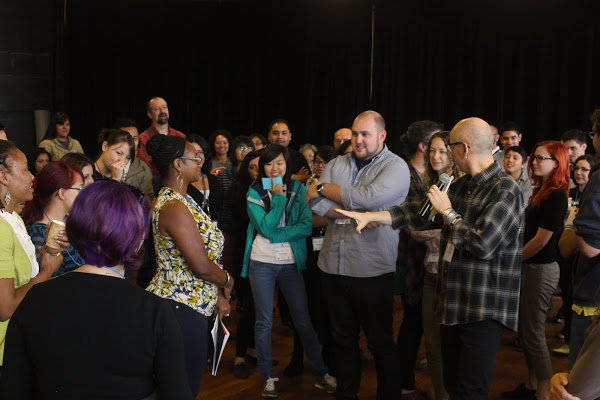 15 Oct

Tech Fest Unites Nonprofits From Around the World in Richmond

by Chanelle Ignant

At the California Nonprofit Technology Festival, or simply Tech Fest, hosted at the East Bay Center for the Performing Arts in downtown Richmond, there were no power point presentations or keynote speakers.

Instead, the participants were at the helm, setting the agenda and leading nearly every discussion.

The two-day festival — hosted on September 25 and 26 — invited the individuals representing various nonprofit organizations from California, New Mexico, and as far as Central and South America to share their ideas and skillsets around the use of technology and social activism.

Combining the efforts of nonprofits with the technology tools to reach their audience, the festival was a breeding ground for networking, skill sharing and community support.

"Tech Fest is about building relationships with the community…. and figuring out how to leverage technology tools for our work to lift up our voices, on our own terms," said Misty Avila, the program director at Aspiration, an organization which hosted the even and aims to connect nonprofits and activists with software solutions and technology.

"The goal is that folks can continue to build together and get access to resources outside the community in order to get technology," Avila said.

The festival was co-organized by Healthy Richmond, with support from Contra Costa Interfaith Supporting Community Organization, the East Bay Center for the Performing Arts and others.

With emphasis on open sharing, the two-day festival encouraged participants to facilitate sessions based on their skills and experiences. As a result, session topics varied from email encryption to digital storytelling to social media.

In a session on video pre-production, Dan Reilly from Richmond's RYSE Center coached attendees on how to plan for and produce video content.

Kemly Camacho, the president and project director of the Costa Rican based cooperative Sula Batsu, conducted a session in Spanish for bilingual attendees. She was interested in bringing the concept of Tech Fest back to her 18-member co-op, whose objective is to strengthen Central American organizations by using technology as a tool for community empowerment.

Throughout the festival attendees shared challenges facing their organization and exchanged ideas for solutions and resources with other participants.

Carlos Gabaldon of New Mexico based Working Classroom was interested in how to better use youth produced media to engage the community he serves.

"One of the big things that we have to do back in Albuquerque is engage more of our youth," Gabaldon said. "So one of the things I feel like we can take back are new methods of how to keep them intact and interested in what we're doing, but also not alienate our older audiences."

For those looking to improve their online privacy, Jack Aponte of Palante Technology cooperative hosted a session on email encryption.

For almost every need, there was another participant able and willing to share expertise. The spirit of exchange was the heart of the event, leaving many encouraged at when it ended.

"I feel stronger in my capabilities and the capabilities of my organization after seeing others doing similar work," said Jasmine Leiva with Fresno based Barrios Unidos, "My strength is community building and using the tools we talked about here can only amplify the work we do."

Leiva said she felt overwhelmed at first by the number of experienced people at the festival, but the non-competitive environment helped her finish the event feeling empowered—which can only help the community she serves.

"It's like everyone here is saying, 'We want you to be successful,'" she said.