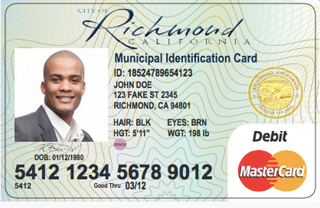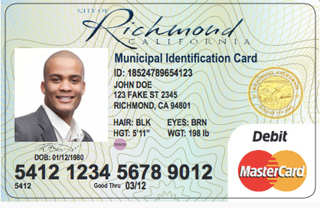 20 Oct

Richmond Rolls Out City ID Cards

News Report, Nancy DeVille

Richmond is the latest Bay Area city to offer a municipal identification card with the goal of allowing residents to open bank accounts and gain access to other services.

The Richmond City ID Prepaid MasterCard program provides qualifying residents with an official form of identification that includes an optional prepaid debit card. The card is issued to anyone that can prove Richmond residency, regardless of immigration status. A photo ID is required for the banking services.

The program was approved by the city council in 2011. Among its goals is to ease some of the hardships facing seniors, the homeless and newly released inmates, according to city officials. SF Global, a third party vendor, administers the card.

The card is recognized as a valid from of identification by the Richmond Police Department and all city agencies.

"All of our residents deserve each and every opportunity to access services, including banking services," Richmond Mayor Gayle McLaughlin said recently.

"We want our residents to feel safe in reporting crimes and getting information to the police. These often marginalized communities are frequently unable to participate fully in society and the economy."

The program's financial services include direct deposit, online shopping, the ability to load cash via Western Union and ATM withdrawals. A $3.99 monthly fee is accessed unless customers make over 25 purchases or deposit at least $1,000 in a single month. Other fees include $1 for card-to-card transfers, $0.50 inactivity fee that stops after six months, $1.00 for each additional live customer service calls after one free one is used. There is an initial fee of $10 for seniors 65 and older and $15 for residents to sign up for the card.

"The buzz in Richmond is that every one has waited a long time for this card to come out," said Paule Cruz Takash, one of the co-founders of SF Global. "The appointments are going like hotcakes. We expect for the first three to five months, there will be hundreds of people showing up. Richmond wants to help people, they don't want residents carrying so much cash on them that it becomes a public safety issue."

Although Raquel Terez has a state issued ID card, she says she's applying for Richmond's because of its banking benefits.

"It's a good way to start building my credit," she said. "But there are people in my family, like my mother, who will benefit from this."

Living without identification is burdensome for some of the simplest things, Terez said. Her mom, Amada Terez can't return or exchange items in certain stores without a valid ID card, she said.

Amada, according to Terez, said that having a card will help her feel secure and like she is a part of the city.

Terez is working to tell others about the importance of applying for the new municipal ID.

"I've been promoting this on Facebook and to my friends as much as I can," she said. "This is something that is happening in our community and we should all be aware of what's going on. If the police stop you and know who you are, that brings more security to everyone."

But, some agencies that work with newly released inmates question if the new municipal ID will help their clientele.

"If it's really meant to be beneficial to people when they are just starting out, then the card should have some type of protections, at least in the short term, around child support," said Tamisha Walker of the Safe Return Project, a program that helps formerly incarcerated Richmond residents readjust to society.

Cruz Takash admits back owed child support could be a problem for the formerly incarcerated, and others who've fallen behind, but she said it hasn't been much of an issue in other cities.

Richmond's program follows an initiative launched in Oakland in 2013. Over 5,000 cards have been distributed in Oakland since last year's debut, SF Global officials said.

Oakland's program sparked criticism over a variety of fees including a $0.75-cent charge per debit card purchase and $1.75 to call customer service. SF Global officials say they since reduced the charges.

Applications are processed at Grace Lutheran Church, 2369 Barrett Ave. in Richmond. For more information, visit www.richmondcityid.com.