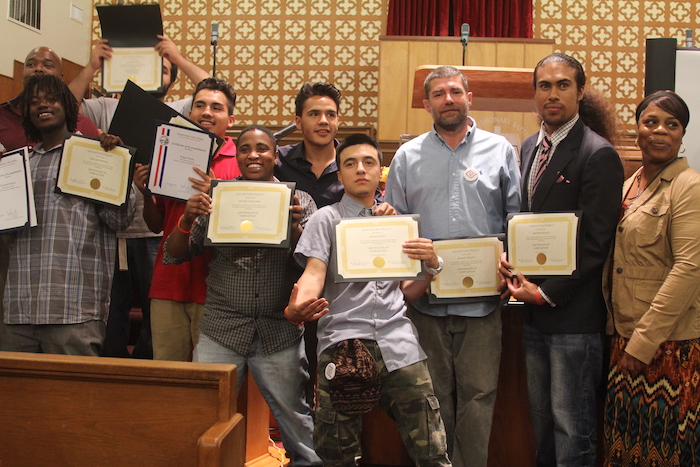 24 Oct

Local Program Lets Grads Leave Their Past Behind

By Malcolm Marshall

"Lets give a round of applause to these courageous young men and women who took an opportunity to take a stance to make difference in their lives," said Dewanda Joseph, mistress of ceremonies at the graduation ceremony for 19 students of the Collective Impact Institute.

The students, ranging in age from teenagers to middle aged adults, had just completed a 10-week long course designed to foster leadership among men, women and youth who've been directly impacted by the criminal justice system.

The Collective Impact Institute aims to invest in the transformation of people in Richmond by exposing participants to the basics of violence prevention, personal transformation strategies, community organizing and civic engagement strategies.

A reading of scripture and a word of prayer followed the applause for the graduates.
"Today is a new today," Joseph said, reminding the students that using lessons learned in the course will lead them away from more time in prison. "I thinks that's something to rejoice about today," she said.

Missionary Baptist Church in Richmond was filled with the proud graduates on October 9. It was a chance to celebrate second chances and progress made.

"This is not just about individuals reclaiming their lives, lead instructor Andre Aikins said. "This is about us reclaiming our city and living in community the way it is supposed to be."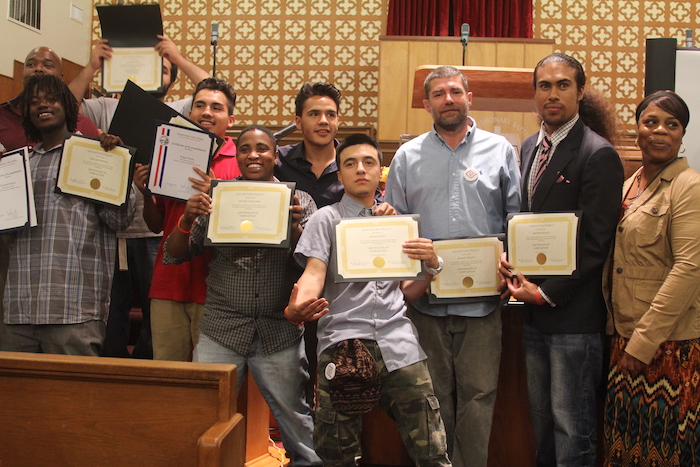 Aikins said the graduates would impact not just their lives but also the lives of everyone they touch. "Their children, their friends, their family and eventually the entire community," he said. "We are one people. We are one."
One by one, Aikins called each graduate to the stage and awarded them with certificates in violence prevention from Alive & Free: Omega Boys Club, to heart felt applause from the audience. Graduates also received a two hundred dollar stipend provided by CCISCO and Safe Return Project. All of the programs are partners in the project, along with The Ripple Effects, an organization that helps people coming from prison back into society; American Friends Service Committee (SF), a group that works to heal the formerly incarcerated through restorative justice and the Redemption Center, a group that works to promote social economic development.
Aikins said that part of what he hopes each graduate gets from the program is a different outlook on him or herself.
"The first thing that anyone has to do in order to recover is to acknowledge and forgive oneself and move on from that point," he said. "It's doesn't matter what anybody else sees. It matters what you see about yourselves."
He said that it's common for people to hear the words "formerly incarcerated" or "reentry," and immediately attach a negative stigma to it. "What's lost is the human element," he said.
Sandra Buford, one of the graduates, says she knows all too well the stigma, after serving 21 years in prison. "Man said I would never see daylight," she said, "but God said, 'Yes.'"
"I worked hard to get to this day," she continued. "It's special, and a good feeling to be able to stand here today."
Beaming in front of the crowd that included family members and other suppoters, Buford spoke passionately about her personal journey and her experience with the Institute.
"Going through this 10-week course was kinda rough," she recalled. "We dealt with a lot of serious issues. My new journey is to work with women. The city of Richmond has a lot of support for men but we don't have none women," she said.
She said she wants to share what she's learned from her experience, and her new outlook, with young girls.
"I want to reach out to these young girls that's fighting, that's lost," Buford said. "I get it today. I understand how I got to that, so I got to give it back."
Another graduate, Johnny Valdepena was also incarcerated and doesn't want to see more youth go down that path. "I've been a part of the Safe Return Project before so this was kind like a refresher but it gave me some more tools to keep advancing in this work and reaching out to the community."
Valdepena said he's done other, similar trainings but the institute was still useful for him—and personal.
"Some of the writing assignments were very powerful," he said, adding that it provided him with a new way to look at things, key amongst them: "Learning how to stop the anger from really evolving."