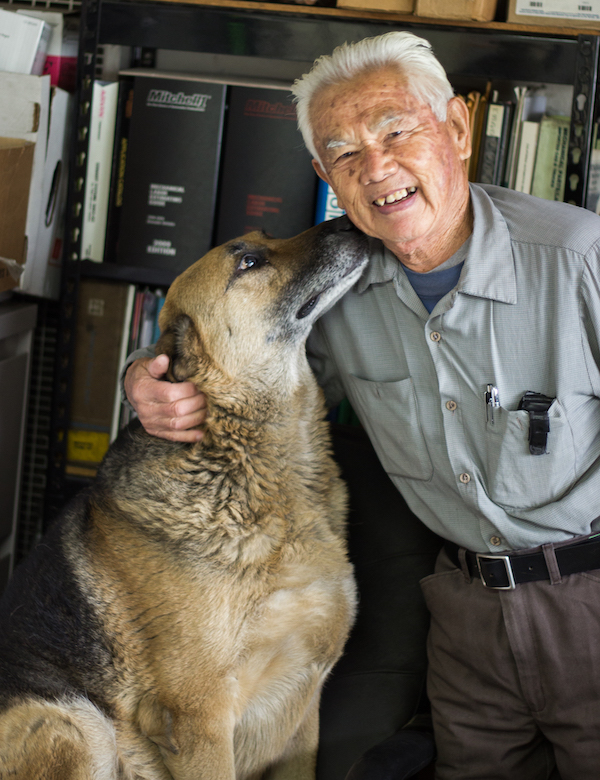 20 Nov

Local Business Review: Narasaki Automotive and Marine

Review , Sonya Mann

When my little white Corolla starts rattling under the hood, I take it to Narasaki Automotive and Marine, off of Marina Way South in Richmond.

After I step into the small office to hand over my keys, I always say hello to Sparky. He's the big shaggy dog who spends his day napping behind the counter. Owner Al Narasaki says that many of his customers are more interested in greeting Sparky than they are in discussing engine trouble. He may not be exaggerating.

While I was there, a customer walked in with a large handful of ham and dropped it over the counter onto the floor. Sparky gathered the chunks of meat with his mouth and carried them to a corner where he munched in peace. "Sparky is not going to need dinner tonight," Narasaki said.

Although Sparky is charming, the dog isn't the only reason to visit. Narasaki Automotive and Marine is a long-running mechanic shop, highly rated across multiple review aggregates, including Yelp and Consumer's CHECKBOOK. So far, the auto shop has fixed 40 years worth of broken-down cars. It moved to its current location—1319 Wright Avenue, near Cutting and Marina Way—in 1987. Wright Avenue hardly existed when the business arrived: it was a bare dirt road, and the freeway overpass had yet to be built.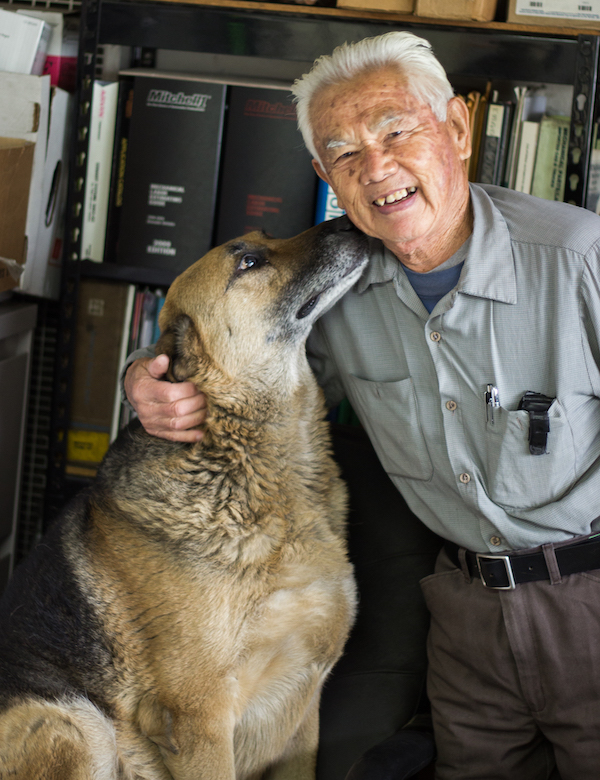 On the office wall there are photos of Narasaki as a young man, standing next to a pale blue muscle car and displaying his trophies. Born in Stockton, CA in 1928, Narasaki learned how to fix cars while tinkering with the hotrods that he drove in drag races. Narasaki handled all types of vehicles, but a particular favorite was his 1961 Chevy Impala. When I asked if he was a good racer, Narasaki said, "Other people thought I was!"
In between his racing days and starting the business, Narasaki worked as a mechanic and then as the manager of an auto shop. His son Al Narasaki Junior grew up around cars, doing oil changes and switching out tires, eventually tackling the trickier work. Now, three generations of Narasaki mechanics work together at the family establishment: Al Narasaki Sr., the father; Al Narasaki Jr., the son; Nicholas Narasaki, the grandson.
I asked Narasaki what's been valuable to him as an independent business owner. He sat back in one of the beat-up swivel chairs behind the counter, rubbed his hands on his knees, and then said that I'd better ask his son. "It's important just to be honest with people," Narasaki Jr. said. He explained that their philosophy as mechanics is to avoid switching out the original parts as long as possible, to help the cars last longer.
For more than ten years, my family has taken cars to Narasaki Automotive. They've always done the job well, and they don't pump up the prices. Some auto shops will try to fleece naïve customers, but the Narasaki mechanics go to great lengths to save their customers money. They look around for good prices on parts and never create a problem to add to the bill. They treat you fairly.
Narasaki Automotive and Marine is a quintessential local business; they understand the importance of community. Narasaki mechanics want to cultivate human relationships—you're not just another number on the profit sheet, but a valued customer. The phrase "valued customer" gets thrown around a lot in advertising, but the true meaning is how I feel when I visit 1319 Wright Avenue. They recognize me when I come in. I know that Narasaki Senior and Junior will be friendly and straightforward. Plus, it's fun to see Sparky. Next time, I might bring my own handful of ham.
Note: Narasaki Automotive and Marine did not solicit this article, pay for it, or have any editorial input. The writer just happens to really like their business, and the story behind it.