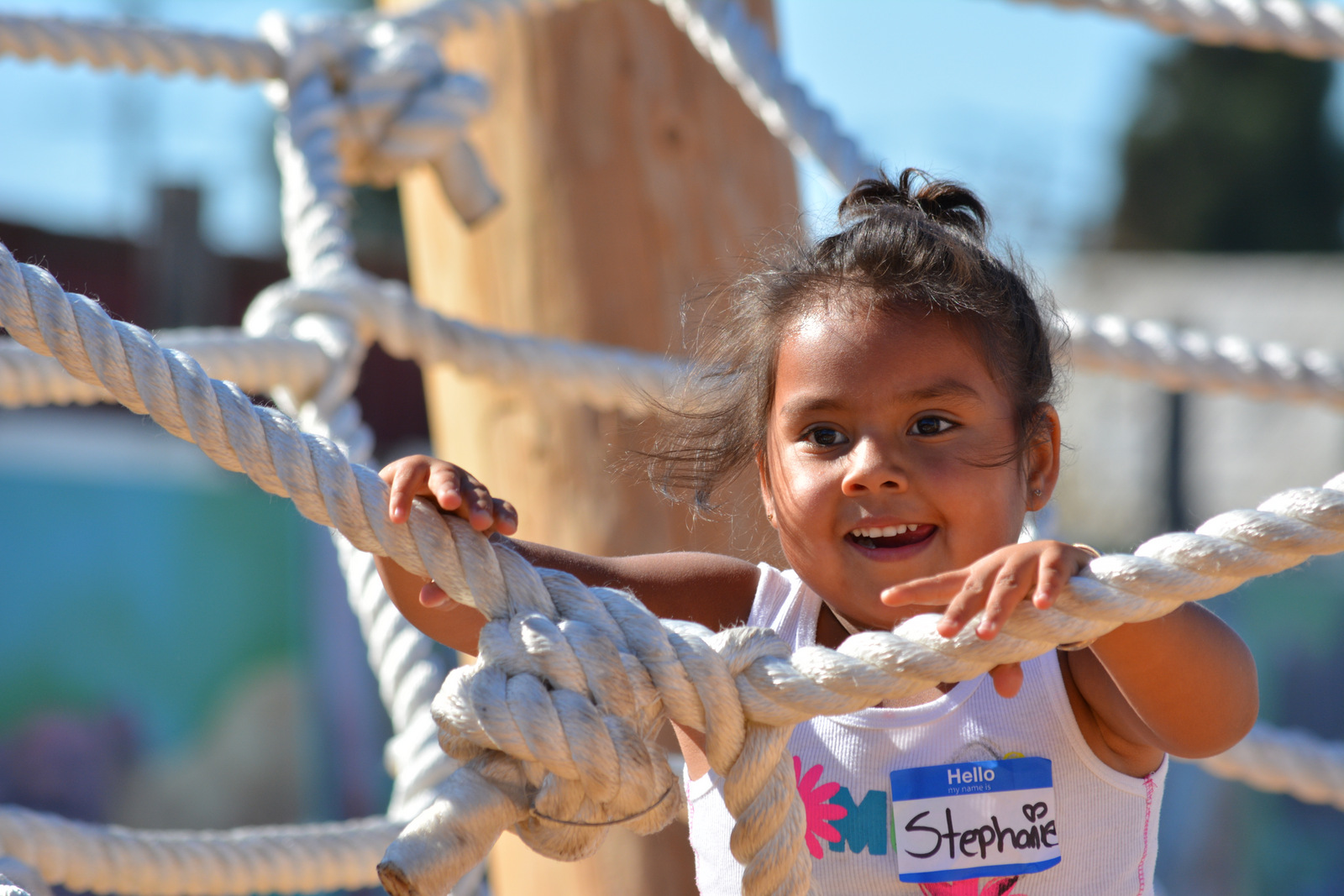 30 Nov

Transformation on the Richmond Greenway

Story, Malcolm Marshall | Photos, David Meza

It was a warm fall day, with temperatures near 70 degrees, when Iron Triangle residents and community members gathered to celebrate the grand opening of Harbour 8, Richmond's newest park, designed and built by local residents.

"It takes a village to build a park," said Toody Maher, executive director of Pogo Park, a local non-profit that renovates parks in Richmond, as she spoke to the crowd on the Nov. 7 park opening. One by one, she acknowledged the many residents, workers and financial supporters that contributed to the project.
Over the last nine months, residents have worked to transform this area of the Richmond Greenway between Harbour Road and 8th St. into a usable, kid-friendly green space.

The park was made possible thanks to an investment from The Trust for Public Land, a national non-profit that creates parks and protects land for people. Pogo Park secured a $150,000 Rapid Park Activation grant from the trust with the goal of renovating this public outdoor space on the greenway and bringing it to life.

"The Trust for Public Land was really fascinated by our community engagement process for Elm Playlot," Maher said of Pogo Park's earlier project at 8th and Elm St. Pogo Park and the Richmond Police Department recently won the 2014 MetLife Foundation Community Police Partnership Award for their work transforming Elm Playlot into a safe, vibrant and usable community playground. "So many parks in inner city neighborhoods fail. It doesn't matter how much money you put in them, you build a playground and the moment people leave its gets attacked and destroyed."

Gompers High School had a spot on the greenway known as Gompers' Guerilla Garden that it started in 2010. Students painted a mural that was subsequently painted over by Code Enforcement, who said it was graffiti. The controversy and student protest led a to a revision of Richmond city code to prohibit mural removal on private property without the property owner's consent. "That started it all and then people started coming out and doing murals," said Gretchen Borg, Urban Ecology teacher at Gompers High School, of the beginnings of transformation at what is now Harbour 8 Park.

Borg said Maher approached her last year about partnering with Gompers to create a playground surrounded by planter boxes and trees so that people could get fruits and vegetables and the kids would be safe. "And Toody made it happen, lickity split," Borg said.

Maher said this was The Trust of Public Land's first project in the Bay Area.

"This is the kind of partnership that is putting Richmond on the map," Mayor Gayle McLaughlin said. "This partnership of people coming together to own public space as our own."

"Children will be able to enjoy this beautiful sand box and explore their creative possibilities," she said. "Keeping public space for the public in Richmond is all part of showcasing that we're a city that values the importance community leading the way."

"Today we're celebrating community members building their own park, and being involved with this whole process," said Richard Muro, a Richmond resident who served as the project manager at Harbour 8, as well as part of the mural team that painted the new mural along the greenway.

Maher said many residents living close by as well as businesses in the area also contributed to help further the vision of Harbour 8.

"It's truly a powerful place," said Maher. "Harbour 8 park is within blocks from five schools. When kids are done with school what we want is for them to walk a few blocks to a refuge, a safe green space where they go."

"Our whole mission for these parks is to foster the development of children and youth, transform lives by transforming public space," she added.

The effort is not over. There are plans to build 22 raised garden beds and plant over 30 fruit trees, all of which are to be planted by the community.

Those interested in getting involved can contact Pogo Park at 510-215-5500 or contact@pogopark.org.