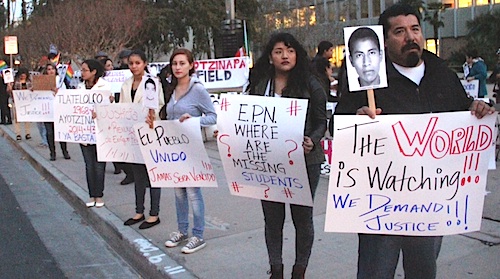 04 Dec

Ayotzinapa, Mexico's Ferguson

BAKERSFIELD, Calif. — As thousands take to the streets in cities nationwide to express outrage over the police shooting of an unarmed black teenager in Ferguson, Missouri, another protest movement is sweeping through Mexican American and immigrant communities.
Both are aimed at what participants say is state-sanctioned violence against unarmed civilians.
Last month hundreds gathered in mostly-Latino enclaves around California, including Bakersfield, where over 40 people rallied as part of a "Global Day of Action for Ayotzinapa." That's where some 43 university students disappeared late September after they were confronted by Mexican police in the sate of Guerrero. Six students died in the ensuing altercation. Many believe the 43 students were handed over to a local drug gang on orders from the city's mayor.
In the days and weeks since, Mexicans have expressed their outrage in the streets. Now their countrymen across the border in the U.S. – and even around the globe – are doing the same.
"Those students you see in the pictures may as well be my students," said Cal State Bakersfield sociology professor Dr. Gonzalo Santos, who organized the Bakersfield vigil. The pictures were part of an arrangement of 43 empty school chairs, in reference to the missing students. On each empty chair was placed a burning candle, with a photo and the name of each disappeared student. Towards the end of the ceremony, a rose was laid on each seat.
"I see my students' faces in their faces," added Santos. "Imagine coming to class one day and 43 of your students have simply gone missing." 
Above: Organizers of the protest in Bakersfield set up 43 chairs with pictures of the missing students in Mexico.
But Santos said the protest movement in Mexico that flared up in the wake of the revelations could be a key moment in the country's future.
"What will make the movement in Mexico succeed, I think, is [protestors] need to come up with a program that addresses [Mexican] society's problems, and that program has to be popularized among those in the movement," explained Santos.
Esperanza Guzman is one of Santos' students and attended the vigil. "This event is to let the people know we are united with the people of Mexico in protest of the forty-three students," she said. "We're here with people from Bakersfield and nearby towns, Delano, Taft, Arvin, Shafter … who are here to show support."
Guzman, who has been following the Ayotzinapa developments, said she agrees that this is a historical moment for Mexico. But it will be a long time, she added, before change materializes.
"It takes time, but the people of Mexico are united to speak out and say, 'We need justice for what's happened,'" said Guzman. "We've got to tell the Mexican state, 'Enough!' and … bring these students home."
Guzman said she thinks more Americans need to show their solidarity with Mexico protestors for the disappeared students.
"We are all human beings, we ought to all support each other no matter where [these things] happen," said Guzman. "It happened in Mexico, but it could have happened anywhere, here even, and we should be ready to support each other."
As for the Mexican government, Guzman echoed others at the vigil in calling for more accountability.
"The president and other [officials] need to do their jobs and find these students, that would be justice for their parents and the people," said Guzman. "They need to root out officials who are working with cartels who are adding to so much of the violence."
Adriana Utado was also among those in Bakersfield. She came to the U.S. recently from Mexico City, where she studied biology at the Universidad Nacional Autónoma de México (UNAM). "I'm united with this cause because I witnessed and lived many injustices while in Mexico, and it's the lower classes who always lose out," said Utado.
Utado receives regular updates on the protests in Mexico from her parents back home, and said people there would need to come together to change the state if it does not reflect the needs of society.
"Silence is not an option for anyone who wants the situation to change," she said.