09 Dec

Down a Player: How a High School Coach and Basketball Team is Carrying on in the Wake of a Homicide

News Feature, Chanelle Ignant

At a Friday night basketball game in late November, Richmond High School's boys basketball coach, Robert Collins, paced the sidelines, yelling instructions to his team.

With less than 30 seconds left, and only a two-point lead over the Mount Diablo Devils, Collins had one command for his team.

"Don't foul the shooter! Don't foul the shooter," he said, his booming voice carrying throughout the gym.

The Devils tied the game at 73 with 12 seconds to go.

The pressure was on for the Oilers. With the ball in play, they managed to make it across half court, but fumbled the ball near their baseline.

With five seconds left, senior Sahr Kelly recovered the ball and took a difficult shot from underneath the basket.

The buzzer sounded. Kelly's shot went in, and the Oilers were victorious.

As the team rushed from the bench, surrounding Kelly in celebration, they left behind a jersey laid out on one of the chairs. It was emblazoned with the number 4—a memorial to the team's fallen player, Rodney Frazier Jr., who was killed out front of his North Richmond home in November.

Collins, now sobbing, walked through the post-game ritual of handshakes and saying "good game" to the other team.

His love of the game, of his players and of Richmond's program was evident. The sense of loss for a player absent that Friday night was palpable.

"This game was special," he said on the way to the bus. "That was so special."

In the wake of the fatal shooting of Frazier, the 16-year-old junior guard for the Oilers who was gunned down on November 7, Collins said he and the team have been riding an emotional roller coaster.

"We're ready for some normalcy again," said the veteran coach of 18 years.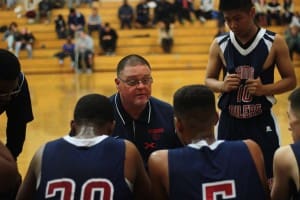 Collins gained media attention in recent weeks after co-organizing a rally for Frazier at Richmond City Hall where hundreds of players, community members and leaders gathered to honor Frazier and call for change.
His passion, often witnessed on the sideline at games, turns to indignation whenever he speaks of what happened to Frazier.
"Why did they have to take someone out who was just on the brink of becoming someone unbelievably special in life?" Collins asked. "Why did that have to happen? I'm never going to get the answer," he said. "No one is."
Collins began coaching at Richmond High in 2002, replacing the famed Coach Ken Carter. He left in 2006 to coach at Amador Valley High, but resigned after two years when parents complained about his intense coaching style.
He returned to Richmond as a physical education teacher in 2008 and became coach once more, fulfilling his wish to "be a part of kids lives."
"I'm older and a lot wiser and a part of a school community now, which is what I always wanted to be," Collins said.
Collins admits that the challenges are great for Richmond High students.
"It's pretty heavy for these young people that see a lot of rocky stuff on a day to day occurrence," he said. "I'm sensitive to it, but I will never understand it."
He said basketball keeps the players going because it gives them a physical outlet for their pain and a common goal to work toward.
Despite the recent tragedy, he considers Richmond High his saving grace.
"I was never really part of a school community, until I got to Richmond," he said.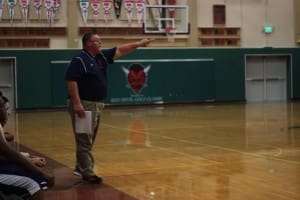 And that community relies on him now. On Friday night, as his voice carried throughout the gym, the intensity that he says forced him out of a suburban school is what the Richmond players look up to.
"He gives these kids and this school and this program everything he has," said Kellis Love, the Richmond junior varsity boy basketball coach. "He's one of a kind."
So far, Collins said, the team is playing "with the idea that we wish Rodney was here doing it with us."
"It is what it is," Collins said. "We're going to have to get through it and go forward."
Now on a two-game winning streak, the Oilers are gaining momentum. With Collins' leadership from the sidelines, and Frazier's memory pushing them to succeed, the boys of Richmond High will keep playing one game at a time.