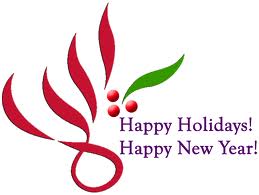 24 Dec

Local Happenings

From the Pulse News Desk, Posted Dec 24, 2014

Holiday Closures
Richmond city offices will be closed during the holiday week beginning Wednesday, Dec. 24 and reopening on Friday, Jan. 2, 2015.
The closure includes city offices as well as the Richmond Public Library and Recreation facilities. The Richmond Plunge at 1 Garrard Blvd. will have limited hours, 10 a.m. to 2 p.m, on Dec. 24 and Dec. 26-31.
Police and Fire departments will remain open, and R-Transit, Public Works, and Housing Authority departments will have partial services.
For more information visit: http://www.ci.richmond.ca.us/calendar.aspx?EID=10979.

Congressman-elect Opens Office in Richmond
Congressman-elect Mark DeSaulnier will open a Richmond office on Jan. 6 at the city's Civic Center, 440 Civic Center Plaza, 2nd floor.
Among other things, the office staff will assist constituents with passport applications, applying to a military academy, requesting a tour of the White House or U.S. Capitol, a Presidential greeting, Congressional commendations or requesting a flag be flown over the Capitol.
"My top priority is to provide outstanding constituent services and I invite anyone who is need of assistance or information from the federal government to call or to stop by my Richmond office," DeSaulnier wrote in a news release.
I am happy to be back working in West County."
DeSaulnier will host an open house at his Richmond office in early 2015.

A Winery in Richmond
R&B Cellars, an Alameda based winery, plans to open Riggers Loft Wine Company at the Port of Richmond in the redeveloped Riggers Loft at 1325 Canal Blvd.
The winery will be adjacent to the SS Red Oak Victory ship and the Rosie the Riveter Home Front Park. Rigger's Loft was originally part of Richmond Shipyard and served as a wartime supply shop.
Rigger Loft Wine Company will produce, bottle and distribute wine, as well as feature a tasting room and host private and fundraising events.
The Port of Richmond entered into a 20-year lease agreement with the Alameda based winery. The lease will generate $100,000 in annual revenue for the port, according to city officials. The company will move in early 2015.

Richmond has a New Fire Chief
Richmond has named a new chief to lead its fire department.

Adrian Sheppard, currently the Oakland Fire Department Battalion Chief, will start Dec. 31. Sheppard has worked for the Oakland Fire Department for 16 years, climbing the ranks from firefighter to battalion chief. Prior to his career with the Oakland Fire Department, Sheppard was a commissioned officer in the United States Air Force.

Chief Michael Banks is retiring after 34 years with the Richmond Fire Department. He was hired in 1980 and held several positions before being named fire chief in 2004.

Wanted: Student Leaders
The Richmond Youth Leadership Committee is looking for student leaders passionate about serving their community.
The program, designed for high school and college students who are interested in making a difference in their community through impact volunteering, is a part of the citywide Richmond Excellence Serving our Community initiative.
Students who join the YLC will attend innovative leadership workshops to both learn and apply essential leadership skills, including: ethical decision making, time management, goal setting, public speaking and conflict resolution.
As an YLC leader, students will engage youth in community service learning projects, organize community events to raise awareness of pressing issues facing the Richmond community and participate in leadership training.
The deadline to apply is midnight Monday, Jan. 26, 2015.

For more information, contact Jantsan Damdinsuren at jantsand@ci.richmond.ca.us or call 510-620-5576.