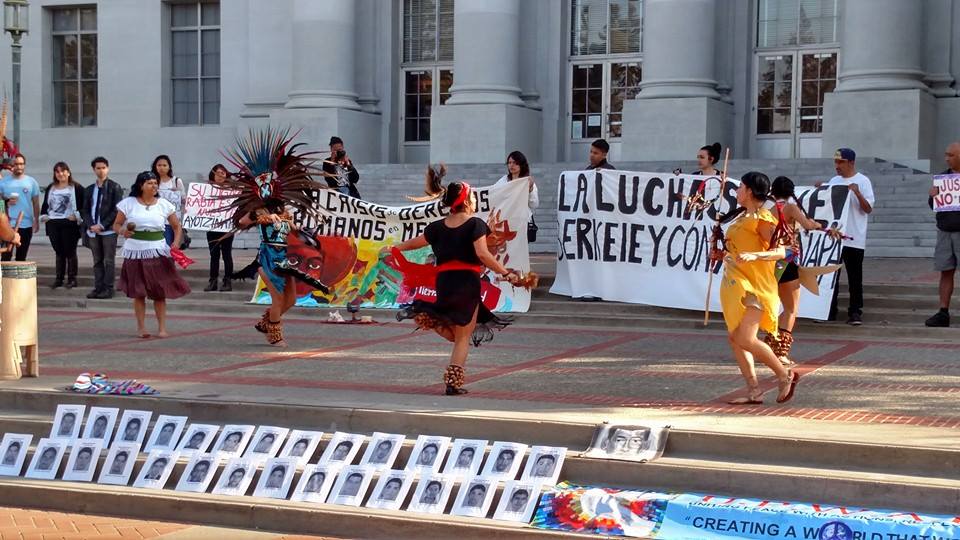 13 Feb

Marching in Solidarity: Bay Area Comes out to Show Support for 43 Missing Mexican Students

By Yaquelin Valencia

About two-dozen people marched from UC Berkeley's campus to the Oakland federal building on Fri., January 30 to show solidarity with the community in Mexico that is demanding answers about the case of 43 students from Ayotzinapa, Mexico who disappeared last September.

On Sept. 26, 2014, 43 university students from the Ayotzinapa Normal School, traveling from Ayotzinapa to Iguala, in the state of Guerrero, disappeared after a confrontation with Mexican police in Iguala. Six people died in the ensuing altercation. It's not year clear what happened to the rest, some believe they were handed over to a local drug gang on orders from the mayor of Iguala and others think they were all killed.

The Huffington Post reported that Mexican Attorney General Jesus Murillo Karam said the mayor of Iguala ordered police to confront the students to keep them from disrupting a political event for the mayor's wife. The ousted mayor, Jose Luis Abarca, has since been charged with kidnapping.

In a recent CNN report Karam said there is "legal certainty" that the 43 University students were killed. But with only one student's remains identified in the last four months, many parents hope their children are still alive.

The disappearance of the students has gone beyond outrage in the streets of Mexico and led to a global call to action with people around the world standing in solidarity, hosting actions, vigils, marches and gatherings. In the Berkeley demonstration pictures of the missing students were displayed along with banners that read "Berkeley esta con ustedes" (Berkeley is with you all).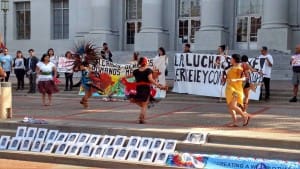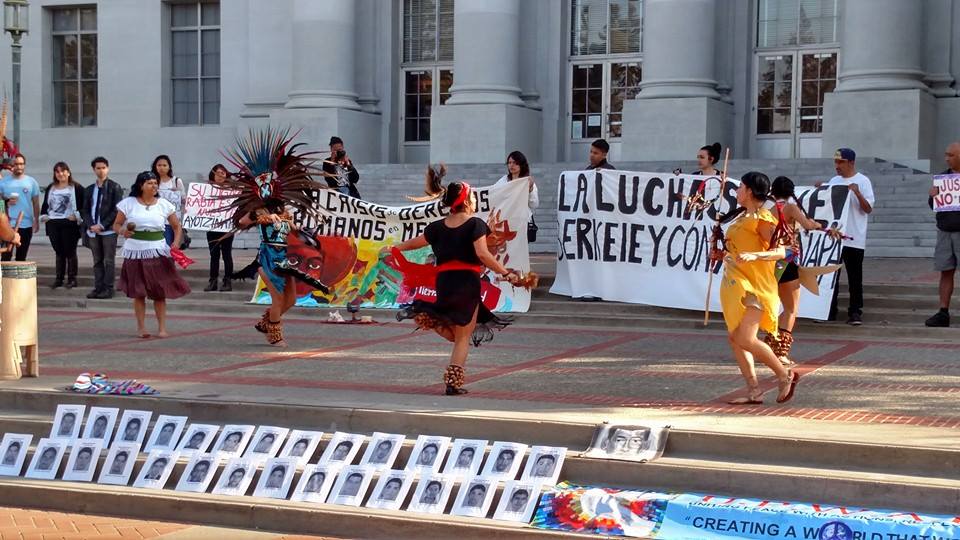 In homage to Mexican culture the Berekley rally started with a performance by Aztec dancers and small children. Afterward organizer Ismael Chamu, a UC Berkeley student, announced that a group would be marching to the Oakland Federal Building.
"It's been four months, and me and the other organizers, Carla Garcia and Valeska Castañeda, want to bring awareness to the community about this," said Chamu. "I personally don't believe that the reports are true. We're still fighting for justice. The movement will continue."
Holding banners and pictures of the missing students aloft, two-dozen participants marched through the streets chanting, "They took them alive and alive we want them."
Some in the group waved their signs to cars that honked and showed support. After 4.8 miles the march ended at the Oakland Federal building.
San Pablo resident and Contra Costa College student Alejandra Arzate, 22, said she heard about the event through Facebook. She said that she came out "to support the community as a whole and to show solidarity to my home country."
"I was born in Mexico," said Florentine Becerra, 31,from Santa Rosa. "I am here to show solidarity to the missing 43 students. I don't want this to happen again."
Nataly Sanchez, 22, said that unlike here in the U.S., in Mexico you don't see a bulletin with names of people who go missing, it's rare to hear or see the names in writing. But in Mexico, with the 43 missing students the parents are exposing the names of their children who are missing because they took all they had.
"In Mexico all you really have is family and this is why many others are saying this is enough and taking the streets. All of this is creating consciousness in many comminutes in Mexico and other countries," Sanchez said.