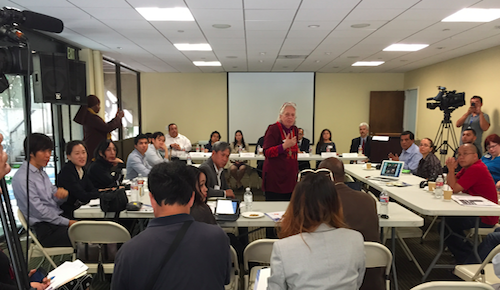 17 Feb

Spotting and Avoiding Scams in Ethnic Communities

News Report, George White | New America Media

LOS ANGELES – To Lang Zhao, the business she expected to ship her valuable package to in China appeared to be legitimate. After all, the clerk at the shipping store in the Los Angeles suburb of Monterey Park gave her a tracking code after she paid the shipping fee and the customs charge.

When the package was not delivered, she tried to contact the business.

"I called again and again and the line was always busy," she said. "I went back to the (shipping) store and it was closed … I called customs in Shanghai and gave them the tracking number. They told me that the name of the store – not my name – was on the package."

Zhao also later discovered that more than 100 people were also victims of that shipping scam. If any of the previous victims had been more outspoken about the ruse by, for example, relaying their stories to local news outlets, Zhao might not have been victimized. That is one of the messages the U.S. Federal Trade Commission (FTC) is conveying in a campaign to warn and educate ethnic communities about scams.

Zhao and several other victims of recent financial stings joined representatives from the FTC, the Los Angeles County Department of Consumer Affairs and the Los Angeles Police Department to warn and inform ethnic communities – often the targets of scams – at a February 10 news briefing hosted by New America Media.

Many ethnic communities are now even more of a target because hundreds of thousands of undocumented residents are now coming out of the shadows following two executive orders by President Obama. The first, the 2012 Deferred Action for Childhood Arrivals program, allows children of parents who immigrated illegally to remain in the U.S. The other in 2014 offers a reprieve from deportation for undocumented parents of U.S. citizens and for those who have resided in the country for at least five years.

"When there are new opportunities, scammers are ready," said Thomas Syta, the Los Angeles-based assistant regional director of the FTC, during discussions at the news briefing.

The FTC says fraud and scams cost U.S. residents $1.6 billion in 2013 – the most recent tally – and that immigrants are frequently targeted because they do not fully understand English or U.S. law. Many of these schemes would have failed if scam targets had consulted friends or relatives, said Monica Vaca, assistant director of the FTC Bureau of Consumer Protection.

"We collect reports from those scammed and those not scammed," Vaca said. "We found that many of the people who paid the money to the scammers did not talk to anyone else."

A warning could have helped Alba Montoya avoid a costly scam. She wanted to get a green card for her husband. She was contacted by a woman at a company that claimed it excelled at obtaining green cards.

"She told me they were not going to charge a lot," Montoya said. "When I went to meet with her, I was told to pay $500. But two weeks later they asked for more money."

In all, Montoya paid $2,500 to the grifters. Her husband did not obtain a green card.

Other scams involve aggressive frauds that generate a lot more money, said Rigo Reyes, chief of investigations for the Los Angeles County Department of Consumer Affairs. He relayed the experience of a man who used his credit cards to borrow $29,000 to pay grifters who contacted him by phone claiming to be representatives of the Internal Revenue Service (IRS). He realized he had been defrauded when he tried to reach the bogus IRS collectors by phone after making the payment. That phone had been disconnected.

"Our system does not allow the IRS to make such (collection) calls," Reyes said, noting that the IRS sends collection notifications by mail. "He's not going to get that money back. Scamming is difficult to stamp out. It's like (a game of) Wack-A-Mole. One head comes up and we go after it and then another head pops up."

Ethnic media can help government agencies and law enforcement identify scams, said Lt. Al Labrada, a community outreach liaison for the Los Angeles Police Department. He said a news producer at Univision recently contacted the police about a woman who had convinced a cancer patient in South Los Angeles to rely on her herbal treatments instead of medical care. The patient's health declined dramatically. LAPD found and arrested the woman.

Labrada said all victims should report scams and that the undocumented can do so without fear of the police.

"We don't care about their immigrant status," he said. "We need them to come forward. There is no immigrant checkbox on our complaint forms."

Scams: Warning Signs, Tips and Protections



The Federal Trade Commission (FTC) says scams perpetrated in ethnic communities are frequently framed as job offers, immigration assistance, mortgage modification, rental listings and sweepstakes. Some scams are used for identity theft. Here are some FTC tips for avoiding fraud.
• Do not pay to obtain employment or information about a job.
• Do not deal with anyone who says you have to act fast.
• Do not go to a notario publico (notary public) for legal advice because they are not lawyers.
• Get immigration information from U.S. government websites. If it is a legitimate government site, it includes .gov.
• Never sign a form that is blank and never sign a form that has false information.
• Do not let anyone keep important documents such as a passport or birth certificate.
• If you believe you have been defrauded call the FTC at 1-877-382-4357 or report it at the FTC website at www.ftc.gov/complaint.