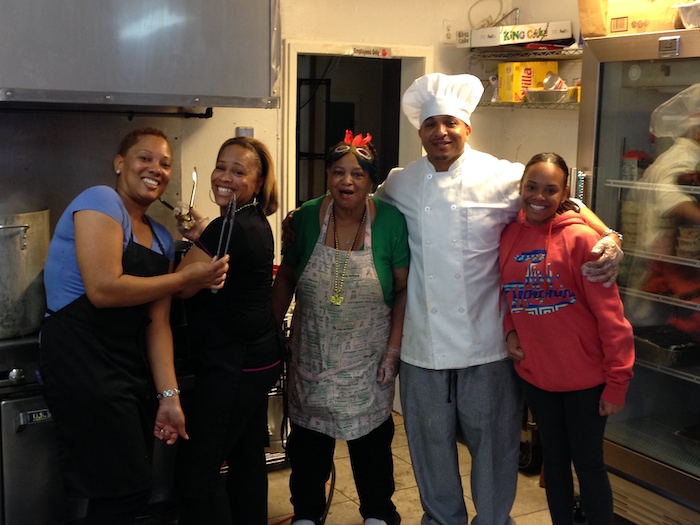 18 Feb

A New Restaurant Brings a Taste of Louisiana to Richmond

By Nancy Deville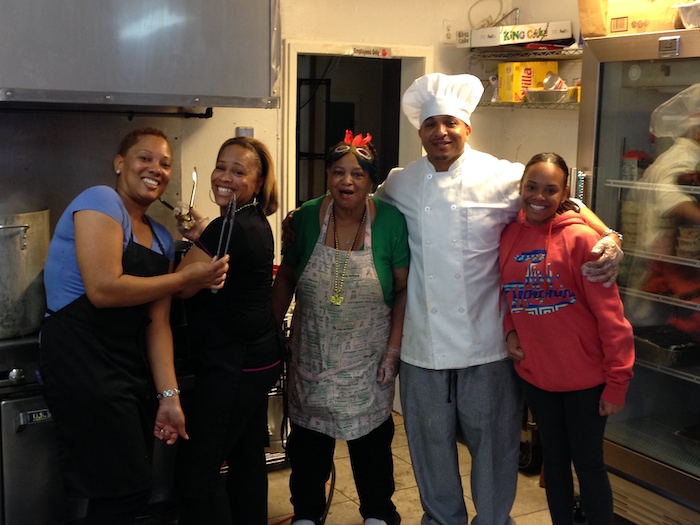 Lilly's New Orleans Café declares its enthusiasm for all things New Orleans from the moment you walk into the door and are greeted with the aroma of southern cuisine and décor reminiscent of Mardi Gras celebrations.
The small take out eatery is the brainchild of Mary Butler and her son Surako Follings, also known as Chef Rock, who runs the restaurant fulltime. Other family members pitch in on the weekend shifts.
But it's the food that has customers taking notice. The menu is full of creole favorites like red beans and rice, po' boy sandwiches, jambalaya and seafood gumbo. There are also southern staples like greens, yams, macaroni and cheese and Cajun smothered potatoes. Desserts include banana pudding, sweet potato pie and southern lemonade pound cake. The restaurant's signature drink is swamp juice, a lemonade tea base with fresh mint leaves and other secret ingredients.
"What I enjoy most about cooking is seeing the people enjoy the food," said Follings. "We've only been open three months, but the response from the community has been very good. This allows us to go back to what we once had here in Richmond — black owned businesses."
"It's a lot of work and you really have to have a lot of heart if you want good food," Butler added. "I bring the same love to cooking the food at Lilly's that I would if I was cooking for my own family. Everybody likes good food and we try to keep our prices affordable for the community that we're in."
It's a simple order-at-the-counter sort of spot and Butler loves to offer samples of the menu to help customers decide what they might want to eat. While she talks about the menu, Butler offers a touching story of the restaurant's history and its homage to her mother who died in 1993 and always hoped to own a Louisiana themed restaurant in the Bay Area.
"She was a fantastic cook," Butler said. "When she cooked, everybody would come and she loved for people to enjoy her cooking. I know she's happy now that we've opened Lilly's."
The family spent years trying to find the right location, but when a spot on Carlson Boulevard became available, they jumped at the opportunity.
"I used to always see this place and say, 'That should be ours. We would do good there,'" Butler said. "We didn't give up because it was something that we really wanted. It's amazing that we are here now; sometimes I have to pinch myself."
Butler's roots are in the Bay Area, but her heart is in Louisiana — at least when it comes to food. She learned to cook by watching her mother. After retiring as a respiratory therapist Butler worked as a cook at an Oakland Christian school.
"The gumbo is my favorite thing to cook because it reminds me so much of my mom," she said. "She taught me the little things, like the twist of the wrist and the turn of the spoon, all of that makes a difference."
"She taught me about the love that has to go into cooking gumbo. I take my time to cook. You can't rush," she explains, while stirring the base of the gumbo known as the roux.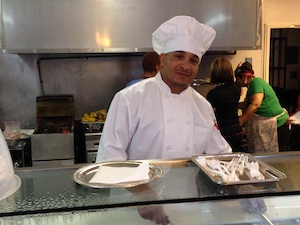 Chef Rock has been cooking professionally since 1996 and prior to the restaurant he was a teacher at an Oakland school.
"Our passion and love is here," he said. "We're putting in the work to have the world's best gumbo. We've got so many more recipes that we are going to pull out that represent my grandmother."
Currently the restaurant is open Thursday through Sunday, but the family hopes to expand to five days a week. There are also future plans for a full service restaurant in Richmond.
"We really like the area and the people here," Butler said. "And we're really trying to help bring the pride back to Richmond. We're here to feed people's soul. Everything that we cook here is prepared with love."
IF YOU GO: Lilly's New Orleans Café, 1305 Carlson Blvd., is open from 11 a.m. – 7 p.m. Thursday – Sunday. For more information, call 510-255-7071.