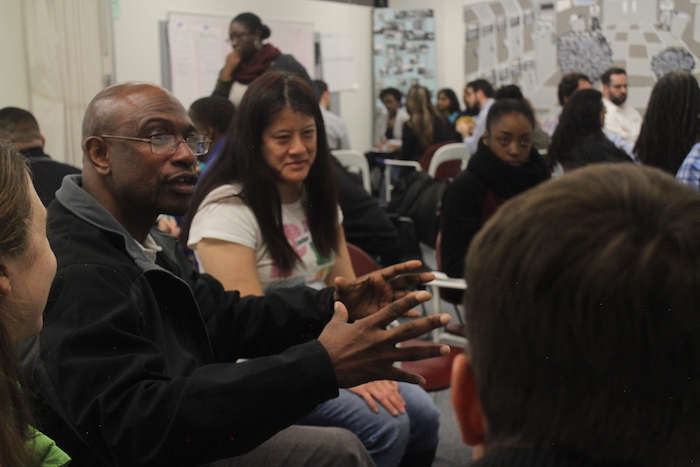 23 Feb

Coalition to Tackle Racial Disparities in the Criminal Justice System

By Chanelle Ignant

With community-law enforcement relations still making headlines around the country, a group of attorneys from the Contra Costa County Public Defender's office are organizing to see changes made on the judicial level here in Richmond.

Together with community members and organizers, the group aims to address the racial bias they believe exists in Contra Costa County's criminal justice system.

The group first met in late January in response to District Attorney Mark A. Peterson's public rebuke of Public Defender Robin Lipetzky for her remarks at a Black Lives Matter demonstration, where she noted instances of racial disparities witnessed every day in her work place.

"We here in the Public Defender's office walk through these halls of justice day in and day out and we see the immediate effects of the disparate treatment on our clients," Lipetzky said at the Dec. 18 rally.

"We see it in the fact that people of color are underrepresented on our juries and they are overrepresented in our jails," she added.

In response, Peterson issued a four page long public statement refuting Lipetzky's claims and adding, "We train, we teach, and practice the notion of colorblind justice, because all lives matter."

Echoing Lipetzky's statement, the group of attorneys formed, according to member and defense attorney Kaylie Simon, with the mission to "first and foremost educate folks and make sure that everyone is on the same page in recognizing that racism does in fact exist."

"Community organizations have started to meet to talk about how we can work towards ending racism in the criminal system," Simon said.

The group met again in February at RYSE Youth Center in Richmond to discuss strategies and next steps for their campaign. With about 30 members in attendance, the meeting was split into four action teams centered on: data collection, community outreach and education, local campaigns and media relations/communication.

While the exchanges between Patterson and Lipetzky were mentioned to provide context for the group's work, meeting attendees were focused on bigger issues — awareness and change.

Eli Moore, a Richmond resident, said it was "opportunity to look at transformation in the county."

"If it's all about shaming the D.A., we're shooting too short," Moore said.

The mission to work toward systematic changes resonated with everyone present and carried over into the various task groups where, participants discussed practical solutions for getting their message to the public.

One idea on how to raise awareness while educating people, was creating a graph to illuminate the decision points that lead to the arrest and conviction of minorities but lead to less harsh penalties for non-minorities, even when the same crime is committed.

Doria Robinson, executive director of the Richmond based organization Urban Tilth, participated in the media relations/communications task group that developed the concept.

"There are a number of points before you even get charged," she explained. "The police officer can decide to give you a ticket or a warning or to arrest you… Once in the system there's another set of decision making points that determine how long your term is, what you're charged with, if you're charged as an adult or a minor."

Robinson said highlighting patterns, such as this, supported by statistics, could foster accountability.

The group plans to develop a steering committee that will determine the next steps in making the movement sustainable, and the attorneys have already met with a coalition of public defenders from San Francisco and Alameda counties to coordinate regional efforts.

Rabbi Lynne Gottlieb, who has a background in campaigning and whose son is a public defender, says she sees a lot of enthusiasm and possibility in the group.

"I see this as an opportunity for coalition building and networking, and that's really important," Gottlieb said.