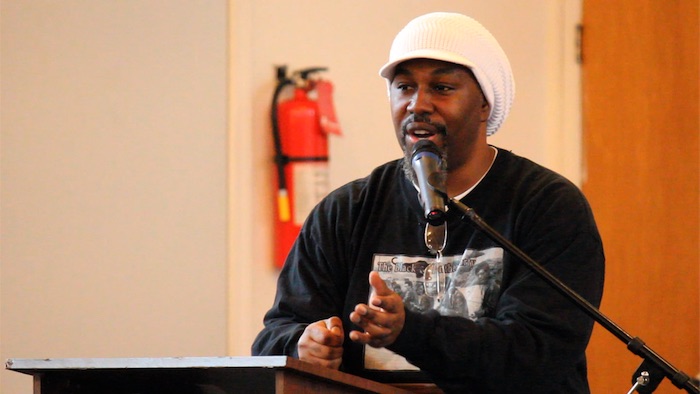 24 Feb

Community Gathers for a Summit on Peace

By Ann Bassette

Miracle Temple Apostolic Church on the south side of Richmond was the site of the "Get the Hell Outta Richmond and Put More Love Into It," peace summit on Feb. 7. The gathering, organized by community advocates Rodney "Alamo" Brown and Steven Parker, brought concerned residents together to talk about remedies to violence, due to spate of violence (or "hell") in this New Year.

The summit featured a number of speakers including Landrin Kelly of the Terrance Kelly Youth Foundation; Khalid Elahi, a youth advocate; and Pastor Patrick Weaver of Greater Abundant Life Ministries.

Information about social service providers, mentors for youth and the criminal judicial system was handed out to attendees.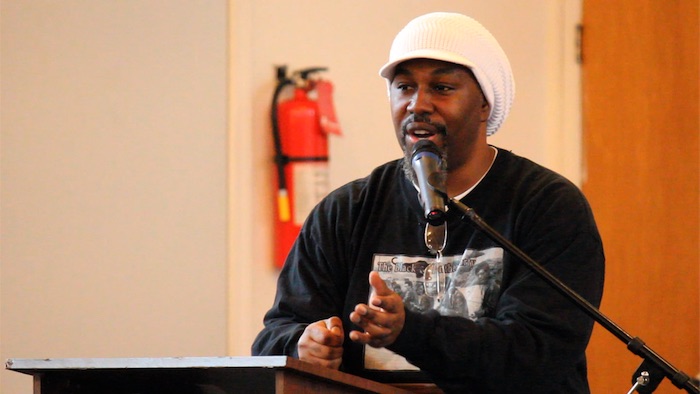 At the start of the event, Brown greeted every single person in the church with a smile and a handshake as the pews filled up. "We wanted to bring out the community to talk about the issues that are concerning our community," he said.
"We want to make sure we can show them that we have their back," he said of the need to support youth in the community, "to make sure that they get all the fortified information they need to uphold this legacy we call Richmond, California."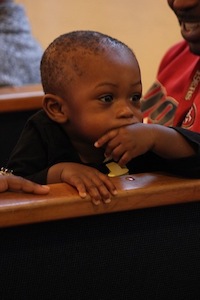 Around the room, a grandfather captivated his grandson by teaching him new Spanish words as they waited for the session to begin. A mother watched her son suck on his pacifier and practice standing while holding onto her fingers.
Co-moderator Redge Dwayne Green, who acted in the movie "Boyz in the Hood," commanded the room with a bold smile, strong voice and friendly nature as he introduced each speaker.
"I'm participating in this event as a community member to project more hope and healing," said speaker Dameion King. King was formerly incarcerated and said he understands how he was once a part of what helped to keep the community down. Now, working with local non-profit Rubicon, he has spent the last 15 years being a part of the solution and actively promotes violence-prevention.
"Liking is for Facebook, respect is for community," said Pastor Weaver, to applause from the packed house. "We are not going to change the world until we change our world, from the inside out," he added. "If we do not start instilling what we want our children to become, we find our children not at home, but in the pen. If we keep placating, pacifying, and pretending as if this thing is going to cure itself, as if the politician is going to come in because we cry about it versus vote about it, we're only recreating the problem."
The crowd clapped and shouted in agreement.
"The dream is delayed because we haven't been responsible for the vision, " he concluded.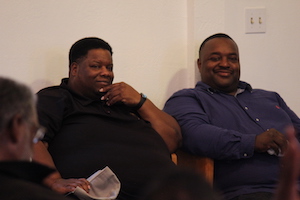 One of the days' most powerful speakers, Elahi, shared his life story to serve as a solution. "This is where I come from," he said, "I was a part of the problem once before."
Elahi said he empowered over 150 young people as a football coach in Richmond, which helped them succeed on the field as well as in the classroom.
"Violence is a disease," he added. "It's a public health risk. It's not these young peoples' fault."
Other featured speakers included Elaine Brown, a former chairwoman for the Black Panther Party, Minster Andre Bean and members of the city's Office of Neighborhood Safety.
Ervin Roquemore, a Probation Counselor at Contra Costa County Juvenile Detention Center, said that he's spent a lot of time in the community trying to ensure kids never end up needing his services.
By the time they reach the level of detention, the minors and their families are in crisis," Roquemore said. "We're not teaching respect, we're not teaching love. A kid who doesn't feel love doesn't feel worthy and it's hard to reach them. We have to let them know that they're valuable to us, that they mean something to us."