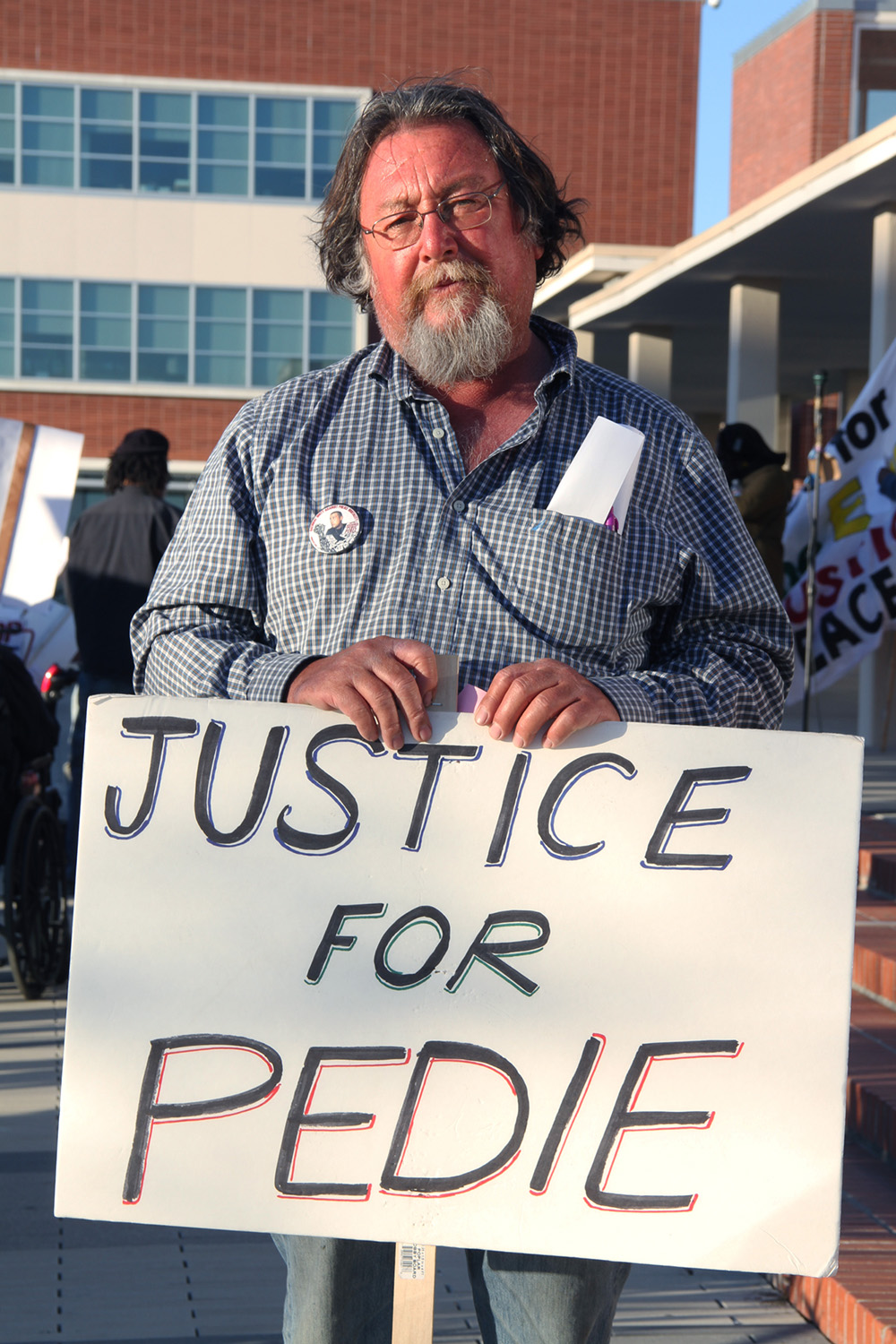 25 Mar

Six Months Later, Family of 'Pedie' Calling for Officer to Be Charged

News Report, Edgardo Cervano-Soto

The family of 24-year-old Richard Perez III marked the six-month anniversary of his death with a protest March 17 at a Richmond City Council meeting, demanding that prosecutors charge the police officer who shot him, despite a conclusion by the District Attorney's office that the officer had acted in self-defense.

Perez, better known as "Pedie," died Sept. 14, 2014 in an altercation with Richmond police officer Wallace Jensen, who shot him three times during a fight at Uncle Sam's Liquors on Cutting Boulevard after what the officer described as Perez's attempt to take the gun from his belt. Perez had been intoxicated, and according to investigators had told family members he expected to be killed by police by the age of 25.

But Perez's family said that focusing on such statements amounted to an attempt to discredit their loved one and to divert attention from what they say were the officer's lack of training and mistakes made during the fatal events.

"We don't approve of their police brutality, we don't appreciate their lies, we don't appreciate their lack of training, their lack of accountability, and their lack of transparency," said Perez's father Rick, at an hour-long rally after the council meeting. "They sit there at the table and yet they hide so much, [and] they misrepresent the rest of it… it's not right for them to do that, but they get away with what they want."

A canine patrol officer with seven years on the force, Jensen said he had patrolled the liquor store even though it wasn't on his beat because it had repeated issues with loitering. He said he entered the store when called out by a store clerk. Jensen testified he attempted to detain Perez for public intoxication — and that when Perez resisted, his calls for backup never went through. According to Richmond Confidential's report of the inquest, Jensen's calls for support never went through because he had mistakenly set his police radio to a private channel.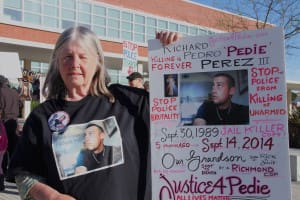 Perez's grandmother Patricia, who picketed the plaza outside the council chambers with other family members and supporters, wore a black T-shirt with her grandson's picture on it. "He deserves to be in jail," she said. "He murdered Pedie, plain and simple. There is no way to explain it."
A coroner's Dec. 10 inquest to determine the manner and mode of Perez's death took testimony from homicide detective Hector Esparza, president of the local police union, along with Contra Costa County District Attorney investigator Jeff Soler, who had interviewed Jensen after the shooting, and from Jensen himself. The prosecutor's office in January declined to file charges against Jensen, who had re-entered the police force in early October after a two-week paid administrative leave.
"It is not possible to prove Officer Jensen did not act in self-defense," Deputy District Attorney Barry Groves wrote in a letter to Richmond Police Chief Chris Magnus. "The facts and circumstances indicate that the officer acted in lawful self-defense."
At the protest rally, however, Perez's family criticized the inquest for excluding eye-witness accounts. Furthermore, according to the Huffington Post, the inquest didn't feature any video footage from a witness's cell phone camera.
Rhonda Reeder-Perez, Perez's aunt, also criticized Jensen's lack of preparation and crisis training. "As a canine handler, wouldn't it be your first nature to push that button on your lapel to let your dog out if you are in fear of your life?"
"But he didn't do that," Reeder-Perez said. "He just stepped back and blew my nephew away."
Roberta Shriver, a family friend, spoke during the public-comment portion of the council meeting, and urged council members to take action.
"Something could get a white, conservative, FOX [News]-watching woman off her couch, and that's when a friend of her son is killed," Shriver said. "Pedie and his family are precious to us. I was also married 19 years to a police officer, have a degree in criminal justice and worked for the LAPD, so I know about the brotherhood of the badge. I sat in that coroner's inquest and I listened to every detail.
"At several points that officer could have used non-lethal force, and chose not to," she said. "It's up to you to do the right thing."
The Perez family has hired civil rights attorney John Burris and has filed suit against Jensen and the city, arguing excessive force and violation of civil rights. Police Chief Chris Magnus, in an emailed statement to Richmond Pulse, reiterated the District Attorney's conclusion that Jensen had acted in self-defense.
"We realize the Perez family has experienced a huge loss and appreciate that Pedie's death was incredibly tragic to those close to him," wrote Magnus. "In fairness, however, I need to remind our community that following a lengthy and thorough investigation into this incident, the Contra Costa District Attorney's Office determined that the officer acted in self-defense and that the shooting was justified.
"It is understandable that Pedie's family and friends are unable to accept this finding," he continued. "We support the family's right to pursue their case through the civil court process and believe a courtroom is the appropriate venue to reach a just resolution to this matter."