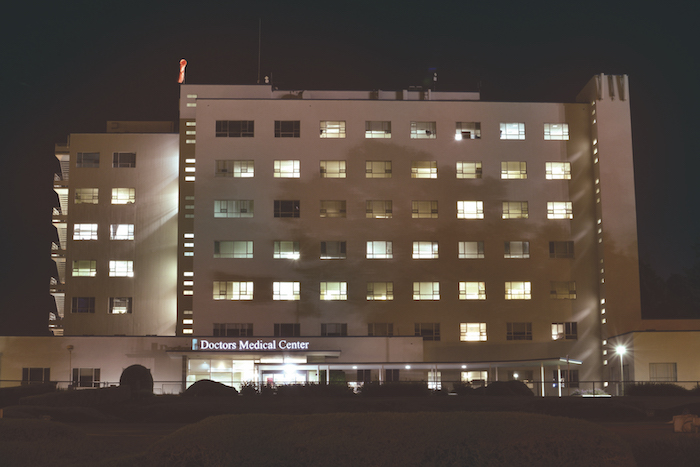 26 Mar

DMC to Close April 21

By Nancy DeVille

It's the decision that many hoped would never come: Doctors Medical Center is closing April 21.

The board of West Contra Costa Healthcare District, which governs DMC, made the decision Thursday after they were advised the hospital is running out of money and has exhausted opportunities to borrow additional funds.

"This is a very sad day and a huge loss for our community and for all of us who have worked so hard to keep our community hospital open for all our residents in [a] time of need," Eric Zell, chairman of the board of directors, said in a statement.

"We have exhaustively pursued every alternative over the past weeks, months and years. Unfortunately, we have completely run out of viable and responsible options."

Once the hospital closes, West Contra Costa will lose 79 percent of its inpatient hospital capacity, and an Emergency Department that historically has provided 59 percent of emergency treatment in this portion of the county—including all severe heart attack care. DMC also has provided vital outpatient services such as cancer treatment, dialysis and free breast-cancer screening for low-income women.

"The impact is going to be catastrophic," said Maria Sahagun, an emergency room nurse at DMC, who spent months urging the board to come up with a viable solution to save the hospital.

Since DMC stopped accepting patients, those needing emergency care are being transported to Richmond's Kaiser Permanente, Contra Costa Regional Medical Center in Martinez or Alta Bates Summit Medical Center in Berkeley.

But an increase in transportation time could have "devastating" effects on their health, warned Sahagun. Former DMC patients are now riding public transportation to chemotherapy appointments at Richmond's Kaiser Permanente three times a week, she said, while others have complained about relatives being transported to Berkeley.

"If you have a stroke or heart attack, every minute counts," she said.

Sahagun, who lives in Richmond, started working for the hospital seven years ago. Despite its financial woes, she said, she always believed DMC played a crucial role in the community.

"After all, we do serve some of the poorest communities within the Bay Area," she said.

Sahagun said the decision to close the hospital sends "a clear message that we, the residents of West County, do not matter."

County health officials are working with other West County healthcare providers and hospital systems to provide primary, urgent and emergency care alternatives for residents.

Dr. William Walker, Contra Costa Health Services Director and a member of the DMC Governing Body, said health officials are working with Lifelong Medical Care of the East Bay to establish an urgent care center across the street from DMC on Vale Road in San Pablo. The county's health center, just two blocks from DMC, is also adding more evening and Saturday appointments to see patients.

The hospital, which opened in 1954 as Brookside Hospital, has been teetering on the verge of closure for years. Last spring, voters in the district failed to approve a $200 parcel tax, which would have directed $20 million to eliminate its annual operating deficit.

"Continuing further operations would only put the hospital deeper in debt, and jeopardize its legal and fiduciary obligations to pay its employees, physicians and vendors," said Contra Costa County Supervisor John Gioia.