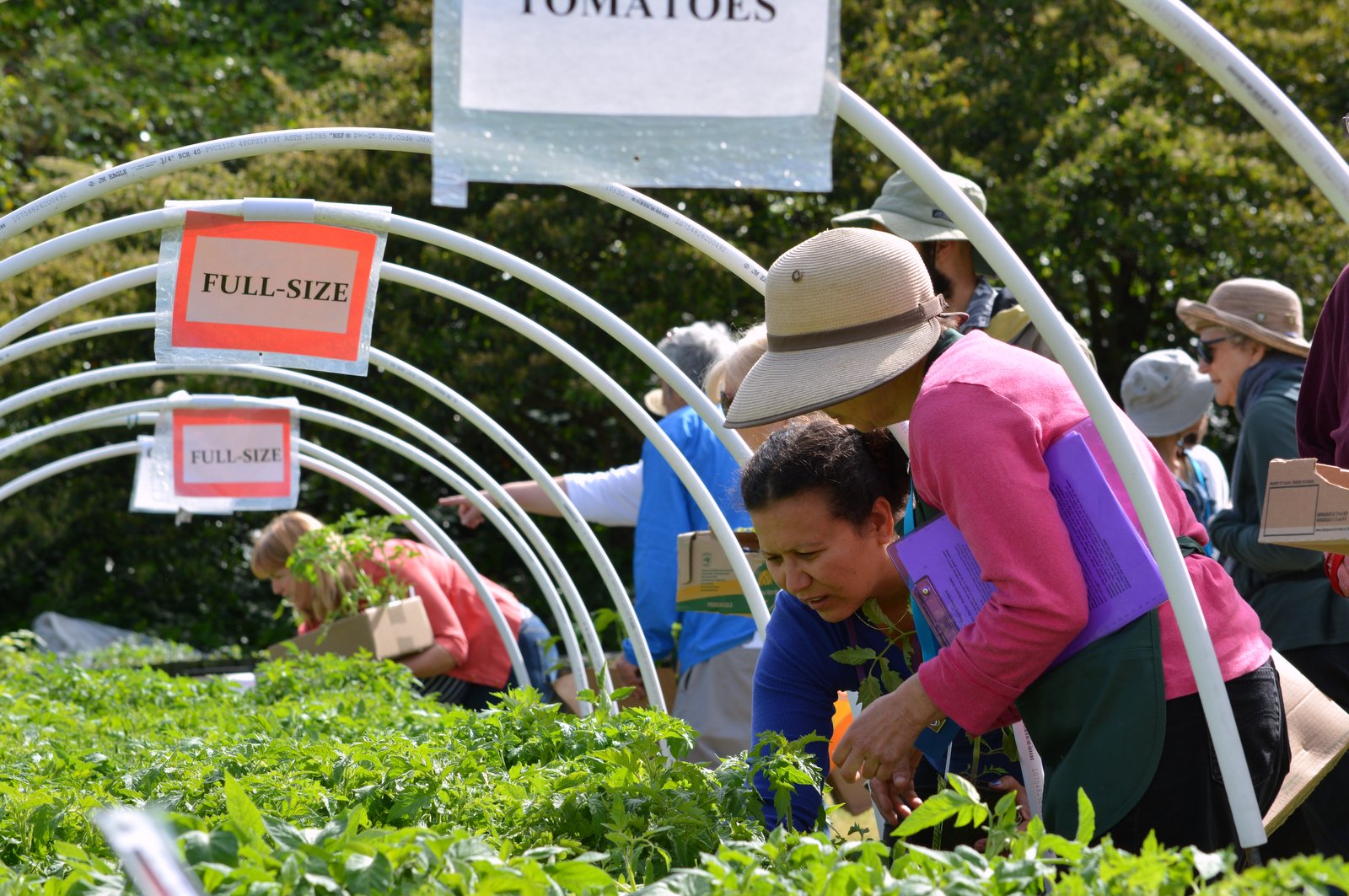 21 Apr

The Great Tomato Sale

Photo Essay • David Meza

Did you know that Russia has its own special tomato? How about Japan? Kentucky?

If you attended the Great Tomato Plant Sale, "Heirlooms Of The World," at the AdamsCrest Urban Farm in East Richmond Heights Apr. 11, you would have seen all of them and more. University of California Master Gardeners,
along with city environmental officials and local agricultural advocates, all collaborated to host the annual event, now in its fourth year.

The sale featured high-quality heirloom tomato and vegetable plants, each for $3. More than 200 attendees chose from over 50 varieties of tomatoes, raised by master gardeners from the university and recommended to grow well in home gardens in this area. Also for sale were varieties of vegetable plants, grown on the farm by Urban Tilth, which advocates for healthy food and cultivates agriculture in the county.

The tomato plant sale proceeds will go to support community education classes and the community gardens at the university. Master gardeners from the university were also on hand to answer questions on plant selection, planting, fertilizing, pruning, harvesting and protecting plants from insects.

In partnership with the master gardeners, the city of Richmond's Environmental and Health Initiatives gave away free compost to community members at the event. Traditionally, the city hosts its own annual compost giveaway, but this year joined forces with the university and Urban Tilth for a community collaboration.

"Instead of hosting [the compost giveaway] independently like past years, we felt the event and donation would be more effective if we collaborate with groups already leading gardening and urban agriculture initiatives in the community," according to Richmond Health and Sustainability Associate Mike Uberti.

Republic Services donated the compost from its Richmond facility. Richmond remains one of the only cities in the Bay Area with a closed-loop composting program, in which it transforms food scraps from residents into compost and returns it to them.

Along with offering vegetable and locally made honey, staff from Urban Tilth coordinated their monthly volunteer day, in which community members can learn hands-on about sustainable methods for growing food while harvesting fresh fruits and vegetables.

AdamsCrest Farm, formerly a field of the recently closed Adams Middle School, was repurposed by Urban Tilth into an operational farm in 2009.