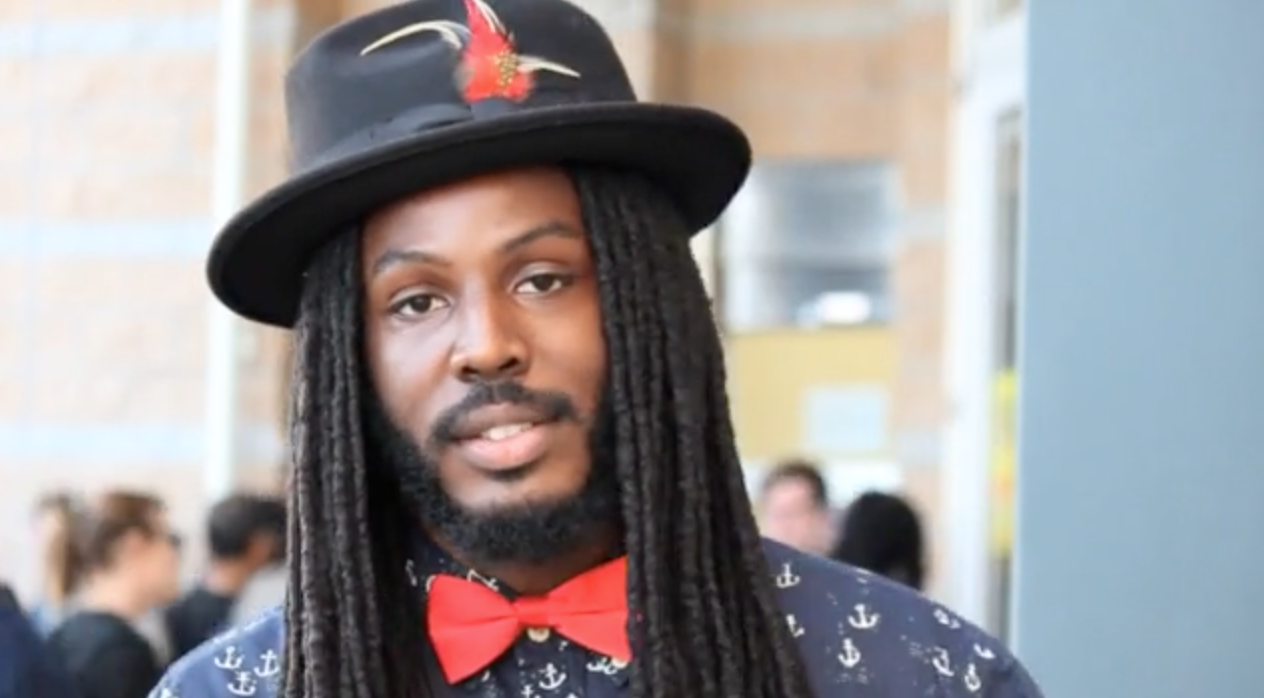 02 May

Documentary About Young Richmond Poets Premieres at El Cerrito High

Story and Video • Ann Bassette

Hundreds of people filled the El Cerrito High School theater on April 29 to watch the world premiere of the film "Romeo is Bleeding," a candid and revealing documentary following the lives of a group of young, spoken word artists — known as Richmond Artists with Talent, or just RAW Talent.

Led by first time director Jason Zeldes, this deeply researched and eloquently edited film, includes multiple views and stories to give outsiders an accurate illustration of life in Richmond, California.

The film focuses on Donté Clark, 25, during 2012 and 2013 as he and the RAW Talent team wrote, rehearsed and performed his first play, "Te's Harmony." The play is a modern day remix of Shakespeare's classic "Romeo and Juliet." It's loosely based on Clark's own life growing up in North Richmond, and focuses on the feuds between the neighborhoods in Richmond and how they affect the lives of the people who live there.

But more than capturing the artistic process, the documentary examines the intersection of life and art in a city plagued with street turmoil.

"'Romeo Is Bleeding' explores the roots of violence in Richmond," said Molly Raynor, RAW Talent's co-founder and Arts Program Coordinator, "and documents the efforts of young artists to heal themselves and their community through spoken word poetry and theater."

The documentary shows what it's like to live in Clark's world as he makes his first attempt at playwriting. We see Clark as humble, analytical, honest and funny. Interviews with Clark's older brothers give insight into what the streets of North Richmond looked like during the height of feuding. It also shows the pain and turmoil Clark went through as he grieved the loss of a friend and a RAW Talent co-founding member, 19-year-old Dimarea Young, who was shot and killed in front of his father and brother in the spring of 2013.

"I feel like in Richmond, California we have two sides who are at odds," Clark said, describing the parallels between the city he knows and "Romeo and Juliet." "But the thing is, it's not two separate families. We're all family, and we are intermixing, and we're having young children who have to straddle the fence on my daddy is from this side and my mom's from that side — but both of my cousins are killing each other. So, what we try to do is just take that story and show you that this is a family. It's not a gang. It's not individuals just out here doing wild things. It's people who are hurt."

"What surprised me was exactly what Donté says in the film, art imitates life," Raynor said. "During the year we were creating a film aimed at eradicating violence in Richmond, four young men Donté knew were shot and killed."

"While the film initially was going to focus in more on the actual nuts and bolts of putting on 'Te's Harmony,' the violence itself shifted the course of the film," she added. "Life influenced art."

Inside the theater, the diverse crowd reacted with laughter and finger snaps throughout the premier, and applauded as the end credits rolled. A question and answer segment featuring the director and cast followed, explaining how the film is meant to serve as a healing tools for the cast and the community.

RAW Talent began as a school-based spoken word group but has gone on to create stage productions and a documentary film. "Romeo is Bleeding" is part of this year's San Francisco International Film Festival. It will be showing next at 2:00 p.m. on May 3 at the Pacific Film Archive in Berkeley.