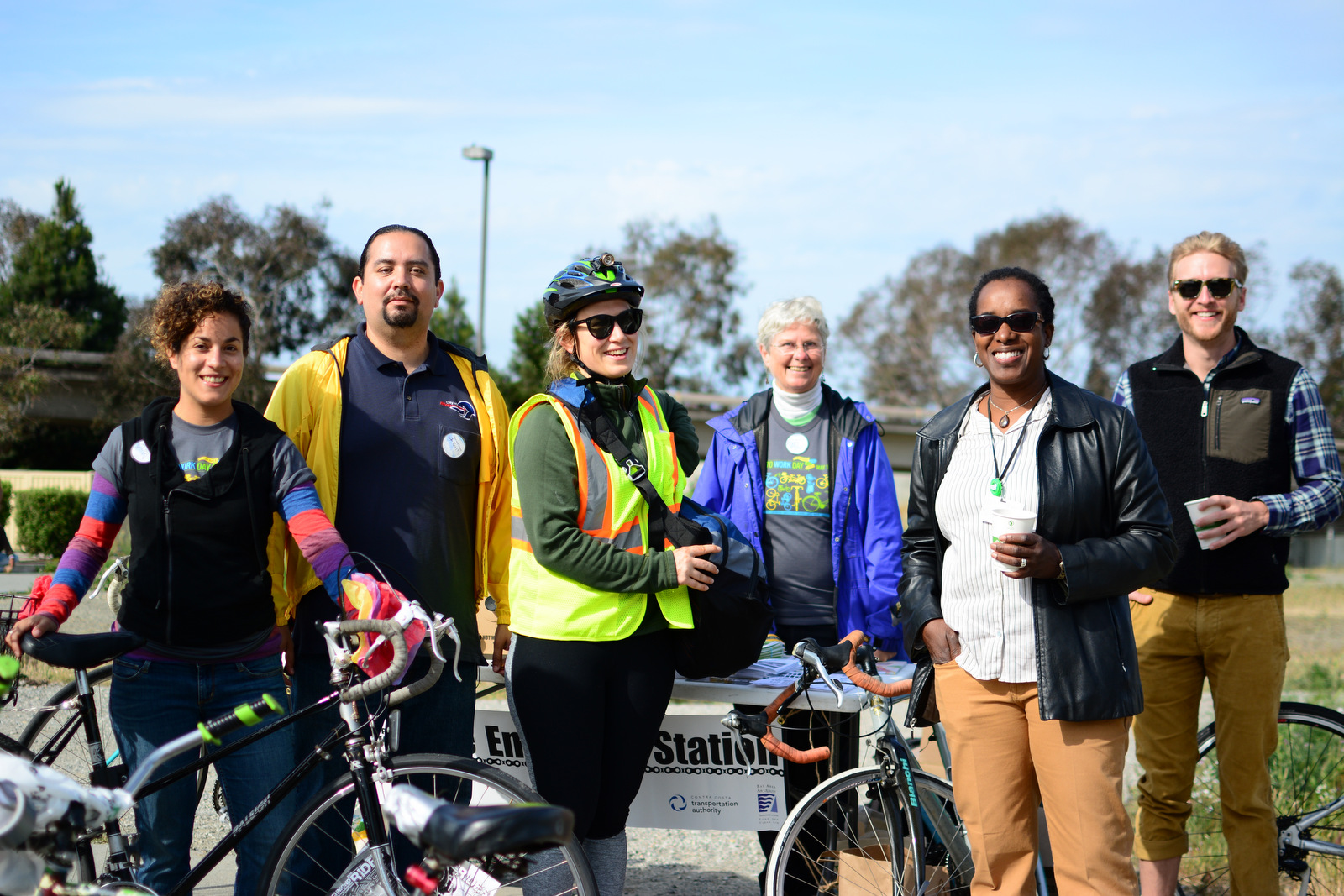 20 May

Richmond Commuters Trade Four Wheels For Two

By David Meza
Even though the weather threatened to rain on their parade, nearly 700 Richmond commuters took part in the annual Bike to Work Day May 14.
The event encourages commuters to leave their cars at home and choose alternate transportation to get to work — a way to save on gas, skip traffic and get some exercise all in one.
The City of Richmond, in collaboration with local businesses and advocacy groups, hosted four "energizer stations" across the city where riders could get coffee, snacks and a tote bag filled with giveaways on their way to work. Stations were located at Marina Bay Park, the Richmond Greenway, the intersection of San Pablo and Macdonald avenues and the Richmond BART station.
Mike Uberti, a health and sustainability associate with the city, said Richmond has organized a Bike to Work Day for the past six years.
"Bike to Work is special because it is a regional event, with Richmond riders joining the greater Bay Area to showcase biking as an effective, popular mode of transportation," Uberti said. "It also encourages first-time riders, or people who may not just regularly bike, to think of bicycling as more than an activity or hobby, but also as a reliable commute option."
For Emila Lipman, the event became her first time riding her bike to work. Now, she said, "I will try to bike the 14 miles to work once a month."
New this year were volunteers from Pogo Park, who took pedestrian-biking surveys at the Richmond Greenway station, looking to find out more about bike use and pedestrian infrastructure needs in the community.
Uberti said this was also the first year that the event didn't see a substantial increase in riders — which he said was a good thing.
"In the past, we were noticing a growing trend, but now we are starting to see a more established base of riders who recognize biking as a safe and reliable option within Richmond," he said. "We hope to continue to build bicycling as a cost-efficient, sustainable, and safe method of transportation for the Richmond community."
Other organizations to participate included Bike East Bay, 511 Contra Costa, Rich City Rides, The Richmond Bicycle / Pedestrian Advisory Committee and local business SunPower.