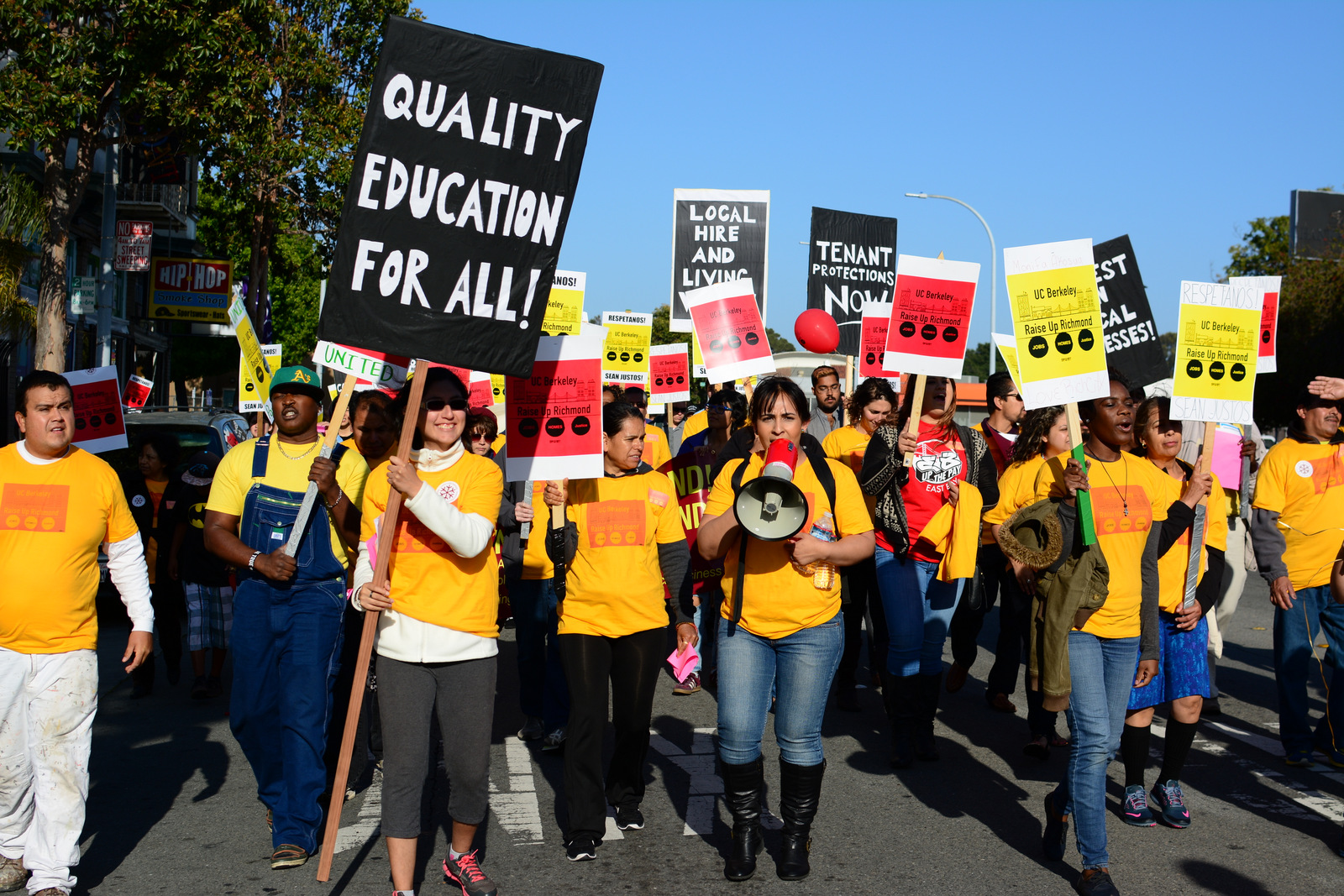 08 Jun

Demonstrators Call for UC Campus to Benefit Richmond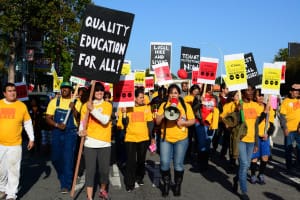 News Report • Keisa Reynolds | Photos • David Meza
Hundreds of people rallied in front of City Hall on June 4 to support a community benefits agreement for the proposed UC Berkeley Global Campus in Richmond.
UC Berkeley's new campus will be the biggest economic development to come to Richmond since the shipyards of World War II. However, it presents a risk to locals because past projects have not benefited residents, according to Melvin Willis of Alliance of Californians for Community Empowerment (ACCE) who emceed the demonstration.
The community benefits agreement would allow residents to benefit from the economic and educational opportunities the new campus will bring.
The demonstration was led by Raise Up Richmond, a campaign started by a coalition of local leaders, clergy, families and students.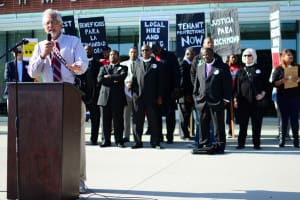 City council members Gayle McLaughlin, Jael Myrick, Eduardo Martinez, and Jovanka Beckles made remarks in support of the agreement. West Contra Costa School Board member Valerie Cuevas, Tony Alexander from California State Conference and NAACP, and Enedina Mendoza from Contra Costa Interfaith Supporting Community Organization (CCISCO) were also among the speakers.
On April 30, UC Berkeley students occupied the administration building after Chancellor Nicholas Dirks refused to sign a community benefits agreement. In the Richmond Standard on May 25, Mayor Tom Butt wrote a response to an article written by Alice Huffman and reassured residents and supporters that UC Berkeley would enter legally binding agreements.
However, some fear that the agreement will not benefit residents of Richmond.
The family of Rev. Dr. Alvin Bernstine of Bethlehem Missionary Baptist Church migrated to Richmond during World War II. "I stand on the shoulders of people who, over 70 years ago, were invited to participate in making ships," he told the crowd. "[After the war] they built churches and businesses. They established [our] community, always believing Richmond and the Bay Area would see value in including them in the benefits of California living."
Elements of the community benefits agreement approved by Raise Up Richmond include housing, jobs, training, small businesses, and education. But the Global Campus is likely to increase gentrification and displacement of longtime residents. To prevent that, community members say, the agreement should include an anti-displacement fund that guarantees affordable housing and protects longtime residents from eviction that would result from project development.
For Stephanie Hervey, rent increases have made it difficult to find a one-bedroom apartment in Richmond within her budget.
"I support the community standing up for their selves and for the people who are here. I think it's in our best interests to be at the table. If you're not the table, you're on the menu. The fact that it's unifying us, it's making us stronger so that when we do have the opportunity to benefit from whatever's here, we can enjoy it."
"I want to see more jobs, more participation within the community, and more resources to help Richmond get back the way it was," added Cordell Hindler, another resident. "I want this community to benefit from this ordeal."
Speakers at the rally also discussed opportunities for higher education, saying that children and youth in Richmond deserve access to the resources UC Berkeley is able to offer. Council member McLaughlin noted that there are still not enough youth graduating high school and attending college. Raise Up Richmond has called for the community benefits agreement to include an Opportunity and Education Fund to help build career pathways for kindergarten to twelfth grade students and community college students.
Pastor Joan Thompson-Katzenberger from New Hope Missionary Baptist Church in North Richmond said there is a need for the campaign. "The community as a whole needs it. I look at the young people and they need what we had. They are the future generation," she said, adding that the agreement would enrich lives. "I just want to see a change. If we provide the opportunity, change will come."