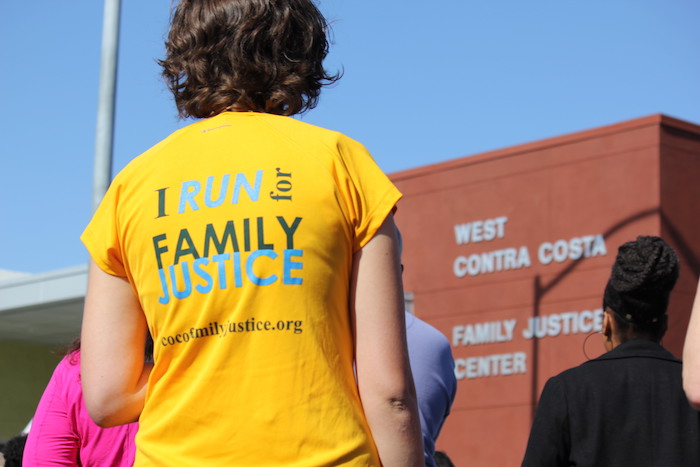 15 Jun

Family Justice Center Opens at New Location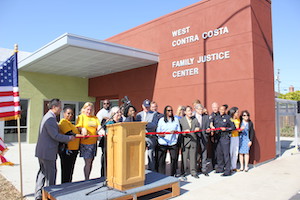 News Report, Keisa Reynolds | Photo,  Ann Bassette
After breaking ground in 2013, the West Contra Costa Family Justice Center held its grand opening this month at 256 24th Street. In the first year at its new location, the center is expected to help an estimated 2,000 survivors of domestic violence, family violence, elder abuse and human trafficking.
The center moved from its temporary location at Richmond Police Department's substation at Hilltop Mall, where it had operated since 2011.
Mayor Tom Butt, who spoke at the opening reception, said the center was the first community construction project to impact the lives of victims and survivors of domestic violence. Other speakers included Police Chief Chris Magnus, Andrea Bailey from Chevron Richmond, and Jodi Ravel and Karen Kruger from Kaiser Permanente. Fourteen-year-old spoken word artist Sukari Wright from RYSE opened the ceremony with an inspirational poem.
County Supervisor John Gioia told the audience that the center "demonstrates what could happen when community and government do well working together."
In 2001, Contra Costa County became the first Zero Tolerance for Domestic Violence County in California. As a part of the initiative, two centers have opened here in West County and Central County (Concord) with a third in East County underway.
Survivors of violence often have to speak with multiple agencies in order to get assistance. The center aims to eliminate this by offering dozens of on-site and off-site providers. Its partnerships give clients access to local organizations including Monument Crisis Center, Children and Family Services, Bay Area Community Resource, Bay Area Legal Aid, Community Violence Solutions, County Mental Health, Familias Unidas, Native American Health Center, and many more.
"We see that at about 50 percent of our clients identify as Hispanic or Latino. Our next biggest demographic is African American: About 30 percent of our clients identify as African American. We also see a significant number of Asian Americans," said Elizabeth Wilmerding, director of Project Connect at West Contra Costa Family Justice Center.
Between its staff and partners, the center is able to offer services in 10 languages including Spanish, Korean, Lao, and Thai. The center also offers services for victims of many other demographics including children and youth, elders, veterans, and Lesbian Gay Bisexual Transgender Queer or Questioning (LGBTQ) individuals and families.
Clients work with navigators who help them create goals and connect them with services for long-term solutions. Clients can receive assistance from myriad services such as civil legal services, health care, mental health, housing, job training, tutoring, and prosecution.
Menbere Aklilu, owner of Salute e Vita Ristorante in the Marina, shared a personal story of her experience as a survivor of domestic violence. "Today, I fully love Richmond more, especially when I see this type of thing coming together," she said.
Aklilu encouraged the community to invest in the center and, leading by example, she said she donated $15,000. "I am doing this for my mother, for me, my sister, brother, for all domestic violence survivors," she said.
Chevron Richmond followed suit and donated $80,000 to the center.
Family Justice Center Alliance (FJCA) President Casey Gwinn praised the center for "creating a beacon of hope that will impact survivors for generations to come."
"This is where you break the cycle," he said, noting that many incarcerated people come from homes where child abuse and other forms of violence are present. "We end up locking people up instead of saving them."
FJCA donated $65,000 at the beginning of stages of the project. Gwinn acknowledged project director Jennifer Anderson, who had recommended opening a family justice center in Richmond six years ago, and Gloria Sandoval, director of STAND! For Families Free of Violence, one of the center's on-site partners.
"There isn't a person listening to my voice who can't involved in the family justice center going forward. Everybody here can do something to invest in this. This is how we can change the world." Gwinn urged. "Twenty years from now it will matter that you were standing in this parking lot. It will matter Zero Tolerance was created. It will matter John Gioia said we're going to make this countywide. It will matter that we invested ourselves here in changing the endings for survivors and their children."
Residents can get involved with the work of the center by donating, volunteering, or participating in workshops offered by the Family Justice Institute.
Grand Opening of the West Contra Costa Family Justice Center from Alive & Free/ Street Soldiers on Vimeo.