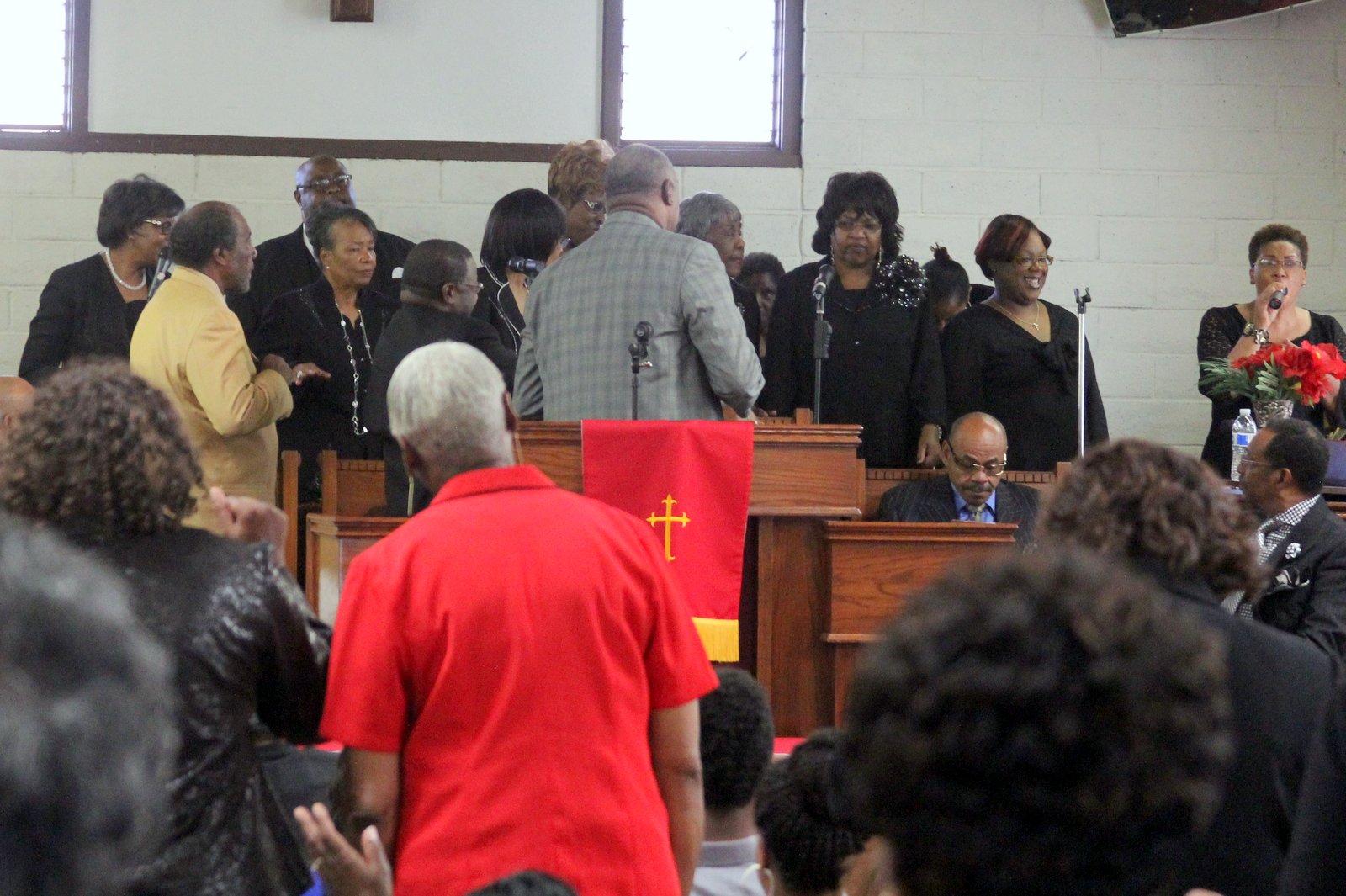 13 Jul

After Charleston Shooting, Local Churches Stay Vigilant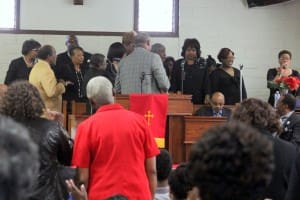 Above: Sunday service at Kingdom Land Baptist Church in Richmond, CA
News Report • Nancy DeVille
The killing of a beloved pastor and eight churchgoers in Charleston, S.C. last month and the recent arson investigations at black churches throughout the South have raised safety concerns among local pastors.
Churches in Richmond are now reexamining their security plans and trying to figure out where to draw the line between welcoming strangers and protecting their flock.
"It's a shame that it has to come to this but the word does tell us to 'watch and pray,'" said Pastor T. Marc Gandy, pastor of Miracle Temple Apostolic Pentecostal Church on Cutting Boulevard. "We will have more of a male presence at the entrance of the church and I'm just really encouraging all the members to be more vigilant. But we have to also make sure we are a welcoming place to everyone."
For Gandy, safety has been a concern for a few years. When violence was at its height in Richmond, a shooting erupted on Cutting Boulevard just before the church's weekly Bible study was dismissed. The church was not the target and no members were injured, but a bullet is still lodged in the church's front door.
"We put all of trust in God and pray that He is going to watch over us and protect us," he said.
Traditionally black congregations have been known for their hospitality and enthusiasm when it comes to welcoming new worshipers. But in recent years more churches across the country have installed security cameras and hired off duty police officers for added security.
"We now have to secure the house of God just like we secure our homes," Gandy said. "We have to be very cautious concerning the world that we live in."
In the recent aftermath of the murders, pastors participated in a prayer vigil at St. Peter Christian Methodist Church in El Cerrito. Area police officers attended and urged pastors to ask their members to monitor who is entering the church for its services. At the meeting, the pastors committed to continuing the prayer vigil every third Monday of each month.
"This is a chance for us to hold each other in prayer while trusting God in the process," said Pastor Cassandry Keys of Davis Chapel Christian Methodist Episcopal Church, who organized the June vigil.
"We have to hold on to our faith. "We know God is aware and many question why He would allow something like this to happen but there's something about the sovereignty of God that we don't know."
For Keys, the events that led up to the Charleston shooting are relatable. The alleged shooter walked in for bible study and was warmly greeted by the now slain Pastor Clementa Pinckney and the faithful members. It's common for people of all ethnicities to visit Davis Chapel, she said.
"The black church welcomes everybody in," she said. "If they come in calm and sit down we believe they have the same beliefs we have. Typically we are not accustomed to watching people when they come in because in a worship setting we are a little more relaxed. But after this, we will at least pay attention."
The June 17 shooting at the church known as Mother Emanuel is just one of the recent incidents targeting black churches in the south. There are three arson investigations underway and four other fires that have occurred since the Charleston shooting. While there are not threats to Bay Area churches, members are remaining watchful.
"Anytime there is violence against clergy or in a place of worship it just saddens me because it reminds me of the times we are living in," Gandy said.
If you go: The monthly unity prayer vigil will be held from 10 a.m. – noon Friday, July 17 at New Direction Ministries, 2534 Andrade Ave. in Richmond. All are welcome.