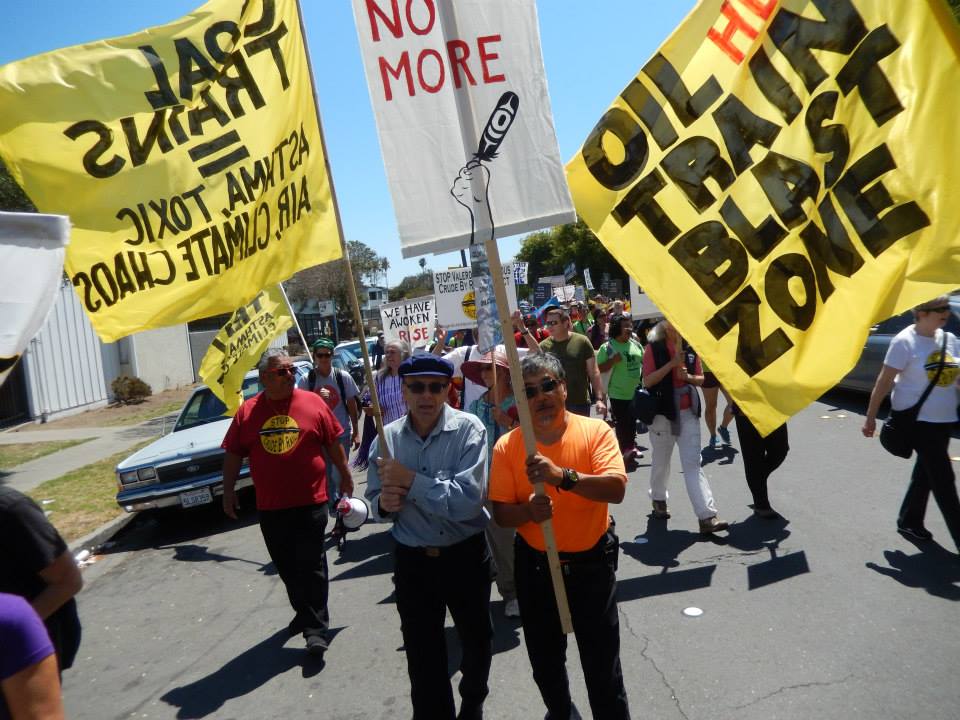 23 Jul

Walking Against Oil and Coal Trains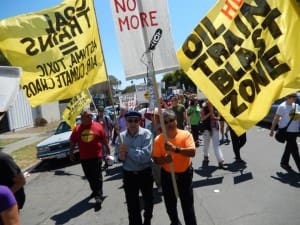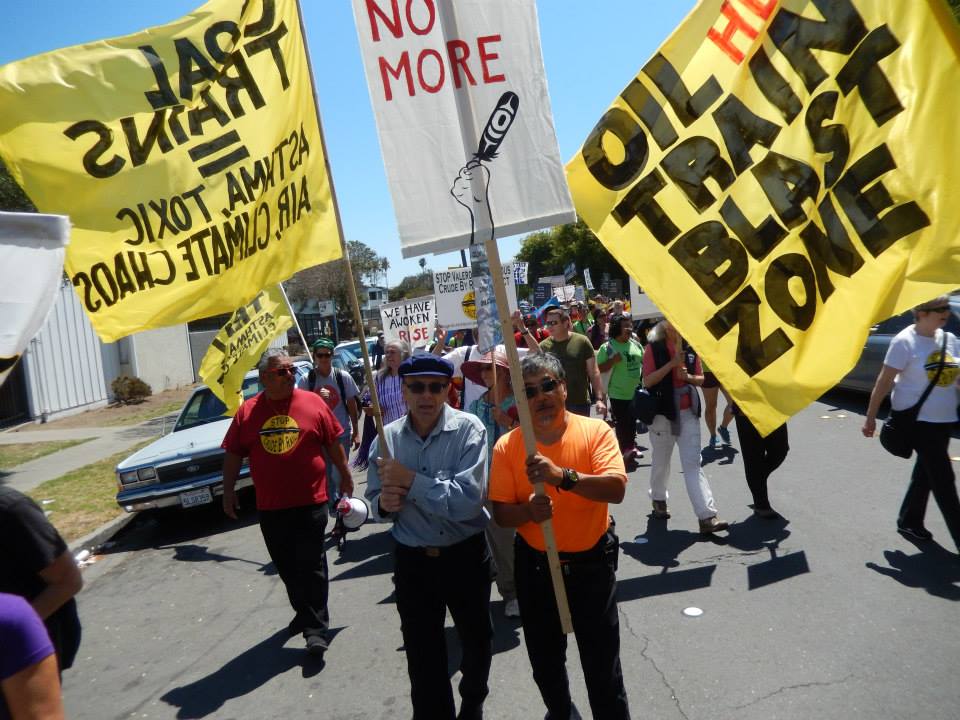 By Alison Ehara-Brown
In the early morning of July 11th, I joined a group walk along the "blast zones" – the mile-wide sacrifice zones along the rail lines that would be destroyed in any kind of an oil railway explosion. Standing together in a circle as geese flew overhead, Native American leaders, local Refinery town residents and friends from Oakland, shared our concerns about the danger of neighborhoods being destroyed in an oil train blast.
The possibility of such an explosion is becoming more likely.
That's because the fossil fuel industry is using more extreme methods of extraction in the Tar Sands in Alberta, Canada and fracking in North Dakota's Bakken Oil Fields. The oil that's being shipped through our neighborhoods is much more volatile and more likely than traditional crude to explode in the event of a train derailment.
Coal dust blowing off the trains also makes the tracks more slippery, and increases the chances of derailments and explosions. Coal dust also covers neighborhoods, causing respiratory illnesses. As we walked above the railroad tracks, we saw long lines of railway cars full of coal sitting on the tracks, blowing coal dust into the surrounding neighborhoods. Coal, like oil, is a fossil fuel whose use we need to reduce, not increase.
Oakland citizens joined us on the walk, concerned that Oakland developer Phil Tagami is converting the old Army base in Oakland into a port, and four Utah counties are now trying to use Utah state money to use this new port to handle coal. Bay Area residents are pressuring the Oakland City Council to invoke the public health and safety clause in the city's agreements with Tagami in order to prevent him from building a coal export terminal to ship coal to China.
The walk, sponsored by Idle No More SF Bay and the Bay Area Refinery Corridor Coalition, was part a national week of action to stop oil trains. Participants came from Martinez, San Pablo, Richmond, Crockett/Rodeo, Oakland and Benicia.
It coincided with the second anniversary of the disaster of Lac Megantic, a small town in Quebec where a train oil explosion in July 2013 destroyed the downtown, killing 47 people.
After the walk we joined others at Atchison Village for a rally and march to stop oil trains, hosted by the Asian Pacific Environmental Network (APEN) along with many other community and environmental justice organizations. Before marching, we heard messages from Richmond Vice-Mayor Jael Myrick, Andrés Soto of Citizens for a Better Environment (CBE), and Richmond residents who live in oil train blast zones. They talked about the danger of oil trains, and demanded the Bay Area Air Quality Management District to revisit the permit they gave for the Kinder Morgan terminal to bring in oil trains to Richmond. They also called for a democratic process to be reinstated to involve proper public notice, public comment and a real review.
Hundreds of people marched to the Richmond BNSF Railway Yard where we stopped to hear Patricia St. Onge of Idle No More share a prayer. Citizens for a Better Environment attorney Roger Lin updated us on legal actions to keep our communities safe from bomb trains, and then we marched on to Washington Park in Point Richmond.
At Washington Park, we heard from a recently retired railway worker, Brian Lewis, who was appalled at the lack of basic safety procedures on the railways, as the cargo being carried becomes increasingly dangerous. We heard poetry from a young hip-hop artist, Kaila Love, sharing her reflections on justice. And we learned more about the big picture of the dangers of climate change from Ethan Buckner of Forest Ethics.
Southeast Asian refugees described leaving their war-torn lands to come to America, only to have their health compromised by the toxicity of living in the refinery corridor in Richmond. Vivian Huang of APEN connected our gathering to the many summer actions of the Our Power Movement. And we were inspired by the words of City Council member Gayle McLaughlin, who during her time as mayor, invited Marilaine Savard of Lac Megantic, to share her story with the people of Richmond, so that we could learn the personal stories of those whose communities were destroyed by bomb trains.
"This is more than just a fight against oil trains. Our lives are on the line," said Kae Lin Saechao, of APEN, in a press release. "I've lived in San Pablo for over 30 years and seen my community suffer long enough from the impacts of the fossil fuel industry. We want to see solutions: a clean, renewable energy economy that serves both people and the planet."
I was moved to tears many times, feeling that the earth and the air and all of life was cheering us on, that we have a chance if enough of us rise up everywhere to alter the course of history, and leave a beautiful, safe world for the next generations and all of life.
Alison Ehara-Brown is a member of Idle No More SF Bay